Show #7095 - Friday, June 19, 2015
Brennan Bushee game 5.
Jeopardy! Round
WE SUGGEST BIOGRAPHY TITLES

CLASSICAL MUSIC ADJECTIVES

In 1682 he drew up a frame of government for a new American colony:
"Quaker State of Mind"

More than 5.3 billion cans of this energy drink were sold in 2013; that's a lot of wings

Lester Burnham in "American Beauty";
Francis Underwood on "House of Cards"

There's this much "Night Music" in a 1787 work

This satiric news site reported, "Paleontologists Determine Dinosaurs Were Killed By Someone They Trusted"

From the German for "whirlpool" comes this treat that's rolled & baked

This Argentine, whose embalmed body was stolen in 1955 & secreted in Italy for 14 years:
"On 2nd Thought, Do Cry for Me"

It's still "made from the best stuff on Earth"

Brick Tamland in "Anchorman";
Michael Scott on "The Office"

Oops! An MI6 agent put his used camera (with undeleted pics of suspected Al-Qaeda agents) on this site; the winning bid

--

$31

I don't mean to do this, thrust myself without permission or welcome... actually, I do, I totally mean to do this

The story of this inventor who was awarded a valuable patent on March 7, 1876:
"It's for You"

Appropriately, this root beer came in a family of sizes: Junior, Mama & Papa, which was a half-gallon bottle

Maggie in "St. Vincent";
Molly Flynn on "Mike & Molly"

Aaron Copland wrote a "Fanfare for" this "Man"

I learned more than I needed to know about Tara Reid on this man's website, originally called PageSixSixSix.com

Absent from school without permission

This general who was fired by Lincoln for not chasing Lee's army (again!) after Antietam:
"Not-So-Curious George"

Salieri in "Amadeus";
Dar Adal on "Homeland"

An 1804 symphony is "heroic" or this in Italian

A site called damnyou this function included an unfortunate example where "special" became "suicidal"

No lie, it's the 2-word colloquial term for the drug called thiopental

Only 10 of her nearly 1,800 poems were published in her 19th century lifetime: "Homebody"

Aibileen in "The Help";
Annalise Keating on "How to Get Away with Murder"

Handel wrote "Music for" these "Fireworks"

Articles at this site: "14 Animals that Have Swagger for Days" & "Which Harry Potter Character Is Your Drunk Alter Ego?"

Unselfishly concerned for the welfare of others
Scores at the first commercial break (after clue 15):
| | | |
| --- | --- | --- |
| Brennan | Chad | Jennifer |
| $2,400 | $1,400 | $2,200 |
Scores at the end of the Jeopardy! Round:
| | | |
| --- | --- | --- |
| Brennan | Chad | Jennifer |
| $1,600 | $2,800 | $5,600 |
Double Jeopardy! Round
BRONTE-SAURUS
(Alex: These are words used by the Bronte sisters

--

famous authors.)

A hedonistic gent who lives without responsibility

Built in 1354, Firuzabad was the fifth version of this city in India; it still didn't serve pastrami

There were no rabbits on this official group that looked into President Kennedy's assassination

Its lyrics include "I got the eye of the tiger, a fighter, dancing through the fire"

The name of this largest New Mexico city once had a second "R", but it was hard to pronounce that way

When Emily uses the word "bacca", she is talking about this substance

This dictator's last battle was the defeat of Pompey's sons at Munda in 45 B.C.

This 4-word phrase means you can select any puppy from a recently born group

Look to the Roman deities for this Bananarama hit

In 2005 Clark, Texas renamed itself for this satellite TV provider in exchange for 10 years free service

Charlotte wrote of a character "almost fleyed out of her wits", fleyed meaning this

A dark, heavy wood from India

Ignoring a fleet signal at an 1801 battle, this Brit claimed, "I have only one eye. I have a right to be blind sometimes"

Back in the '80s I ran to see Mike Score's distinctive hair in this British band

Ray Parker Jr. went to No. 1 with this movie song that answers a key question

In 1954 Mauch Chunk, Penn. changed its name to honor this Native American athlete buried there

This grumpy hero of Emily's climbs the cellar stairs with "vexatious phlegm" (one of the 4 humors)

A pithily phrased universal principle or truth

In 1783 Catherine the Great made this city in the Crimea a base for the Russian navy

This bovine group "instinct" causes stock market bubbles & panics

"Protective or possessive", sings Nick Jonas in this tune

New Archangel, Alaska's name was "spruced" up in 1867 when it was changed to this

Drop a few letters from what you offer to the bereaved to get this verb Emily uses for "to offer sympathy"

It can mean "opinion", as in "for my..."

Until annexed by Japan in 1910, this land had been ruled by the Choson Dynasty for more than 500 years

Term for a group of people with villainous intent, or a bunch of poisonous snakes

"Oh-oh, here she comes, watch out, boy, she'll chew you up"

This current state capital was once Beverwijck

This heroine is asked, can't you do better than to devote yourself to "a blind lameter" (cripple)?
Scores at the end of the Double Jeopardy! Round:
| | | |
| --- | --- | --- |
| Brennan | Chad | Jennifer |
| $12,400 | $9,200 | $12,000 |
| | | |
Final Jeopardy! Round
Everything changed in 1924 after he observed, "I have found a Cepheid variable in the Andromeda Nebula"
Final scores:
| | | |
| --- | --- | --- |
| Brennan | Chad | Jennifer |
| $24,001 | $11,000 | $23,500 |
| 5-day champion: $126,404 | 3rd place: $1,000 | 2nd place: $2,000 |
Game dynamics: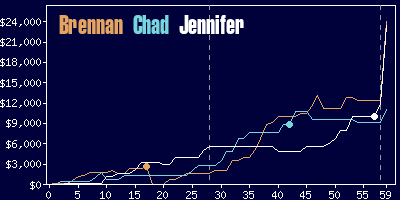 Brennan
Chad
Jennifer
$15,000
$9,200
$12,000
23 R,
4 W
(including 1 DD)
12 R
(including 1 DD),
3 W
14 R
(including 1 DD),
2 W
Game tape date: Unknown