Show #7069 - Thursday, May 14, 2015
2015 Celebrity Jeopardy! game 4.
Jeopardy! Round
In just under 2 hours, 25 minutes in 1984, Joan Benoit became the first woman to win Olympic gold in this race

This Brit's own poor childhood inspired him to write books like "David Copperfield"

A star & this shape moon appear on the flags of many Muslim nations

She's the Emmy-winning comedian seen here

To detect a rat this way means to become suspicious

Annie Edson Taylor was the first woman to go over this landmark in a barrel

Her books like "Sense and Sensibility" have a lot to do with love & marriage, but she never married

In the Book of Matthew, he asked the chief priests, "What will ye give me" for handing over Jesus

Here's something "inside" about this comedian: she's related to New York senator Chuck

A preliminary session before a judge, often to determine whether charges are warranted

Her "Monster's Ball" role made her the first African-American Oscar winner for Best Actress

The first book in Stieg Larsson's trilogy about computer hacker Lisbeth Salander is "The Girl with" this

Dread-talk is the linguistic style of many followers of this Jamaica-based religion

As Prof. Wagstaff in the movie "Horse Feathers", he said, "I'd horsewhip you if I had a horse"

On a firearm this device that aids in aiming may be telescopic

Nellie Tayloe Ross made some coin as the first woman director of this for the United States

James Fenimore Cooper depicted the changing frontier in "The Last of" them

In Judaism Sukkot, or Feast of Tabernacles, begins 5 days after this holy fast day

She co-hosts CNN's New Year's Eve coverage with Anderson Cooper, making both him & viewers giggle

Haydn called Mozart the grea

test

composer he knew because he had this sense

In 1968 kidnapper Ruth Eisemann-Schier became the first woman to make this agency's 10 Most Wanted

This Jazz Age author epitomized his time with works like "Tender is the Night"

While meditating, a Hindu will repeat this 2-letter sacred word many times

This comic known for his "7 Dirty Words" routine hosted the first episode of "Saturday Night Live"
Scores at the first commercial break (after clue 15):
| | | |
| --- | --- | --- |
| Bellamy | Josh | Ginger |
| $6,200 | -$200 | $1,600 |
Scores at the end of the Jeopardy! Round:
| | | |
| --- | --- | --- |
| Bellamy | Josh | Ginger |
| $6,800 | -$200 | $1,200 |
Double Jeopardy! Round
The heroine of this Disney movie hangs out with guys named Dopey & Sneezy

They're "a girl's best friend" & her birthstone if she's born in April

Ariel knows this title Hans Christian Andersen lass has a father called the Sea King

Hradcany Castle, once the home to the kings of Bohemia, is a popular tourist stop in this Czech capital

An early megahit for Sondheim was this musical with songs like "I Feel Pretty" & "Maria"

It's the 8-letter term for the specialized vocabulary used by attorneys

Dustin Hoffman played a savant with autism who watches "Jeopardy!" in this film

May is time for this gem that the Greeks called smaragdos, meaning "green rock"

The Marvel character known as Sub-Mariner lives undersea in this fabled "lost" land

In November 2001 this Afghan capital was liberated from the Taliban

"Into the Woods" made it to the big screen in 2014 starring this woman as the witch

Paul Bunyan could tell you it's a longer name for a logger

This 2009 title sounds like a very odd forecast

In June or any other month, you can see this gem in a girl's ear in a Vermeer

The Merman Triton was the son of this great sea god, the Greek version of Neptune

El Salvador means "the savior"; this name of its capital means "sainted savior"

Sondheim won an Oscar for "Sooner Or Later (I Always Get My Man)" sung by this woman in the film "Dick Tracy"

Trash usually ends up at this place, buried between layers of dirt

In "Some Like It Hot", this female sex symbol strums the ukulele

Fans of the color purple should like this February birthstone

DC Comics has a merman

--

this guy in the Justice League, who married the undersea queen Mera

This capital's major street the Paseo de la Reforma passes through Chapultepec Park

This Sondheim musical about 19th century revenge takes place on London's Fleet Street

It's the University of Texas' football team

Denzel Washington played imprisoned boxer Rubin Carter in this film with a stormy title

One of these October gems given to Josephine by Napoleon was called the Burning of Troy because of its red flashes

The Russian folk epic "Sadko" tells of an aquatic king known as the "Sea" this, which you can spell with either a "CZ" a "TS"

A statue of William Tell adorns the parliament building in this Swiss city

"Send In The Clowns" is a beloved song from this "small" Sondheim show

Freud popularized this word for sexual desire
Scores at the end of the Double Jeopardy! Round:
| | | |
| --- | --- | --- |
| Bellamy | Josh | Ginger |
| $26,800 | $3,800 | $4,800 |
| (lock game) | | |
Final Jeopardy! Round
In 2014 a collection of her columns became the 1st bestseller entirely by this woman who championed many other bestsellers
Final scores:
| | | |
| --- | --- | --- |
| Bellamy | Josh | Ginger |
| $22,800 | $0 | $1,800 |
| Winner: $50,000 to Operation Blankets of Love | 3rd place: $10,000 to Children's Hospital of Los Angeles | 2nd place: $10,000 to Susan G. Komen West Michigan |
Game dynamics: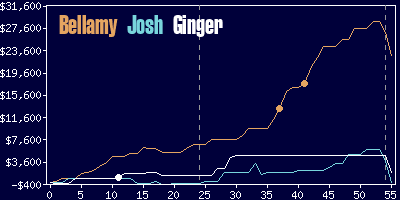 Bellamy
Josh
Ginger
$23,200
$3,800
$4,400
26 R
(including 2 DDs),
3 W
12 R,
4 W
7 R
(including 1 DD),
2 W
Game tape date: Unknown