Show #3784 - Thursday, February 1, 2001
Jeopardy! Round
The program on this country "& Iraq" includes the 1997 election of moderate Mohammed Khatami as president

Diana played a fashion designer in this 1975 film & also sang its theme, "Do You Know Where You're Going To"

According to Moore's Law, named for a founder of Intel, these double in power roughly every 18 months

Dutch astronomer Petrus Plancius named Columba for the dove sent out by this Biblical character

Paris Silverskins are the small ones of these used in Gibson cocktails

From the "Founding Fathers" series, the following is a look at the composition of this document:

"He's got a copy of the draft of the Virginia constitution and old writings for the Continental Congress and puts them together"

In March 2000 Diana inducted this lady who sang the blues into the Rock & Roll Hall of Fame

Dan Bricklin developed VISICALC, the first of these programs, similar to an accounting ledger

With this constellation winding around it, Ursa Minor must hope it isn't fire-breathing

Yes, they were named after the capital of Peru

The channel's website tells us that this country's King Carlos was assassinated on Feb. 1 in 1908

This No. 1 hit that Diana sang with the Supremes was later recorded by Phil Collins in a 1982 hit

Coherent & Xenix are 2 of these, part of the abbreviation in the better-known MS-DOS

The brightest star in Bootes is this color giant & is 100 times more luminous than the sun

In Asian cuisine, sprouts are from beans & shoots are usually from this

The show on the transatlantic cable was subtitled "2500 Miles of" this elemental metal

The most successful duet of the '80s was this ballad that Diana recorded with Lionel Richie

This programming language was named for calculating-machine inventor Blaise

The Pup is the companion to this star in Canis Major

The Dutch type of this is white, as it's grown underground; the American is green, as the spears are grown above

A medieval foot soldier, or composer Jerome
(4)

One show covered this Vietnam battle where Springsteen "had a brother" in "Born In The U.S.A."

The 1985 hit heard here was a tribute to this singer:

"Oooh, ooh, I'm missing you /
Tell me where the road turns..."

Among Internet users, the World Wide Web has surpassed the system named for this burrowing rodent

Antoine-Auguste Parmentier pushed this tuber on Louis XVI; now Parmentier in a recipe means "with" it

Pakistan's principal port
(7)
Scores at the first commercial break (after clue 15):
| | | |
| --- | --- | --- |
| Mark | Andrew | Jenny |
| $1,400 | $700 | $800 |
Scores at the end of the Jeopardy! Round:
| | | |
| --- | --- | --- |
| Mark | Andrew | Jenny |
| $2,400 | $1,600 | $1,500 |
Double Jeopardy! Round
THE CHANNEL HISTORY
(Alex: Not THE HISTORY CHANNEL.)

POETS WHO RHYME
(Alex: Example: Canterbury Tales author who rhymes with a dish: Chaucer (Saucer).)

4 English Channel lighthouses have been built on the Eddystone Rocks, famed cause of these disasters

2 old palaces in Barcelona house a museum of this cubist's works

19th century lord whose last name rhymes with deer meat

Buddy Hackett played Scuttle the Seagull in this seagoing fairy tale in 1989

At the 1988 Democratic Convention he said, "We are all precious in God's sight

--

the real Rainbow Coalition"

In 1973 Cape Kennedy's name reverted to this

The Cinque Ports, an 11th century confederation, were Sandwich, Dover, Hythe, Romney & this 1066 battle site

This prestigious art museum in London recently opened a new & separate gallery of modern art

Irish poet who rhymes with wooden boxes for packing

Rosie O'Donnell went "ape" as the voice of Terk in this 1999 adventure

Advice from this American author: "When angry, count four; when very angry, swear"

Served as an appetizer, they're crackers or pieces of bread garnished with tasty toppings

These air-cushion vehicles that were "full of eels" in a Monty Python sketch first crossed the Channel in 1959

It houses the largest collection of art in the Netherlands

Ode-acious poet who rhymes with red root vegetables

Seen here, Charles Kimbrough was Jim Dial on "Murphy Brown" when he won the role of a gargoyle in this film

In 1939 Churchill said the action of Russia "is a riddle wrapped in a mystery inside" this

"Sweet" term for a teen girl who does volunteer work at a hospital

Victor Hugo lived for 15 years on this Channel Island, the largest after Jersey

If you get a chance, visit the Munch Museum in this world capital; it's a real scream!

"Gunga Din" author who rhymes with habitual drinking

This innovative American director said, "Everybody denies I am a genius

--

but nobody ever called me one!"

"Sweet Thursday" is John Steinbeck's sequel to this novel

On Aug. 19, 1942 an Allied force took heavy casualties in an attack on this fort fortified by Germans

New Englander who rhymes with a price or sacrifice

Young Kathryn Beaumont was so good as the voice of this title girl in 1951 that she got to play Wendy in "Peter Pan", too

In "The Power of Myth" he says, "Follow your bliss"

He painted the view of Venice seen here:
Scores at the end of the Double Jeopardy! Round:
| | | |
| --- | --- | --- |
| Mark | Andrew | Jenny |
| $5,800 | $2,600 | $3,100 |
| | | |
Final Jeopardy! Round
The promotional slogan of this territory is "Where America's Day Begins"
Final scores:
| | | |
| --- | --- | --- |
| Mark | Andrew | Jenny |
| $5,300 | $2 | $400 |
| 2-day champion: $10,900 | 3rd place: Eagle Creek luggage gift certificate | 2nd place: Trip to Switzerland |
Game dynamics: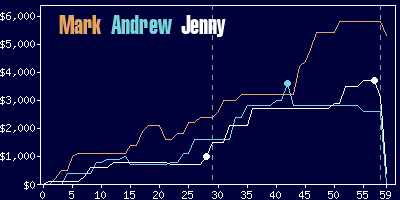 Mark
Andrew
Jenny
$5,800
$3,400
$3,600
18 R,
1 W
11 R,
3 W
(including 1 DD)
11 R
(including 1 DD),
2 W
(including 1 DD)
Game tape date: 2000-11-14