Show #4807 - Tuesday, June 28, 2005
Jeopardy! Round
THE GOOD BOOK SAYS...
(Alex: ...and, in this case, it's the King James version.)

It's the famous ship depicted here in Plymouth harbor

This "American Idol" winner's hit single "Miss Independent" was co-written by Christina Aguilera

Country Time was introduced as a drink mix of this fruit beverage

Completes the line "The spirit indeed is willing, but..."

Newswoman Ellerbee must know this first name of hers means "pretty"

The narration that opened this TV show began, "A mighty princess forged in the heat of battle..."

Jacob Lawrence did a well-known series of paintings of Frederick Douglass & this Underground Railroad leader

At a benefit for stopping violence against women, this Hole leader slapped a woman & began wrestling with her

The name of this bean is Spanish for "spotted"

He revealed, "If I be shaven, then my strength will go from me"

Latin for "happy", it was the name of several popes & a "wonderful, wonderful cat"

Located in Cincinnati, it's one of 28 member institutions of the Association of Jesuit Colleges & Universities

She's the woman depicted here at the coronation of Charles VII

Beginning with "Vision Of Love" in 1990, she has written 14 No. 1 pop hits, more than any other female composer

This "royal" herb is essential to classic Italian pesto

"When they had opened their treasures, they presented unto him gifts; gold, and frankincense, and" this

This first name of a "Spartacus" star is from Old Norse for "church"

William B. Davis played the mysterious Cigarette-Smoking Man on this Fox show

A painting at Versailles shows this leader at Ratisbonne in 1809, after he was shot in the foot

She won a 2002 Grammy for best female rock vocal for the song "Steve McQueen"

Always good to keep a box of pasta on hand, like this kind whose name means "little tongues"

"Beware of false" these "which come to you in sheep's clothing"

This biblical name climbed the ladder to become the most popular baby name for boys, 1993-2003

From the Greek, it's literally someone who likes foreigners & foreign things

Laurits Tuxen's painting of this pair's 1894 royal wedding is, where else, but at the Hermitage

Ja Rule has teamed with this pop star for 2 No. 1 hits, "I'm Real" & "Ain't It Funny"

To flavor your broth, use a cube of this, from the French for "to boil"

In Matthew 26:15 he asks, "What will ye give me, and I will deliver him unto you?"

This feminine name evokes images of the blossoms seen here blanketing the British countryside

Colorless & odorless element first discovered in 1898
Scores at the first commercial break (after clue 15):
| | | |
| --- | --- | --- |
| Sarah | Pam | Ben |
| $4,200 | $1,600 | $3,200 |
Scores at the end of the Jeopardy! Round:
| | | |
| --- | --- | --- |
| Sarah | Pam | Ben |
| $5,000 | $7,800 | $6,200 |
Double Jeopardy! Round
2 PARTS OF SPEECH
(Alex: I will give you a word, and you have to give me the two parts of speech that word might be used as. For example, if I said "flirt", that would be a noun and a verb. All right?)

This Nazi was known as the "Angel of Death"; in 1985 his remains were found in a grave in Brazil

William Shatner's star on the Hollywood Walk of Fame is in front of this theater that opened in 1927

The National Earthquake Information Center is in this "colorful" city just west of Denver

Longtime Chicago Bear Harold "Red" Grange was also known by this "spectral" nickname

Burns never said he wrote this now traditional Scottish song of parting, he rewrote an earlier song

Germany's ME-262 jet fighter was made by this manufacturer

Shatner plays Boston attorney Denny Crane on this spinoff of "The Practice"

This New Mexico city was founded in 1706 & named for a viceroy of New Spain

In 1935 this pollster founded the American Institute of Public Opinion

This was Burns' day job, hence the rustic touch to his poetry

The battle for this island in the Ryukyus resulted in 12,500 U.S. deaths, the heaviest toll in the Pacific war

Shatner had a recurring role on this 1960s TV show named for a doctor

The growth of this state capital in Eagle Valley was stimulated by the discovery of the Comstock Lode in 1859

The literary works of this onetime film critic include "This Gun for Hire" & "The Power and the Glory"

The Kilmarnock Volume by Burns includes the famous "To a Louse" & this title that's one letter different

On May 7, 1945 Germany signed the Articles of Surrender in this city, the coronation place of French kings

Shatner played Capt. Byers, an aide to Spencer Tracy, in this war crimes trial drama

This raisin center of more than 400,000 people in California's San Joaquin Valley has grapes on its seal

Born near Melbourne, this Aussie feminist is best known for her revolutionary work "The Female Eunuch"

The hornpipes & strathspeys Burns mentions in a poem are these

In terms of tonnage involved, the 1944 battle for this Philippine gulf was the greatest in history

One of William Shatner's early movie roles was as Alexi in this 1958 film based on a Dostoyevsky novel

Montana State University has a branch in this city named for frontiersman John

Born in France in 1807, he played a leading part in the unification of Italy

Hat's off to this Burns poem based on the legend of Alloway Kirk
Scores at the end of the Double Jeopardy! Round:
| | | |
| --- | --- | --- |
| Sarah | Pam | Ben |
| $5,800 | $8,600 | $12,600 |
| | | |
Final Jeopardy! Round
In 1956 she published "Venice Observed" & her brother Kevin starred in "Invasion of the Body Snatchers"
Final scores:
| | | |
| --- | --- | --- |
| Sarah | Pam | Ben |
| $0 | $600 | $7,600 |
| 3rd place: $1,000 | 2nd place: $2,000 | New champion: $7,600 |
Game dynamics: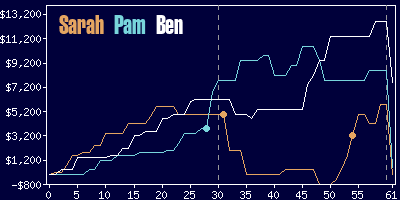 Sarah
Pam
Ben
$9,000
$6,400
$12,600
16 R
(including 1 DD),
5 W
(including 1 DD)
15 R
(including 1 DD),
3 W
16 R,
2 W
Game tape date: 2004-12-10