Show #6591 - Monday, April 22, 2013
Jeopardy! Round
SHARED COLLEGE SPORTS NICKNAMES

This finished border on a garment is made by folding an edge under & stitching it down

If you've busted your scaphoid, radius & ulna, you've broken bones in this limb

The Cirque du Soleil production "Love" is a Las Vegas show featuring the music of this band

In 2010 she asked, "A year later... how's that hopey/ changey stuff workin' out for ya?"

This climbing vine is known to cover the walls of older college buildings

Canis Major, said to represent the dog of this hunter, is at the heel of his constellation

On June 17, 1972 some "plumbers" got into hot water for breaking into this office complex

The sailing ships the Song & the Bull battle it out in Siren's Cove at this casino

This man's "answer which I will give to President Roosevelt" was "give us the tools and we will finish the job"

A sharp, stinging quality, as of frosty air, or a small amount of liquor

This constellation depicts a youth pouring water from a jar into the mouth of piscis austrinus, the southern fish

"Black's Law Dictionary" says breach of promise is "the violation of one's word... especially a promise to" do this

Western Michigan & Boise State

This actor's character on the TV show "Vegas" is named for & based on longtime Vegas sheriff Ralph Lamb

At the 2012 DNC he quoted his mom: "Joey, bravery resides in every heart, and the time will come when it must be summoned"

A narrow bed made of canvas on a collapsible frame

This constellation of the zodiac represents a fish-tailed goat

Germany broke the Munich Agreement of 1938 in March of 1939 by seizing the rest of this country that no longer exists

Bowling Green & Air Force

In 1946 El Rancho Vegas started a tradition with this type of meal service, chuck wagon-style

In 1983 Labour politician Neil kinnock said, if this woman wins, "I warn you not to fall ill ...not to grow old"

It's the possessive form of thou

(Kelly of the Clue Crew presents the clue.) Spica, the brigh

test

star in Virgo, means "ear of grain", which she's holding, & explains why the constellation is identified as this Greek agriculture goddess, Persephone's mother

A loved one's death may cause this, described as a medical syndrome in 1991 & called Takotsubo Cardiomyopathy

The Bellagio once housed this man's multi-million-dollar art collection

He said, "since they whose duty it was to wield the sword of France have let it fall... I have taken up the broken blade"
Scores at the first commercial break (after clue 15):
| | | |
| --- | --- | --- |
| Judy | Michael | Richard |
| $600 | $1,600 | $3,800 |
Scores at the end of the Jeopardy! Round:
| | | |
| --- | --- | --- |
| Judy | Michael | Richard |
| $1,600 | $4,400 | $7,000 |
Double Jeopardy! Round
In John Grisham's comic novel "Skipping" this holiday, Luther & Nora Krank try to avoid the holiday chaos & frenzy

Chuck Jones' golden rule for this rascally rabbit was that he must always be provoked

You can't celebrate National Park Week without mentioning this oldest national park

"Belgium Put the Kibosh on the Kaiser" was made popular during this war

Private bank box for your valuables

In London in 2012 a gold medal in this sport went to Jike Zhang

This Pat Conroy novel tells the story of Tom Wingo, his twin sister Savannah & their violent South Carolina family

On Fox he runs a burger joint that tries to lure customers with grand re-re-re-openings

You can "trace" a path through this 444-mile parkway in Tennessee, Alabama & Mississippi

It was composed in one night during the French Revolution as a marching song for French troops

Medicaid & social security are described as part of this to help the non-rich

Rhyming term for the 1959 drink container invention heard here

This 1961 Irving Stone novel is subtitled "A Biographical Novel of Michelangelo"

Tennyson is the last name of this kid

--

10 for short

Here's Angel's Landing in this end-of-the-alphabet Utah park

Rhyme along as "Young Edmund bid his eyes adieu... the drummer boy of" this 1815 battle

It's very important to flex your fingers before this act of breaking into a vault

Black oxfords are often turned into these, worn here

This 1851 novel begins, "Halfway down a by-street of one of our New England towns stands a rusty wooden house"

Last name of auto racer Penelope, who faced "perils"

St. Louis' Jefferson National Expansion Memorial includes this landmark that cost $13 million to build

"He saw that his conspiracy would soon be brought to light" are lyrics in "The Ballad of" this executed British major

This government commission, the CPSC, makes sure the cribs & power tools we buy won't kill us

Chefs make sure to do this regularly

His books "Little Children" & "Election" have been made into movies

The name of this young scientist
on "Felix the Cat"
has become slang
for an egghead or nerd

Appropriately, Apollo 14 astronauts trained at the Idaho monument with this four-word name

This character from a minstrel show song lent his name to segregation laws enacted after Reconstruction

The right or guarantee of unmolested passage through a region or country

Invented in 1919, it's controlled with the hands
Scores at the end of the Double Jeopardy! Round:
| | | |
| --- | --- | --- |
| Judy | Michael | Richard |
| $3,200 | $12,900 | $8,200 |
| | | |
Final Jeopardy! Round
BEST ACTRESS OSCAR NOMINEES
Her nomination in 1987 was the first best actress nomination for a science fiction film
Final scores:
| | | |
| --- | --- | --- |
| Judy | Michael | Richard |
| $4,702 | $16,401 | $12,901 |
| 3rd place: $1,000 | New champion: $16,401 | 2nd place: $2,000 |
Game dynamics: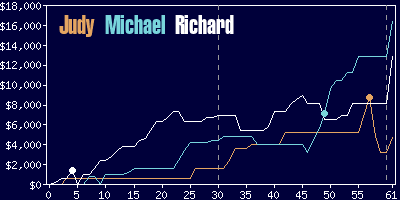 Judy
Michael
Richard
$7,200
$12,400
$9,600
8 R,
2 W
(including 1 DD)
16 R
(including 1 DD),
3 W
24 R,
5 W
(including 1 DD)
Game tape date: 2012-12-05