Show #6518 - Wednesday, January 9, 2013
Ashok Poozhikunnel game 5.
Kristin Morgan game 1.
Jeopardy! Round
In 2004 a U.S. law named in part for this type of unwelcome e-mail took effect to prohibit deceptive subject lines

There's a canal named this in Mesa County, Colorado, a long way from the famous one in New York State

In 2011 Josh Elliott of ESPN became news reader for this ABC show that starts many people's day

1940s job of the legendary Rosie

One set of rules in this

test

of strength says if the grip comes apart, the 2 hands will be strapped together

He let his theory evolve for 20 years before going public in 1858

A set of operating rules for computer information exchange; it can also mean proper diplomatic etiquette

The U.S. has 110 hospitals named for this helpful New

Test

ament fella from Luke 10

Aaron Sorkin created Will McAvoy, anchorman with a conscience, for this HBO series

Don't do it to your neighbor's stuff, warn the 10 Commandments

Con

test

in which old automobiles are intentionally crashed into each other until only one is left running

In the 1660s, with Cambridge closed by plague, he went home & started inventing calculus

I'm sorry, con

test

ants, it was the name of the murderous computer in "2001: A Space Odyssey"

No shortage of U.S. islands called this; there are 162 besides the one that's home to Queens & Massapequa

A new bio of this beloved CBS anchor says he bugged a committee room at the 1952 Republican Convention

The Sting Ray was one model of this classic transport

This Olympic event is also called water ballet

This 19th century chemist saved France's beer, wine & silk industries

In 1961 Les Earnest created the first program of this type, now a word processing tool, & yes, computer, his name is Les with 1 S

In 2012 she succeeded Ann Curry as co-anchor of the "Today" show

Catlike critter prized for its musk

In the '80s Photon was a chain of venues for this game inspired by "Star Wars"

In 1957 this Danish physicist became the first recipient of the USA's Atoms for Peace Award

WinZip is a popular tool for doing this, reducing file size to store or transfer more data

Warm Springs, Georgia's airport is named for him

We're glad this CNN show hosted by Candy Crowley isn't just on once a year in January

Oy, it means to complain or someone who complains a lot

A saying in this circus activity is "the trouble is that the balls go where you throw them"

After discovering Uranus, he wanted to name it for King George III
Scores at the first commercial break (after clue 15):
| | | |
| --- | --- | --- |
| Ashok | Kristin | Brett |
| $1,800 | $1,800 | $1,000 |
Scores at the end of the Jeopardy! Round:
| | | |
| --- | --- | --- |
| Ashok | Kristin | Brett |
| $1,200 | $2,800 | $2,400 |
Double Jeopardy! Round
Robert LeRoy Parker was the real name of this outlaw & colleague of the Sundance Kid

Oregon State basketball coach Craig Robinson, an MBA from the U. of Chicago, has this very famous brother-in-law

The Arctic has this type of "ice cap"

Nicholas Hoult & Kelsey Grammer have played Dr. Hank McCoy in films about these marvelous mutants

"We Will Rock You", playing in the West End since 2002, features the music of this group

Skirt steak is great for this sizzling southwest treat that comes with tortillas, peppers & onions

The FBI said the ma of these "bloody" brothers was part of the gang, but pa George was a shiftless beneficiary

Agamemnon & Menelaus were both brothers & brothers-in-law: they wed sisters Clytemnestra & this Trojan beauty

4-letter word of disdain; when doubled, it's a verb meaning to dismiss

Lauren Tewes welcomed guests aboard as cruise director Julie McCoy on this long-running ABC series

In summer 2011 Ralph Fiennes took to the stage as Prospero in this play

A popular '70s gift was a pot for this dish of melted cheese & forks to dip the bread into it

The Younger brothers, standing, formed an outlaw alliance with these brothers seated in the photo here

This Scot, the winner of the 2012 Indy 500, is the son-in-law of country superstar Naomi Judd

The Maharishi sometimes used this word as part of his name

Captain Bill McCoy's bootlegging ship is anchored off the New Jersey coast in the first scene of this HBO series

In summer 2012 this play based on a movie about 2 British athletes at the 1924 Olympics was off & running

Focaccia & naan are types of this

"Bonanza" star Lorne Greene had a No. 1 hit about this outlaw, the "fas

test

gun in the West"

Social philosopher William Godwin was dad-in-law to this romantic poet

This city name comes from an Illinois Native American word for the wild leek

Leonard was the first name of Dr. McCoy, made famous by this actor in the 1960s

Judi Dench bowled 'em over as Sally Bowles in this musical that began its London run in 1968

The name of this breakfast cereal is Italian for "flour"

Declared an outlaw by the feds, he & his "raiders" were made an official part of the Confederate Army in 1862

Charlie Chaplin's last father-in-law was this dramatist

A tough lad in 1950s England was this type of "boy"

In "The Bonfire of the Vanities", this Oscar winner played financial wizard Sherman McCoy

A 1991 production of "Three Sisters" featured these 2 daughters of Sir Michael, & their niece Jemma

Eaten raw or cooked, this fern is named for its resemblance to part of a violin
Scores at the end of the Double Jeopardy! Round:
| | | |
| --- | --- | --- |
| Ashok | Kristin | Brett |
| $6,400 | $9,800 | $12,800 |
| | | |
Final Jeopardy! Round
These 2 world capitals are separated by only 250 miles of land & less than 1 degree of latitude, at 59º 17' & 59º 57' N.
Final scores:
| | | |
| --- | --- | --- |
| Ashok | Kristin | Brett |
| $0 | $6,700 | $4,800 |
| 3rd place: $1,000 | New champion: $6,700 | 2nd place: $2,000 |
Game dynamics: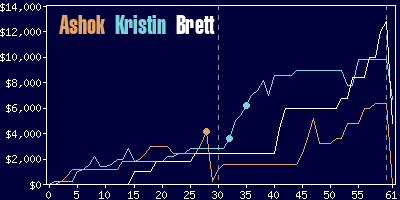 Ashok
Kristin
Brett
$10,400
$10,000
$12,800
18 R,
3 W
(including 1 DD)
21 R
(including 2 DDs),
4 W
10 R,
0 W
Game tape date: 2012-10-15