Show #6473 - Wednesday, November 7, 2012
2012-B Teachers Tournament quarterfinal game 1.
Jeopardy! Round
WHO WROTE THESE KIDS' BOOKS?

GREAT NAMES IN COLLEGE FOOTBALL

RHYME FIGHTER
(Alex: Each correct response, as a matter of fact, will rhyme with that word

--

"fighter".)

"Freckle Juice" & "Tales of a Fourth Grade Nothing"

July set this record for the continental U.S., beating out July 1936

Whidbey Island, just north of Seattle, provides the northern boundary of this body of water

Most places put this cabbage salad on the side, but Pittsburgh's Primanti Bros. puts it on the sandwiches

Hugs Etienne wraps up ballcarriers for the Badgers of this Big 10 university

What students "pull" staying up until morning studying

"The Reptile Room" & "The Austere Academy", both from "A Series of Unfortunate Events"

Embarrassing royal photos everywhere!

--

Kate's in France, this prince's in Vegas

An outpost called Fort Raccoon was wisely renamed & became this capital of Iowa

If you're "sufferin'", you might want a bowl of this dish

Ego Ferguson apparently has ample self-esteem for the Bayou Bengals of this state school

A professional who comes up with the words for advertisements

"A Swiftly Tilting Planet" & "A Wind in the Door"

Summer's last day saw the last flight of this space shuttle, thrilling Californians on its way to a final home in Los Angeles

The Sakonnet, Seekonk & Providence Rivers are saltwater arms of this bay

Rachael Ray has a recipe called "no-pain" this Chinese noodle dish

Perhaps the most appropriate name ever: Wave Ryder, of this service academy

"Shade of pale" in a Procol Harum song

"The Sign of the Twisted Candles" (Nancy Drew, book 9)

He won the 100- & 200-meter dashes in London, the first to do so at consecutive Olympics

Prior to 1850 this Northern California peak was known by several names, including Sasty

Tostones are usually made by frying this fruit; if you're not in the Caribbean, bananas may be easier to come by

The Demon Deacons of this North Carolina university have an unlikely secret weapon

--

defensive end Godspower Offor

"Farmer Boy" & "On the Banks of Plum Creek"

Ambassador Christopher Stevens was killed in an attack on the U.S. consulate in this Libyan city

Awash in glorious lava, Mount Haleakala lies on this "Valley Isle"

Award-winning chef Marcella Hazan said calling this Italian dish "a cornmeal mush is a most indelicate use of language"

Terrance Bullitt & Happiness Osunde get defensive for the Red Raiders of this alliterative Big 12 school

In sports a close match is "a real" this
Scores at the first commercial break (after clue 15):
| | | |
| --- | --- | --- |
| Colby | Michael | Diana |
| $3,800 | $800 | $1,400 |
Scores at the end of the Jeopardy! Round:
| | | |
| --- | --- | --- |
| Colby | Michael | Diana |
| $8,000 | $3,200 | $4,200 |
Double Jeopardy! Round
| | | | | | |
| --- | --- | --- | --- | --- | --- |
| | | | | | |
| This layer of the eye has no blood vessels | For his 1869 "Romeo and Juliet" overture, this Russian adapted the sonata form to mirror the play's structure | The Pierre & Marie Curie University | Depositors freaked during the S&L crisis, short for these institutions | His ex-wife Demi Moore attended his 2009 marriage to British model Emma Heming | This Old West passenger & mail carriage got its name from the stations where it made stops |
| Mary Ann Esposito's book on 3 yeast doughs is "What You" this | Paris critics called this Polish composer "the Ariel of the piano" | | Soviet withdrawal from this country was completed on Feb. 15, 1989 | Carrie Underwood is conveniently married to Mike Fisher, of the NHL Predators of this city | The Conestoga & this vehicle, seen here, were instrumental in the western expansion of the United States |
| This pet critter is part of the cavy family | Though nicknamed "Papa", this Austrian composer had no children; he was, however, the "father of orchestral music" | The University of Adelaide | With U.S. help in 1983, Sir Paul Scoon returned to power in this island nation | She wrote "Sex & the Single Girl" early in her 51 years as a married girl, to producer David Brown | If you catch a "cab", you might know cab is from the longer name of this old type of light carriage |
| This state capital is on the Gastineau Channel | This German composer married Franz Liszt's daughter Cosima, 24 years his junior | Pusan National University | A Dec. 3, 1984 chemical leak killed thousands in this city in India | The ink on her divorce papers was still wet when she married Gregg Allman in 1975 | Now a term for a 2-door car, it was once an enclosed 4-wheeled carriage with the driver's seat outside |
| This Trojan hero is Aphrodite's son | | King Abdulaziz University | He was in control as Reagan's first Secretary of State | This actor & Phoebe Cates have been married since 1989 | From the Russian, it's a name for a carriage drawn by 3 horses |
Scores at the end of the Double Jeopardy! Round:
| | | |
| --- | --- | --- |
| Colby | Michael | Diana |
| $19,800 | $14,000 | $13,800 |
| | | |
Final Jeopardy! Round
Referring to its 2 acts, an Irish critic described it as "a play in which nothing happens, twice"
Final scores:
| | | |
| --- | --- | --- |
| Colby | Michael | Diana |
| $20,001 | $18,000 | $10,000 |
| Automatic semifinalist | 2nd place: $5,000 if eliminated | 3rd place: $5,000 if eliminated |
Game dynamics: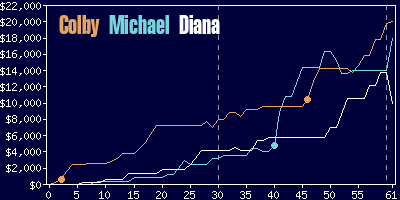 Colby
Michael
Diana
$18,400
$11,600
$13,800
24 R
(including 2 DDs),
3 W
16 R
(including 1 DD),
4 W
15 R,
1 W
Game tape date: 2012-10-01