Show #6460 - Friday, October 19, 2012
Jeopardy! Round
She was last seen in a twin-engine Lockheed Electra in July 1937

Characters in this bestseller include Skeeter & maids Aibileen, Minny & Yule May

Most famous as Princess Leia, she had a one-woman stage show called "Wishful Drinking"

This container is so named because it's where young women keep linens & such in anticipation of marriage

This nickname for Oklahomans stems from those who jumped the homesteading starting gun in 1889

The first recorded disappearance of a U.S. ship in this area of the Atlantic was the USS Cyclops in March 1918

John Drake's 2009 novel "Flint And Silver" was a prequel to this 1883 Robert Louis Stevenson classic

In 1977, this legendary star was the first female honored with the AFI Life Achievement Award

Made mainly of this material, a vitrine is a showcase where memorabilia can be kept

It's Oklahoma's leading crop & is especially big in the north, near the Kansas border

One minute in 79 A.D., you're this city of 10-20,000; post-Vesuvius, you're a UNESCO World Heritage Site

Inspired by "Twilight", E.L. James turned her fan fiction into a steamy trilogy that begins with this novel

Zoe Saldana played the Na'vi Neytiri in this 2009 blockbuster

A freestanding closet fitted with hooks & bars for hanging clothes, or the clothes that go into one

Tahlequah, Oklahoma is the tribal capital of this Native American nation

Pieces of arms were found with this statue on a Greek island in 1820

It was first published in 1967 under the Spanish title "Cien Años de Soledad"

She played Bellatrix Lestrange in the "Harry Potter" films & the Red Queen in "Alice in Wonderland"

"Fair" enough

--

this dressing table has a mirror & a compartment where milady can keep her cosmetics

This humorist & native son lends his name to Oklahoma City's main airport

In a proper one of these, the forefinger touches the hat just to the right of the right eye

In August of 1590 2 words carved on trees

--

Croatoan & Cro

--

were the last traces of the 100 colonists on this island

Thumbs up for his "Even Cowgirls Get The Blues", which tells of a female hitchhiker with enormous thumbs

This Swedish actress won an Emmy & a Golden Globe for her portrayal of Golda Meir

The name of this large cabinet reveals its original use for keeping weapons

The National Weather Service's storm prediction center is in this city, also home to the University of Oklahoma

Jekyll calls Hyde this type of rough fellow "that slept within me"
Scores at the first commercial break (after clue 15):
| | | |
| --- | --- | --- |
| Glenn | Abby | Matt |
| $2,800 | $2,200 | $2,600 |
Scores at the end of the Jeopardy! Round:
| | | |
| --- | --- | --- |
| Glenn | Abby | Matt |
| $6,200 | $4,400 | $3,600 |
Double Jeopardy! Round
BROADWAY MUSICALS BY SONGS
(Alex: We'll give you the songs.)

NONFICTION PULITZER WINNERS

DEAR ABBEY
(Alex: Notice the spelling there.)

THE WORLDWIDE WORLD WIDE WEB

In 1763 England received Florida from this country in exchange for Havana

"If I Were A Rich Man" & "Tradition"

A 2011 Pulitzer went to "The Emperor of All Maladies: A Biography of" this disease

This London landmark is the final resting place of 17 monarchs

Rather than passengers, a train may be carrying this, goods ranging from coal to cucumbers

.ec represents this country; one of its neighbors has .pe

This colony & New York shared the same governor until 1738, when Lewis Morris was named its governor

"Dancing Queen" & "The Name Of The Game"

"The Looming Tower" examines this terrorist group & "The Road To 9/11"

The Great War was a most unpleasant disruption for the Crawley Family & their servants on this PBS show

Send me those shoes pronto; I'll pay the P&H, this "& handling"

The British Monarchy's official website is royal.gov. these 2 letters

In a 1789 Congressional race in Virginia, James Madison defeated this future president by 336 votes

"Popular" & "Defying Gravity"

This astronomer nabbed the prize in 1978 for "The Dragons Of Eden"

St. Mary's Abbey in this city lent its name to a theater that W.B. Yeats helped run

A facial expression that's basically no expression; Buster Keaton was famous for it

.sh is the domain extension for this place, the final home of a famous exile

In 1774 Mother Ann Lee brought this religious sect known for its furniture to America from England

"The Morning Of The Dragon" & "The American Dream"

He won a Pulitzer for his nonfiction "The Armies of the Night" as well as for his fictional "The Executioner's Song"

The legend of this liqueur says a monk invented it in 1510 at the Abbey of Fecamp

It's the main piece of equipment in the clean & jerk

We bet you know .mo is the domain for this Asian gambling haven

One of these acts passed in 1798 called for the deportation of foreigners considered dangerous

"Boy Falls From The Sky" & "Bouncing Off The Walls"

Jonathan Weiner told "The Story of Evolution" in "The Beak of" this bird

"On the banks of this delightful stream / we stood together" are Wordsworth "lines composed a few miles above" here

It's the metal ring seen here

This Central African country's websites are at .td; its name in French has a "T" before the "CH"
Scores at the end of the Double Jeopardy! Round:
| | | |
| --- | --- | --- |
| Glenn | Abby | Matt |
| $18,600 | $12,000 | $5,600 |
| | | |
Final Jeopardy! Round
When Turner Classic Movies began broadcasting on April 14, 1994, the first movie shown was this one
Final scores:
| | | |
| --- | --- | --- |
| Glenn | Abby | Matt |
| $13,199 | $1 | $11,199 |
| 2-day champion: $28,398 | 3rd place: $1,000 | 2nd place: $2,000 |
Game dynamics: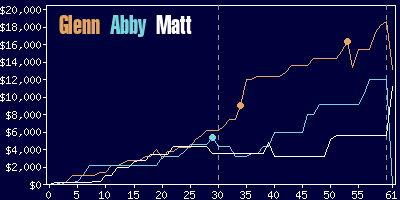 Glenn
Abby
Matt
$20,600
$13,000
$5,600
27 R
(including 1 DD),
2 W
(including 1 DD)
15 R,
2 W
(including 1 DD)
11 R,
2 W
Game tape date: 2012-08-07