Show #6451 - Monday, October 8, 2012
Stephanie Jass game 1.
Jeopardy! Round
THE 1912 PRESIDENTIAL ELECTION

With his opponents dividing the vote, this democratic challenger was elected

Aka background actors, they're the people milling about in a shot to lend atmosphere to a scene

"The Fireman" was an early version of this Bradbury novel

A highlight of the St. Mary's county, Maryland festival devoted to this bivalve is the national shucking con

test

"A mechanical device on an aircraft... consisting of two or more blades"

This incumbent president accepted the Republican nomination & did no campaigning; electoral votes: 8

Many low-budget American movies of the 1940s were made in this genre, French for "black film"

Futurist visionary Bradbury never operated a computer or this, which he makes sinister in 1951's "The Pedestrian"

"Any of the numerous systems, often of millions or billions of stars, held together by gravitation"

Theodore Roosevelt used this metaphor when announcing his run, hence the button seen here

Also a type of saw, it means to interweave 2 scenes in editing, indicating simultaneous action

Earthmen conquer, despoil & commercialize another planet in these "Chronicles"

"A string of a hundred and sixty-five beads... used for keeping count" in the recital of a devotion

Eugene V. Debs garnered almost 1 million votes representing this left-leaning party

Not just animated movies but many live-action films today use the technique known as CGI, which stands for this

"Green Shadows, White Whale" was about Ray adapting this novel into a movie with John Huston in Ireland

"Sentimental longing for or regretful memory of a period in the past"

Everyone wanted change even back then; the opposing campaign slogans were The ____ Freedom & The ____ Nationalism

This genre created in the '70s featured African-American actors in stereotypical & often violent characterizations

Bradbury took the title of this novel from the line in "Macbeth" that follows "by the pricking of my thumbs"

Each May this New Mexico city has a festival honoring Ralph Edwards, who brought the city much fame

"A person who shares a deep understanding or bond with another; esp. one ideally suited...as a lover or spouse"
Scores at the first commercial break (after clue 14):
| | | |
| --- | --- | --- |
| Mike | Stephanie | Clint |
| $200 | $4,400 | $1,800 |
Scores at the end of the Jeopardy! Round:
| | | |
| --- | --- | --- |
| Mike | Stephanie | Clint |
| $2,600 | $8,000 | $4,000 |
Double Jeopardy! Round
| | | | | | |
| --- | --- | --- | --- | --- | --- |
| | | | | | & THE EMMY FOR COMEDY ACTRESS GOES TO... |
| This tree, seen here in autumn, takes on new importance to Vermont's economy in winter | "Happy Times" is a memoir by socialite Lee Radziwill, sister of this first lady | This company's Wingfoot Lake airship base near Akron is sometimes called "the Kitty Hawk of lighter-than-air" | You'll hear this 11-letter word right before a magic trick | Whether Lomond or Ness, it's a word for "lake" in Scotland | America Ferrera in 2007 for this series |
| Maine's forest service says this tree's bark "separates freely and easily into thin, papery sheets" | In 1961 Ray Kroc bought out these brothers for $2.7 million | The original sperry type of this technology basically kept an airplane going straight; now it can fly patterns | "Vesti la giubba" from "Pagliacci", for example | Stewart Island, this Down Under country's third-largest island, is 1/66th & 1/87th the size of the 2 biggest | |
| The beech trees of Bellevue Avenue in the mansion district of this Rhode Island city are a symbol of the Gilded Age | At the royal wedding of William & Kate, these 2 younger siblings served as best man & maid of honor | This WWII flying fortress was named for a southern city & the girlfriend of its captain, Robert K. Morgan | It's the woolly mammal seen here | This northern Spanish port city boasts a Guggenheim museum designed by Frank Gehry | Toni Collette in 2009 for this Showtime series |
| G. biloba, this tree, loses all its leaves in about a day, & Dartmouth students bet on what day it'll be each year | Last name of siblings George, Charles & Edward, who went into business together to sell board games | | An example of this branch of math is 2x - 3=7 | Following Russia & China, which each border 14 other countries, this New World country is third with 10 | Carol Kane in 1982 for this comedy |
| | Sophocles named a play for this woman of myth who defied her uncle Creon in attempting to bury her brother Polynices | | This first name of tennis great Ms. Gibson means "wholesome" | | Patricia Heaton in 2000 & 2001 for this sitcom |
Scores at the end of the Double Jeopardy! Round:
| | | |
| --- | --- | --- |
| Mike | Stephanie | Clint |
| $6,600 | $22,000 | $2,800 |
| | (lock game) | |
Final Jeopardy! Round
Its title phrase traces back to a stand by heavily outnumbered British infantry against a cavalry charge
Final scores:
| | | |
| --- | --- | --- |
| Mike | Stephanie | Clint |
| $6,201 | $17,000 | $5,600 |
| 2nd place: $2,000 | New champion: $17,000 | 3rd place: $1,000 |
Game dynamics: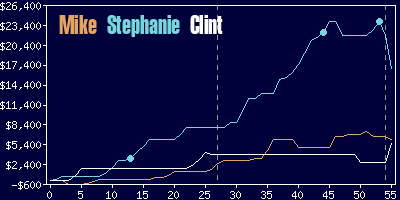 Mike
Stephanie
Clint
$6,600
$23,200
$2,800
15 R,
3 W
26 R
(including 2 DDs),
2 W
(including 1 DD)
5 R,
2 W
Game tape date: 2012-08-01