Show #6433 - Wednesday, August 1, 2012
2012 Kids Week game 3.
Jeopardy! Round
BEATRIX POTTER TITLE ANIMALS

This activity done with balls or plates can also mean to deal with several things at one time

In "Tangled" Mandy Moore voiced this long-haired gal

3 is a common number for par in mini-this

A granite boulder on Kill Devil Hill, North Carolina, marks the spot where they first took flight on December 17, 1903

Let's color in the scene from Luke 2 where angels announce Jesus' birth to these workers

Anatomically, an elbow or a knee

In "Looney Tunes" cartoons, Granny's pets are this cat & this canary

"The Tale of ____ Nutkin"

There are 31,536,000 seconds in one of these time periods; & 52 weeks too

The inner walls of this city's Arc de Triomphe are inscribed with the names of hundreds of generals

Chipping in for charity will show us the truth of Jesus' words "it is more blessed" to do this "than to receive"

This group of 12 people is sworn to render a verdict

Boy explorer Tintin has a white fox terrier named this

"The Tale of Benjamin ___"

A typical adult has about 22 square feet & 8 pounds of this, the body's largest organ

Named for Marco Polo, one of these structures crosses China's Yongding River

Timmy, here's an old shirt to wear; we'll act out the scene where Saul's robe is cut by this future king

It's another word for news writing

This acorn-obsessed critter from the "Ice Age" films caused a "continental crack-up"

"The Tale of Jemima Puddle-___"

In the open ocean, one of these catastrophic waves can sometimes travel as fast as a jet plane

Jazz mecca Preservation Hall & sports mecca the Superdome are in this Southern city

Today we'll learn about this agreement God makes with man; Deuteronomy 10 talks about the "ark of" it

The U.S. military calls this 2-word exercise using the arms & legs a "side-straddle hop"

A group of misfit monsters known as the Bros are on the show called "Secret Mountain" this

"The Tale of Johnny Town-___"

Sometimes called the world's driest place, the Atacama Desert on this continent gets less than 1 inch of rain a year

Here's a riddle: part of the beard of this great statue at Giza is now on display at the British Museum

No, the ladder is not for changing a light bulb

--

it's supposed to be the one from Genesis that this patriarch dreamed about
Scores at the first commercial break (after clue 15):
| | | |
| --- | --- | --- |
| Andrew | Julia | Partha |
| $3,400 | $3,600 | $600 |
Scores at the end of the Jeopardy! Round:
| | | |
| --- | --- | --- |
| Andrew | Julia | Partha |
| $4,600 | $5,200 | -$400 |
Double Jeopardy! Round
| | | | | | |
| --- | --- | --- | --- | --- | --- |
| | | | | | |
| Mushrooms aren't plants but fungi; they lack this most common photosynthetic pigment | Perfect listening for a Saturday or Sunday is the group called "Allstar" this | | In a current 120-crayon box, the first color alphabetically is this, like a certain nut | Now Secretary of State, in 2000 she became the 1st First Lady elected to Congress | This plural word can refer to insects of the order Lepidoptera or to that queasy feeling of nervous excitement |
| Though with no skull & cross-bones warning, toadstools have been defined as mushrooms that are this | It may not make sense, but in song, Adele wanted to "set fire to" this | | Look up! This color in Spanish is cielo azul | This 2012 Republican presidential candidate was governor of Massachusetts from 2003 to 2007 | Triskaidekaphobia is the fear of this number |
| One portobello mushroom has more of this element, K, than a banana | No more waiting outside the lines for this kid seen here | | Tickle me this color was introduced in 1993, piggy in 1998 | Antonio Villaraigosa has been mayor of this large city since 2005 | Ounce & this unit of measure both come from the Latin for "twelfth part" |
| Mushrooms produce thousands of these cells equivalent to seeds, which develop into new organisms | "All Your Life" was a hit for the country group of siblings Neil, Reid & Kimberly, called "The Band" this last name | Sometimes called Eskimos, they're the largest native group of the North American Arctic | Umber's been retired; the 2 "burnt" colors are orange & this | In law school, Harry Reid worked night security in this building where he's now Senate majority leader | This 12-letter adjective describes a person who can use both hands equally well |
| This 2-word term for a circle of mushrooms comes from the folk tale belief that it's where magical beings cavorted | "iYiYi", this Aussie's debut single, features Flo Rida & is about missing the girl that he likes | Before he went to the North Pole, Robert Peary explored this huge northern island, & a "land" there is named for him | The original 1903 Crayolas included red, orange, yellow, green, blue & violet; this 7th rainbow color joined in 2000 | He has been governor of Texas since 2000 | This music word for 3 or more pitches sounded simultaneously is from the French for "to agree" |
Scores at the end of the Double Jeopardy! Round:
| | | |
| --- | --- | --- |
| Andrew | Julia | Partha |
| $7,400 | $25,800 | $9,200 |
| | (lock game) | |
Final Jeopardy! Round
In 1859 a theory was born when he wrote, "from so simple a beginning endless forms... have been, and are being, evolved"
Final scores:
| | | |
| --- | --- | --- |
| Andrew | Julia | Partha |
| $401 | $26,800 | $18,200 |
| 3rd place: $1,000 | Winner: $26,800 | 2nd place: $2,000 |
Game dynamics: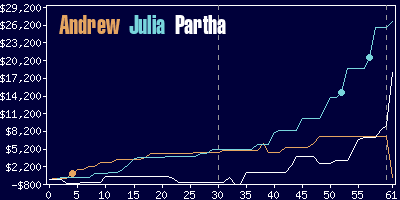 Andrew
Julia
Partha
$7,600
$19,600
$9,200
14 R
(including 1 DD),
1 W
20 R
(including 2 DDs),
0 W
12 R,
5 W
Game tape date: 2012-03-05