Show #6406 - Monday, June 25, 2012
Jeopardy! Round
SCANDINAVIAN WORDS WE ALL USE

SINGERS' SONGS FROM THE HEART
(Alex: We're looking for the main singer, the one who had a Top 40 hit with the tune.)

Gen. Beauregard wrote that Gen. Bee actually said, "Look at" this man's "brigade! It stands there like a stone wall"

Swedish gave us this word for a buffet meal

"I Left My Heart In San Francisco"
(1962)

"Pea soup" has been used to describe this type of London air condition at least as far back as Herman Melville in 1849

Get ready, get set, wait! Lines at this Anaheim theme park are known to be long, especially for rides like Peter Pan's Flight

Early models of the Gatling gun were manually operated using one of these

This word for a downhill zigzag ski race marked by poles or gates is from the Norwegian

"Un-Break My Heart"
(1996)

Radiation laden radon-222 is a by-product of mining this element that's named for a planet

This group headlined the halftime show at the 2011 Super Bowl

In 2009 people lined up for free vaccinations in an effort to fight off the H1N1 type of this

A leader of Confederate guerrillas who were spookily hard to find & fight, John Mosby was aka the Gray this

Small twigs are woven together in this kind of "work" seen in furniture & baskets

A boy band:
"Quit Playing Games (With My Heart)"
(1997)

This green-blue gemstone is sometimes acquired as a side operation at copper mines, like the Bisbee one in Arizona

This numerical expression refers to a pair of things that bear a strong resemblance to each other

Lines at U.S. gas pumps resulted from a 1973 oil embargo by OAPEC, OPEC with this 4-letter word added

In 1865 his pursuit hastened Lee's surrender; in 1866 he was sent west to deal with the Indians & passed into history

This word for a bicycle that also has a low-powered gasoline engine was coined in Sweden

"Piece Of My Heart"
(1968)

These birds are sensitive to methane & carbon monoxide, which explains their use in a coal-mining phrase

This classic Billy Wilder film gets its name from the nursery rhyme "Pease Porridge Hot"

Long lines are the norm on the day after Thanksgiving, which has this colorful name referring to profit

This bloodiest 1-day battle of the Civil War stopped the first Confederate invasion of the North in 1862

Norwegian for young fry of fish, they're the shrimp-like crustaceans eaten by certain whales

In 2012 this 2-word West African nation launched a website to make its diamond & other mining operations more transparent

John Irving & Gore Vidal went to this New Hampshire boarding school abbreviated PEA

He abdicated shortly after Petrograd police opened fire on a group lined up for bread
Scores at the first commercial break (after clue 15):
| | | |
| --- | --- | --- |
| Margaret | Deniz | Melissa |
| $2,200 | $3,200 | $2,200 |
Scores at the end of the Jeopardy! Round:
| | | |
| --- | --- | --- |
| Margaret | Deniz | Melissa |
| $9,000 | $6,800 | $3,400 |
Double Jeopardy! Round
SPIRITUAL AUTOBIOGRAPHIES

In 1975 Junko Tabei became the first woman to reach the top of this highest mountain

Published in 1694, George Fox' "Journal" recounts the "shaky" birth of this religious group

A rather colorless bucket

The name of this capital of Peru is a corruption of the Quechua name Rimac, meaning "talker"

Because it loses its leaves in the autumn, the maple is this type of tree

One of his greatest roles is Jake LaMotta in "Raging Bull"

This co-founder of Ms. magazine also helped create "Take Our Daughters to Work Day"

Helping to spread Hinduism in the U.S., Paramahansa Yogananda penned an "Autobiography of" one of these holy men

A levy on short bulletin board nails

Argentina, where the wind comes sweepin' down this fertile plain with about 3/5 of the country's people

(Jimmy of the Clue Crew presents the clue.) The bubble floats because the smoke that's produced from this form of carbon dioxide that was added to the water is heavier than the air around the bubble, but less dense than the air inside it

In a 2011 comedy, we got a double dose of this funny man

In 1936 Margaret Bourke-White became one of the first photojournalists to work for this magazine

1964's "Markings" marked the life & reflections of this U.N. leader who died in a plane crash

You go your way, I'll go mine to this country's highest elevation, 1,685 feet at Mount Catedral

In dogs & some other animals, this vestigial digit does not reach the ground when walking

Her roles include Roxie Hart in the musical "Chicago" & diarist Bridget Jones

On Easter Sunday, 1939, this woman sang to a crowd of 75,000 at the Lincoln Memorial

This pope's "Journal of a Soul" from adolescence to the Vatican was published after he died in 1963

Named for a military hero, this country has had 17 constitutions since independence in 1825

Fertilizing the queen is their only job

In "Eat Pray Love", she played Liz Gilbert

She designed the new home of the Museum of Chinese in America, which opened in Manhattan's Chinatown in 2009

I must disclose it was the name of St. Augustine's 4th century spiritual autobiography

Contracting tissue in a bivalve mollusk

2 miles wide, these falls form part of Argentina's northern border

It's either of the 2 cells formed when a cell divides

--

each one is a genetic duplicate of the parent cell

25 years after "The Hustler", he reprised his role as Fast Eddie Felson in "The Color of Money"
Scores at the end of the Double Jeopardy! Round:
| | | |
| --- | --- | --- |
| Margaret | Deniz | Melissa |
| $16,200 | $15,400 | $8,600 |
| | | |
Final Jeopardy! Round
Though shot in the chest, Teddy Roosevelt gave a 1912 speech saying, "it takes more than that to kill" one of these animals
Final scores:
| | | |
| --- | --- | --- |
| Margaret | Deniz | Melissa |
| $30,801 | $5,900 | $17,200 |
| 3-day champion: $48,000 | 3rd place: $1,000 | 2nd place: $2,000 |
Game dynamics: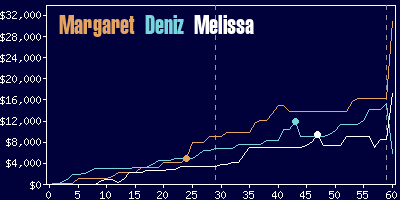 Margaret
Deniz
Melissa
$14,200
$18,400
$10,600
16 R
(including 1 DD),
1 W
23 R,
1 W
(including 1 DD)
16 R,
3 W
(including 1 DD)
Game tape date: 2012-02-15