Show #6403 - Wednesday, June 20, 2012
David Menchaca game 5.
Jeopardy! Round
UNOFFICIAL STATE NICKNAMES

ONE NIGHT WHEN I COULDN'T SLEEP...

11:30: Saw one of his Top 10 "Ways to Make 'Jeopardy!' More Exciting": "contestants... paid in black-market zoo animals"

J.S. Bach played a mean violin but preferred this instrument with a slightly longer body & slightly shorter name

The milk chocolate Hershey bar was introduced in 1900; a version that added these came 8 years later

Airport traffic was a breeze & security a delight; I'm 3 hours early, so I'll take this status on an earlier flight

Manager Danny Ozark misspoke when he said, "even Napoleon had his" this Washington apartment complex

12:47: Thumbed through this thriller about a young runner; Nazi dentistry always lulls me to sleep

This composer born in 1809 was the grandson of philosopher Moses Mendelssohn

Milton Hershey established his first candy business in this city, in time for its Centennial Exposition of 1876

A road for a motorist to avoid heavy traffic, or a surgical heart procedure

In 1982 this Dodger skipper said Kurt Bevacqua "couldn't hit water if he fell out of a... boat"

1:58: Took my dog for a walk; he's this breed

--

see why I named him Michelin Man?

The title of Brahms' "Liebeslieder" means these "of love"

The name of this assortment of caramels makes it sound like you'd find it at the end of a rainbow

When you let these be these, you decide to forget past disagreements

It wasn't Tinker or Evers but this man who led the Cubs to consecutive World Series wins in 1907 & '08

"Paradise of the Pacific"

2:52: Karaoked "Chow Down" & "The Madness of King Scar" from this Broadway musical; my neighbors love me!

You can hear why Beethoven's 1806 sonata has this Italian nickname containing the word "passion"

In 1977 Hershey's acquired this brand of licorice, "the twist you can't resist"

It's a standing rule governing a corporation's internal affairs

Cito Gaston took this north of the border team to consecutive titles in 1992 & '93

4:27: Planned a trip to this tiny principality in the Pyrenees; I'll learn Catalan, its official language, on the plane

In 1696 John Blow, a great British composer of this musical era, wrote an ode on the death of another, Henry Purcell

Products sold under this iconic brand name include the NutRageous bar & creamy peanut butter

Found before "account", this term originated with announcers who described each punch in a boxing match

In every year but one from 1991 to 2005, he led the Atlanta Braves to division crowns
Scores at the first commercial break (after clue 14):
| | | |
| --- | --- | --- |
| David | Marjorie | Austin |
| $4,800 | $1,800 | $800 |
Scores at the end of the Jeopardy! Round:
| | | |
| --- | --- | --- |
| David | Marjorie | Austin |
| $6,800 | $3,200 | $2,600 |
Double Jeopardy! Round
1-WORD FILM QUOTES
(Alex: You give me the film.)

COMPLETE THE ANIMAL PHRASE

(Alex: Clues from...)
FIRST LADY MICHELLE OBAMA

One of the products of the peace conference held in this city in 1919 was the Covenant of the League of Nations

Early myth says this "mighty" goddess rose full-grown from sea foam

She dedicated "Jane Eyre" to fellow author William Makepeace Thackeray

"The best laid plans of ____ and men"

(First Lady Michelle Obama presents the clue.) Campaigning in 2008, I learned about problems of military families from jobs & education to wellness; later, I began the Joining Forces initiative to highlight the issues along with this woman whose son is in the Delaware Army National Guard

During the League's history, 3 men had this hyphenated title: Eric Drummond, Joseph Avenol & Sean Lester

This god was also a guide to the Underworld & for travelers; now, his name adorns expensive scarves

Edmund Clerihew Bentley once rhymed, "the novels of" this author "are the ones to get lost in"

"The old ____ ____, she ain't what she used to be"

In a rare success, the League decided in 1921 that the Aland Islands belonged to this country, not Sweden

Honey, its twins! These 2 guys were often called the Dioscuri, meaning "the sons of Zeus" (but one may have had another dad)

Samuel Johnson gave this "philosophical" name to a group of 17th c. poets that included John Donne

"Nervous as a long-tailed ____ in a room full of rocking chairs"

The League dug freshwater wells in the Third World & tried to eradicate this, aka Hansen's disease

This goddess represented strategic war planning over the raw violence of war; that's using your head, Zeus!

Last name of Wilkie, whose writing formula was "make 'em laugh, make 'em cry, make 'em wait"

"One ____ does not make a summer"

After WWI the League "mandated" that Great Britain take charge of lands east & west of this river

Zeus & Danae's boy, he beheaded a Gorgon & wed Andromeda

He was the "venerable" early scholar who wrote "The Ecclesiastical History of the English People"

"Strain at a gnat and swallow a ____"

(First Lady Michelle Obama presents the clue.) One of the happiest times of my life was founding the Chicago branch of Public Allies, which develops young leaders; it was one of the 1st efforts under this federal volunteerism program created in 1993
Scores at the end of the Double Jeopardy! Round:
| | | |
| --- | --- | --- |
| David | Marjorie | Austin |
| $23,300 | $0 | $11,000 |
| (lock game) | | |
Final Jeopardy! Round
According to Billboard, the top 2 music artists of 2011 were these single-named singers, neither born in the U.S.
Final scores:
| | | |
| --- | --- | --- |
| David | Marjorie | Austin |
| $24,000 | $0 | $16,500 |
| 5-day champion: $115,503 | 3rd place: $1,000 | 2nd place: $2,000 |
Game dynamics: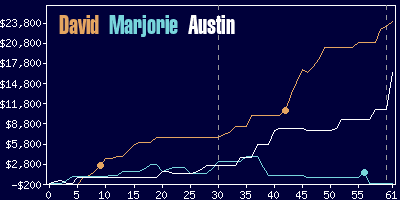 David
Marjorie
Austin
$22,000
$1,600
$11,000
24 R
(including 2 DDs),
2 W
12 R,
6 W
(including 1 DD)
14 R,
3 W
Game tape date: 2012-02-14