Show #6396 - Monday, June 11, 2012
Jeopardy! Round
THE TEAM'S RETIRED NUMBERS

Whether it's from heredity or aging, it's a clear case of alopecia, a loss of this

Bob St. Clair's 79 & Joe Montana's 16

A real high point of Seattle is this 1962 landmark where you can enjoy a meal along with a 360-degree view of the city

"The best place for" this yellow condiment "is on a frankfurter. if you get it anywhere else, (use) peroxide"

It stretches from the larynx to the bronchi

In 1912 anarchist Manuel Pardinas gunned down premier Jose Canalejas in this Spanish capital

Food poisoning

--

the eggs in your Caesar dressing gave you this form, like a million others in the U.S. every year

Hakeem Olajuwon's 34 & Moses Malone's 24

An architectural icon, Seattle's newest central one of these opened in 2004

--

check it out

Heloise uses boric acid powder on ants & these pests some say could survive a nuclear war

This head covering is named for its shape

Numerous Spanish officials have been assassinated by ETA, a group demanding a homeland for these people

Little Katie's barking cough is this 5-letter inflammation of the upper airways; a vaporizer might help

Ralph Kiner's 4 & Roberto Clemente's 21

Grab some Joe at the original one of these, open since 1971 in the Pike Place market

Save money! "Using sandpaper... scrape both ends of" this energy item to prolong its life

In 2006 & again in 2010 it was all golden for Shaun White in this Olympic event

The 1936 assassination of Jose Calvo Sotelo was the final spark that set off this 3-year conflict

Your redness & flushing are characteristic of this skin disease sometimes inaccurately called adult acne

Kevin McHale's 32 & Tom Heinsohn's 15

A national historical park in the city examines Seattle's role in the Klondike one of these

String beads for necklaces, sew on buttons or cut cake layers with this (& use it to fight plaque the cake causes)

The yagua of the Peruvian Amazon are skilled in using these weapons to bring down game

Barcelona-born Ramon Mercader killed this Soviet exile in Mexico City in 1940

It appears you have hyperthyroidism resulting from this serious-sounding disease, its most common cause

Lou Brock's 20 & Dizzy Dean's 17

Appropriately, the building housing the EMP, short for this, looks like a smashed guitar

"Instead of throwing away" this material when it's done wrapping food, "use it as a pot and pan scrubber"

Also known as a syrinx, this variety of flute is popular in the Pyrenees

In 1974, 2 Spaniards convicted of killing policemen were the last to be executed via this strangulation device
Scores at the first commercial break (after clue 15):
| | | |
| --- | --- | --- |
| Aaron | Elaine | Dylan |
| $1,600 | $3,400 | $1,000 |
Scores at the end of the Jeopardy! Round:
| | | |
| --- | --- | --- |
| Aaron | Elaine | Dylan |
| $6,800 | $5,400 | $4,000 |
Double Jeopardy! Round
I DON'T KNOW YOU FROM ADAMS

THE BRITISH MUSEUM'S HISTORY OF THE WORLD IN 100 OBJECTS

Washington Irving told "The Legend of" this "sequestered glen"

This blonde actress has a brother named Oliver Hudson who co-stars on "Rules of Engagement"

I was well aware of this third president without reading Henry Adams' history of his administration

A field 53 1/3 yards wide & 120 yards long is used in this U.S. pro sport

I've got one of these on you; it's also a verb meaning to squeeze hard

No. 1 is the inner coffin of Hornedjitef, an ancient priest of this kingdom, from the 3rd century B.C.

Betty Smith planted a story with "A Tree Grows In" this borough

After "Lizzie McGuire", she teamed up with sister Haylie for "Material Girls"

I read Julie Powell's foodie blog from day 1

--

didn't need to see Amy Adams play her in this movie

Genesis 6 reports that Noah's Ark was 50 of these units wide, about 75 feet

A guy who hitches horses, or one who's getting hitched himself

The bronze head of this first Roman emperor butted its way onto the list

Sherwood Anderson made his reputation with "Winesburg," this state

In 2008 Elle of this family was Benjamin Button's friend Daisy & sis Dakota starred in "The Secret Life of Bees"

I knew of this U.S. physicist born in 1904 before John Adams wrote the opera "Doctor Atomic" about him

Near Winslow, Arizona, there's a crater nearly a mile wide & over 550 feet deep made by one of these objects

The 19th C. is represented by a chronometer from this ship that helped make scientific history in the 1830s

Jean Rhys called a novel this "Wide" sea, an area of the North Atlantic

Ansel Adams' 1937 portrait of this painter told me nothing new about her

This giant dam stretches almost a mile & a half wide over the Yangtze River

I pledge you my everlasting this, from Latin for "faith"

A recent artifact is a Sharia-compliant credit card issued in 2009 in this federation of states in the Middle East

Christopher Isherwood wrote "Goodbye to" this city & also penned its "Stories"

Cecil Adams wrote an interesting "Straight Dope" about this great songwriter only playing in one key, but I knew that

The filtration technology produced at Israel's Kibbutz Amiad can handle municipal & industrial waste treatment down to two of these units, each .001 millimeters

The Gettysburg Address speaks of "the last full measure of" this committed emotion

British pride added a helmet from this site where an undisturbed 7th-century Anglo-Saxon burial ship was excavated
Scores at the end of the Double Jeopardy! Round:
| | | |
| --- | --- | --- |
| Aaron | Elaine | Dylan |
| $21,300 | $6,600 | -$1,200 |
| (lock game) | | |
Final Jeopardy! Round
Acts 1:13 says this event occurred in "an upper room"
Final scores:
| | | |
| --- | --- | --- |
| Aaron | Elaine | Dylan |
| $27,301 | $13,100 | -$1,200 |
| 2-day champion: $56,101 | 2nd place: $2,000 | 3rd place: $1,000 |
Game dynamics: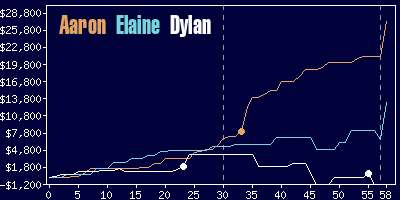 Aaron
Elaine
Dylan
$18,000
$6,600
-$400
24 R
(including 1 DD),
0 W
12 R,
2 W
11 R
(including 1 DD),
5 W
(including 1 DD)
Game tape date: 2012-02-08