Show #6372 - Tuesday, May 8, 2012
2012 Teen Tournament semifinal game 2.
From DAR Constitution Hall in Washington, D.C.
Jeopardy! Round
START IT "UP"
(Alex: Each correct response will start with those two letters.)

"Pork barrel spending" is among the "issues" at the website of this Arizona senator & 2008 candidate for president

Historian James Adams said this New England religious group was as intolerant as the Inquisition

To pull an entire plant out of the ground

Larry, Curly, Moe & Snooki? In a 2012 film, this title comedy trio ends up starring in a reality TV show

A "Beefy 5-layer burrito", part of its $2 meal deal

"Cavalleria rusticana" takes place on this large Italian island

This congressman finished 2nd in the 2012 New Hampshire primary with 23% of the vote

It's what God is mostly called in the Koran

The stuffing & covering of furniture

To coincide with the 100th anniversary of the title ship sinking, this 1997 film was re-released in 3D in April 2012

The OS X
Mountain Lion operating system

A soprano plays the title bird in "The Nightingale", based on a tale by this Danish author

She's the mother of 5, grandmother of 9 & minority leader in the House of Representatives

When these high Catholic officials take their posts, they put on red robes symbolizing blood they'd be willing to shed

The parts of a football goal post: 1 post, 1 crossbar, 2 of these

He played Aragorn in the "Lord of the Rings" movies

"Azora" concerns the romantic entanglements of a daughter of this Aztec emperor

This Connecticut man who ran for vice president in 2000 announced that 2012 would be his last year in the Senate

The Jewish Sabbath enters with Kiddush, which includes a blessing over this beverage

Someone who instantly gets what you're saying is "quick on" this

Sam Worthington returns as Perseus, who must save Zeus from the underworld, in this 2012 adventure

The title character of Bellini's "Norma" is one of these British pagan priest(esse)s

GOP house members who don't follow the party program can feel the lash of Kevin McCarthy, house majority this

There are about 16 million folks in this "Southern" denomination whose convention was organized in 1845

For example, when the candy counter guy asks if you want to make that medium Coke a large

Go, Emile Hirsch! Go, Emile Hirsch! Go, Emile Hirsch, Go! as this 2008 title auto enthusiast

"Belisario" takes place in this eastern half of the Roman Empire that survived the fall of the west
Scores at the first commercial break (after clue 15):
| | | |
| --- | --- | --- |
| Elyse | Anshika | Evan |
| $3,800 | $1,800 | $4,000 |
Scores at the end of the Jeopardy! Round:
| | | |
| --- | --- | --- |
| Elyse | Anshika | Evan |
| $5,800 | $4,000 | $9,800 |
Double Jeopardy! Round
(In the first round we dealt with Washington Today; now we deal with...)
WASHINGTON YESTERDAY

In 1842 this "Sleepy Hollow" author was appointed U.S. minister to Spain

In 1960 Theodore Maiman used a synthetic type of this red gem in producing the world's first laser

"Hearing voices no one else can hear isn't a good sign, even in the wizarding world"

Roughly as large as the U.S., this desert is spread over 10 African nations

You can drink from the "water" one at your school, but probably not the one at the mall with the coins at the bottom

Among products this man derived from the sweet potato was postage stamp glue, & that's not just peanuts!

Will Champion & Chris Martin

The 3 main parts of an insect's body are the head, the thorax & this section

"Tell me, O muse, of that ingenious hero who traveled far and wide after he had sacked the famous town of Troy"

Africa's largest island, it's home to more than 70 varieties of lemur

More overcast than yesterday's weather

It spans the Hudson River, contains 107,000 miles of wire & has 2 levels, each with 12 traffic lanes

Akiva Schaffer & Andy Samberg

"Somewhere in la Mancha, in a place whose name I do not care to remember, a gentleman lived not long ago"

Panari Sky Centre in this Kenyan capital houses Africa's largest ice rink

The person to whom apartment dwellers pay rent

Sidney Poitier was the first African American to win the Oscar for Best Actor; he was the second

If the soil in the first lady's garden has a pH reading of 7, it's this, meaning equal in acidity & alkalinity

"I am a bear of very little brain, and long words bother me"

Port cities on this sea include Massawa in Eritrea & Hurghada in Egypt

A popular military motto is "death before" this, loss of respect or reputation

In 1983 Harold Washington became the first African-American mayor of this midwestern city

Pat Monahan & Rob Hotchkiss

"He cried out twice, a cry that was no more than a breath

--

'The horror! The horror!"'

This natural wonder is on the border of Zambia and Zimbabwe

This term for someone hired to do small jobs around the house contains a body part
Scores at the end of the Double Jeopardy! Round:
| | | |
| --- | --- | --- |
| Elyse | Anshika | Evan |
| $20,800 | $5,600 | $19,800 |
| | | |
Final Jeopardy! Round
It's believed that its nose was about 3 feet wide when it was first constructed around 2500 B.C.
Final scores:
| | | |
| --- | --- | --- |
| Elyse | Anshika | Evan |
| $40,800 | $11,200 | $39,600 |
| Finalist | 3rd place: $10,000 | 2nd place: $10,000 |
Game dynamics: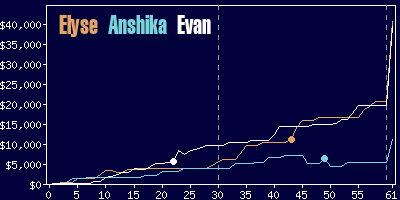 Elyse
Anshika
Evan
$19,000
$7,600
$17,800
20 R
(including 1 DD),
1 W
12 R,
2 W
(including 1 DD)
25 R
(including 1 DD),
2 W
Game tape date: 2012-04-20