Show #6362 - Tuesday, April 24, 2012
Jeopardy! Round
THE AFI LIFE ACHIEVEMENT AWARD

WHO WANTS TO BE A BILLIONAIRE?

2008:
This star of "Bonnie & Clyde"

You don't have to go to Florida to enjoy this dessert

This Presidential Medal of Freedom winner whose work is seen here got his first commission when he was 15

Would you spend $90 million to keep your job? He did just that to claim a third term as NYC mayor

Kahiko is the traditional form of this dance

Processing 10 tons of ore yields one troy ounce of this, atomic number 79; no wonder it's so darned valuable

2004:
This portrayer of Joanna Kramer

Named for the German region where it originated, it's a rich chocolate cake with a cream filling & cherries

Still going by the name Ruiz, he entered a painting academy in Madrid in 1897, but the teachers bored him

His $9 billion empire, partly in media, helped make him Italian prime minister until his 2011 resignation

In Hawaii, May Day is also this rhyming day, celebrating a certain wreath

Add a letter to "melting" to get this method by which a metal is taken from its original ore

1994:
This "Five Easy Pieces" star

Shhh! A chocolate one of these is just out of the oven

This artist known for self portraits had a child by a young housekeeper & once declared bankruptcy

In 2006 he launched Virgin Fuels to develop environmentally friendly energy sources

It's the double-talk Hawaiian name for an assorted platter of appetizers

You'll earn more than 5 cents if you know that when it comes to ores of this, it's millerite time

1981:
This dancer who began his career in Vaudeville

Enjoy this New Orleans specialty, the official doughnut of Louisiana, with a cup of chicory coffee

During his life he may have sold only one painting , "The Red Vineyard", but in the 20th century his work sold for record amounts

This Washington State dropout co-founded a company with Bill Gates & piled up $13.5 billion, so things worked out

It can be a Hawaiian feast or a particular dish usually prepared with coconut cream at that feast

This metal says Cu later to its chief ores, including chalcopyrite & chalcocite

1990:
This director of epics like "The Bridge on the River Kwai"

It's the 2-word French name for a custard dessert with a hard, caramelized sugar topping

The last name of this Renaissance master whose work is seen here means "little barrel"

He ran track for the University of Oregon & later sold Japanese shoes out of his car; now he's worth billions

When pitchblende, an ore of this element, goes to a mill, sulfuric acid is used to produce yellowcake
Scores at the first commercial break (after clue 15):
| | | |
| --- | --- | --- |
| Cindy | Matt | Andrea |
| $3,200 | $1,800 | $3,200 |
Scores at the end of the Jeopardy! Round:
| | | |
| --- | --- | --- |
| Cindy | Matt | Andrea |
| $5,700 | $3,400 | $4,200 |
Double Jeopardy! Round
It's said that the devil is in these, also the name of a men's magazine from Conde Nast

In a Longfellow rhyme, "I shot" this "into the air, it fell to earth, I knew not where"

Before we knocked out 4 No. 1s in less than a year, we were just 5 brothers from Gary, Indiana

The Gulf of Riga is on the northwest coast of this country

Muslim forces captured Alexandria in 642, ending Byzantine rule in this country

An essential piece of cricket equipment, or a nocturnal mammal

"Just Like" this 2-letter word is a feature of the weekly with this title

Longfellow wistfully wrote, "Art is long, and" this "is fleeting"

We're Natalie, Martie & Emily, 3 Southern birds with several Grammys & a 2011 live "Storytellers" DVD

It borders Thailand, Cambodia, Vietnam & China

The Byzantines paid tributes of gold to this big bad Hun who attacked them repeatedly in the 440s

Morally low, or the bottom support, as of a sculpture

Under longtime editor Gilbert Grosvenor, the circulation of this magazine went from less than 3,000 to more than 2 million

Hiawatha caught a monster sturgeon named Mishe-Nahma while canoeing on a lake that Longfellow called this

We got together as kids in the San Francisco Bay Area before hitting it big with "Proud Mary"

This lake in central Switzerland has a maximum depth of 702 feet

Byzantium, the capital of the Eastern Roman Empire, was renamed by this emperor in 330 A.D.

Direct & unreserved in speech, or Congressman Barney

Ansel Adams helped found this photography magazine named for an opening, as on a camera

"Week in, week out, from morn till night, you can hear his bellows blow", Longfellow wrote about this character

We hit the Top 10 with "Don't Look Back" in 1978; we'd say where we're from, but that'd be too much of a hint

It's the longest river in France

After enduring for more than a thousand years, the Byzantine Empire finally fell to this one in 1453

Stays, or a word used to mean a corpse

This editor of The Weekly Standard can also be seen on "Fox News Sunday"

In "The Courtship of Miles Standish", she told John Alden, "If I am not worth the wooing, I surely am not worth the winning"

We had a big year in 1966, with 5 Top 10 hits including "Summer In The City"

--

not bad for 4 Greenwich Village boys

It's "jar"ring to note that before sailing to America in 1620, the pilgrims lived in this Dutch city for 11 years

Before invading the west, Byzantine Emperor Justinian made peace with Khosrow, king of this empire to his east

A bad football punt, or the long, straight anchor part connecting the crown & the ring
Scores at the end of the Double Jeopardy! Round:
| | | |
| --- | --- | --- |
| Cindy | Matt | Andrea |
| $24,000 | $6,200 | $18,400 |
| | | |
Final Jeopardy! Round
In 1977 Juanita Kreps, the first woman on the board of the NYSE, became the first woman to head this Cabinet dept.
Final scores:
| | | |
| --- | --- | --- |
| Cindy | Matt | Andrea |
| $36,801 | $12,400 | $12,401 |
| 2-day champion: $54,800 | 3rd place: $1,000 | 2nd place: $2,000 |
Game dynamics: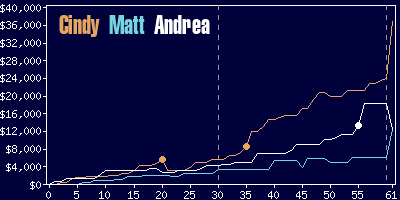 Cindy
Matt
Andrea
$24,600
$6,200
$15,000
28 R
(including 1 DD),
2 W
(including 1 DD)
10 R,
3 W
18 R
(including 1 DD),
1 W
Game tape date: 2011-12-20