Show #6359 - Thursday, April 19, 2012
Jeopardy! Round
THE MOST POPULAR NETFLIX MOVIES

Woonsocket is the sixth-largest city in this New England state

Sandra Bullock plays Leigh Anne Tuohy in this feel-good film that became the most popular to get from Netflix

Aly:
This narrow passageway

This "Oh, God!" man (1896-1996): "If you live to the age of 100, you have it made, because very few people die past the age of 100"

In Genesis it was one of the cities destroyed by fire & brimstone

They don't come much squarer than this state

One thing to do before dying is rent this 2007 Jack Nicholson-Morgan Freeman buddy movie

Byp:
This alternative route

This woman (1860-1961) painted "Catching the Thanksgiving Turkey" in the year she turned 83

Those into this subculture often have black-dyed hair & wear black clothes & dark makeup

"Yearning of the Sword" is a Yo-Yo Ma cut on the soundtrack of this 2000 movie with Chow Yun-Fat & Michelle Yeoh

South Carolina's seal features this tree that has large fan-shaped leaves

The title of this 2010 film refers to planting an idea in someone's subconscious during the dream state

Msn:
A religious or diplomatic establishment

Radio's "We Hold these Truths" was penned by Norman Corwin (1910-2011) & starred this man

This food & drink embellishment might include a chocolate curl or a bell pepper ring

At a 2009 black tie gala, Yo-Yo accompanied this prime minister of Canada, who sang "With a Little Help from my Friends"

(Sarah of the clue crew gives the clue from Boise, ID) Idaho's state capitol is the only one that gets its power from the heat within the earth

--

this type of renewable energy in which Idaho is a leader

The popularity of this Coen Brothers film has nothing to do with Javier Bardem's bowl cut as killer Anton Chigurh

Knl:
One of these small hills, grassy or not

Last name of football coach Amos Alonzo (1862-1965), pioneer of the onside kick & the flea flicker

From the Yiddish for "lapse", it's a minor malfunction, often of a computer

Ma has played this composer's cello suites on the world's great stages, including Jeopardy!'s

The Grand, at whose rapids a city sprang up, is this state's longest river

Jeff Bridges played the delightfully evil Obadiah Stane in this superhero film

Spgs:
They're cold in the 89506 & hot in the 71901

This man (1902-2003) was a U.S. senator for almost half a century
Scores at the first commercial break (after clue 15):
| | | |
| --- | --- | --- |
| Dan | Nathan | Carol |
| $2,600 | $1,000 | $3,600 |
Scores at the end of the Jeopardy! Round:
| | | |
| --- | --- | --- |
| Dan | Nathan | Carol |
| $5,800 | $2,400 | $3,800 |
Double Jeopardy! Round
4-LETTER CROSSWORD REGULARS

Track, Bristol, Willow, Piper & Trig

"Hollywood Squares" is a game show version of this children's game

Greg Heffley is the character who writes the "Diary of" this title kind of "Kid"

The removal of a sample of living tissue for diagnostic analysis

This 4-letter imperative used in proofreading means "let it stand"

Charles Ferdinand, Duke de Berry, was stabbed to death while leaving this city's opera house in 1820

England's king Richard the Lion-hearted

On the U.S. version of "Who Wants to Be a Millionaire?", this is the lowest amount you earn for a correct answer

"Untold Story" imagines that this royal faked her own death & lives in a small American town as Lydia Snaresbrook

A sudden great idea, or something seen on an EEG

This fencing sword was introduced after the foil & before the sabre

Soldier of fortune Frederick Hermann, Duke of Schomberg, fell at the 1690 Battle of the Boyne in this country

Current sitcom star Rashida Jones (a '60s TV star)

The survey says Richard Karn, Louie Anderson & Steve Harvey have all hosted this show

"Every Thing on It" is a collection of drawings & poems by this author of "Where the Sidewalk Ends"

The name of this sedative compound synthesized in 1903 is also found after seco-, amo- & pheno-

This fruit of the blackthorn tree flavors a type of gin

The Duke of Clarence was executed in the Tower of London in 1478; Shakespeare said he was drowned in this

An 1868 novel's Meg, Jo, Beth & Amy

"Is it bigger than a breadbox?" became a popular catchphrase on this classic game show

"Destiny of the Republic" is "A Tale of Madness, Medicine and the Murder of a President"

--

his lingering death

This simple hydrocarbon, discovered in gas from whale oil, is the word for gasoline in Danish & Hungarian

Trademarked name for an unattractive, wrinkly skinned variety of tangelo

The Bible's Ishmael

--

call her this

The movie "Quiz Show" told the story of the scandal involving this 1950s game show

"The Bean Trees" was the first novel by this woman who also wrote "Animal Dreams"

The higgs type of this elementary particle was postulated by Peter Higgs in 1964

This word for s-shaped or double-curved molding sounds like an expression of amazement
Scores at the end of the Double Jeopardy! Round:
| | | |
| --- | --- | --- |
| Dan | Nathan | Carol |
| $9,600 | $1,200 | $14,200 |
| | | |
Final Jeopardy! Round
WHO WAS THE PRESIDENT WHEN...
The Jets beat the heavily favored Colts in Super Bowl III
Final scores:
| | | |
| --- | --- | --- |
| Dan | Nathan | Carol |
| $18,600 | $1,000 | $8,200 |
| 2-day champion: $31,800 | 3rd place: $1,000 | 2nd place: $2,000 |
Game dynamics: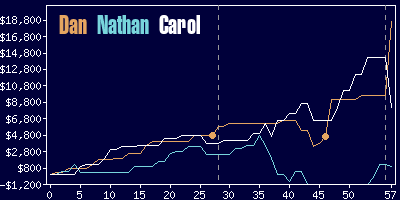 Dan
Nathan
Carol
$5,800
$1,200
$14,200
16 R
(including 2 DDs),
2 W
13 R,
7 W
18 R,
3 W
Game tape date: 2011-12-19