Show #6347 - Tuesday, April 3, 2012
Jeopardy! Round
AP MALE ATHLETE OF THE YEAR

Washington, D.C. has no streets named for "Y", "Z" or this letter of the alphabet because of its similarity to "I"

It's the highest mountain in Kenya

The black-eyed this flower is called a pioneer plant

--

it's one of the first plants to grow in a new field, such as after a fire

This piece of cutlery was added to the European table in the Middle Ages, bringing cleaner hands & better hygiene

In a Beatles song this street named for an 18th century slave ship owner runs "beneath the blue suburban skies" of Liverpool

1982:
Edmonton Oilers center

In 1984 this novel first published 35 years earlier was on the bestsellers list

The flower known as this "of the valley" in the U.S. is called the May Bell in Germany

For those wanting privacy to watch movies, the first of this type of theater opened in New Jersey on June 6, 1933

The soybean is a member of this plant family

Although there is no standard speed limit on this German highway system, there is a recommended limit of about 80 mph

1936:
Ohio State track star & Olympic gold medalist

In this classic game from Milton Bradley, you have to connect 4 of your pieces in a row to win

To provide old-age retirement benefits & unemployment insurance, Congress passed this act on August 9, 1935

Hit the bricks at this theme park that has locations in Denmark, Germany, England & Carlsbad, California

One genealogist estimates around 90% of Kentucky's 1790 population had arrived there via this road

1995:
Reliable star seen here

Bakers have been using this brand of chocolate in their recipes since 1780

In the late 1700s Charles de l'Epee began the 1st public school for these people in Paris & created a language for them

Chopin advocated this smooth playing style

The Grand Trunk Road begins at Peshawar, Pakistan, travels SE though India & ends at Sonargaon in this country

1935:
Heavyweight boxer who defeated Primo Carnera & Max Baer in a 3-month period

Carvings of a horse, star & bell appear on the headstone of this Wild West "Bandit Queen"

Siberian, Yellow Flag & Dwarf Bearded are varieties of this popular 4-letter garden flower

The Inuit were exempted from a 1986 worldwide ban on commercial hunting of these animals

This sleeve style that sounds like a dinner roast was popular in the 19th century
Scores at the first commercial break (after clue 15):
| | | |
| --- | --- | --- |
| Elisabeth | Tamara | Joey |
| -$200 | $3,600 | $2,800 |
Scores at the end of the Jeopardy! Round:
| | | |
| --- | --- | --- |
| Elisabeth | Tamara | Joey |
| $200 | $3,800 | $1,600 |
Double Jeopardy! Round
(Alex: You have to name the literary work in...)
AL-LIT-ERATION

This Oscar winner played cab driver Max (not Maxx) in "Collateral"

Alfred Barr Jr., the founding director of this museum, intended it to help people enjoy the visual arts of our time

Fantastic Fitzgerald,
neighbor Nick,
car crash

Phosgene gas was commonly used along the Somme in this war

Today with almost 8 million people, this island has talked of splitting from New York since the 1890s

"The Measure of a Man" is "a spiritual autobiography" by this actor whose distinguished feature film career began in 1950

The Whitney Museum has 187 works by this artist, including a mobile called "Big Red"

Bunyan biggie,
amply allegorical,
Christian chronicles

The venom of the Gaboon viper can affect the way your blood does this inside you

--

either too much or too little

State Senator Bob Morton has proposed that Washington east of these mountains go its own way

Dennis Haysbert's credits include "The Unit", "Far From Heaven" & ubiquitous ads for this insurance company

The collection of industrialist Henry Clay Frick is on view in a mansion at East 70th St. & this avenue

Rudyard ruminates,
superb story,
"wee" wonder

The oldest record of murder with poison, from Egypt, refers to "death by peach"

--

this toxin

Jefferson had a plan for dividing this "directional" territory into states like Cherronesus & Polypotamia

Woody Strode, seen here in this Kirk Douglas film, helped integrate the NFL in 1946 with the Rams

This borough's museum of art upset folks with a 1999 exhibit featuring maggots, dung & formaldehyde

Dickens delights,
title teen,
woeful Wackford

In 1935 actress Thelma Todd was found in her car, dead of this type of poisoning under unexplained circumstances

Absaroka, which in 1939 proclaimed a governor & a Miss Absaroka, had parts of this state, Montana & South Dakota

He's gone from "Ocean's Eleven" to "Hotel Rwanda"

This planetarium at the American Museum of Natural History has a 10,000-volume library on astronomy

Melville man,
Claggart clash,
mutiny mitigation

Jim Jones promised his followers a utopia in this country; it ended in mass suicide by poison

This negative-sounding word means to render someone utterly perplexed
Scores at the end of the Double Jeopardy! Round:
| | | |
| --- | --- | --- |
| Elisabeth | Tamara | Joey |
| $8,800 | $8,200 | $6,400 |
| | | |
Final Jeopardy! Round
In 2005 a sculpture of an African elephant was installed outside this country's embassy in Washington, D.C.
Final scores:
| | | |
| --- | --- | --- |
| Elisabeth | Tamara | Joey |
| $1,199 | $2,199 | $3,999 |
| 3rd place: $1,000 | 2nd place: $2,000 | New champion: $3,999 |
Game dynamics: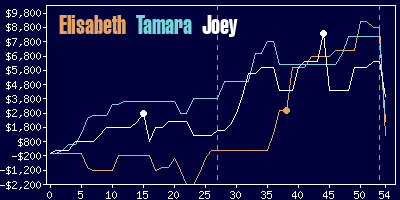 Elisabeth
Tamara
Joey
$6,600
$8,200
$12,400
12 R
(including 1 DD),
6 W
13 R,
2 W
19 R,
4 W
(including 2 DDs)
Game tape date: 2011-12-13