Show #6344 - Thursday, March 29, 2012
Jeopardy! Round
Pursuing a military career early in his life, de Sade fought in this 1756-1763 conflict against Great Britain

3-5 P.M. is the best time of day to post on this microblogging site if you want to be retweeted

Originally a Spanish term meaning "coffee shop", it's an eatery, often in an institution like a hospital

It doesn't count as opening someone else's mail to read the letter to Philemon found in this book

1962:
"The Clampetts Strike Oil"

This country has "city" in its name; with a population of 830, might we suggest "village"?

In 1789 de Sade was moved from this prison for creating a disturbance, only days before it was stormed

This building in Arlington, Virginia has 131 stairways, 19 escalators & 17.5 miles of corridors

A highway service station & restaurant principally for the drivers of all them 18-wheelers

A classy goodbye includes "until" then, the occasion after this one

2001:
"12:00 A.M.-1:00 A.M."

It's a long way to Tipperary in this country, & to Kilkee & Tralee as well

In the film "Quills" this Australian actor garnered an Oscar nomination for his role as de Sade in the last years of his life

In 1877 the Liberty Bell was hung by a chain of this symbolic number of links

Foul cutlery term for a local restaurant that serves fried, inexpensive food

In the address P.O. Box 438 Fort Simpson, NT X0E 0NO, NT is short for this

The tower of the Great Opening Hotel is in Khartoum in this country

The Marquis vented his thoughts in the scandalous "Philosophy in" this room of the house

This private college in Northern California has 20 libraries with some 8.5 million physical volumes

On Food Network, Guy Fieri hosts the show known as "Triple D": these, "Drive-ins and Dives"

The guy not as important as the top guy but more important than every other guy

1951:
"The Girls Want to go to the Nightclub"

Kid, next time I say let's go someplace like this country whose judicial capital is Sucre, let's go someplace like this country

De Sade's work "120 days of" this sinful biblical city helped introduce the term "sadism"

In 2010 there were more than 21,000 U.S. cases of this, aka pertussis

Drooling for fast food at Indiana's Greenwood Park Mall? Head for an establishment in this 2-word area

More kids than adults have these episodes of fear & sometimes screaming during sleep

1989:
"Panic at Malibu Pier"

Lemur entertain you with the Isalo Massif, a geographic feature of this island country
Scores at the first commercial break (after clue 15):
| | | |
| --- | --- | --- |
| Beau | Jay Ben | Richie |
| -$400 | $6,600 | $1,000 |
Scores at the end of the Jeopardy! Round:
| | | |
| --- | --- | --- |
| Beau | Jay Ben | Richie |
| $3,400 | $9,200 | $3,200 |
Double Jeopardy! Round
14-, 15- & 16-LETTER WORDS

Shirley MacLaine & Debra Winger in this Best Picture Oscar winner about a mother & very sick daughter

Born in Cincinnati, this CNN founder became North America's largest private landowner

Jasper Johns' "Sketch for 'Good Time Charley"' can be found at this museum at 1000 5th Ave. at 82nd

A disobedient soldier can be busted for this

Plato said the world of sense experience is like living in one of these, seeing only shadows of true reality

A 2009 Air Force report envisions the possibility of these flying robots replacing all its manned aircraft

Bette Midler & Barbara Hershey as lifelong friends in this weepie; at the end, they sit on the sand one last time

Like Tecumseh, this Civil War general who was named for him also hailed from Ohio

The witch of this biblical place pops up in Carl Nielsen's opera "Saul and David"

Mr. Vonnegut knew it's another term for abattoir

Wittgenstein compared his own book the "Tractatus" to this

--

you climb its rungs to see the world as it is

(Sarah of the Clue Crew reports.) Deep in a tunnel behind this door is the Global Vault, holding more than half a million samples of these items as backups, the ultimate insurance policy for our food supply in case of global catastrophe

Clint Eastwood & Hilary Swank in this sad 2004 tale of fisticuffs & euthanasia

An elementary school in Lorain, Ohio is named for this woman from Lorain who's both a Pulitzer & Nobel Prize winner

Many an artist, Uccello being one example, has depicted Saint George battling this beast

It's the "EV" in EVA, an outer space jaunt

Aristotle was among those who believed the mind begins as a blank slate, this phrase in Latin

The Pew Research Forum says by 2030 the world population of this religion will cross the 1/4 of humanity mark

Jude Law as a Civil War dropout & Nicole Kidman as the woman he tragically wants to come home to

From 1971 to 1979 he was a Professor of Aerospace Engineering at the University of Cincinnati

This composer's 1869 waltz "Wine, Women and Song" was far from junior league

This word for a prediction also starts with P & ends with T-I-O-N

In a work of political philosophy, Hobbes compared "The Great Power of" man's governor to this biblical beast

Robert Ettinger, a founder of this optimistic scientific movement, died in 2011 & of course is frozen in Michigan

Tommy Kirk, Fess Parker & some fine canine performers in this heart-tugging classic

This designer of the Vietnam Veterans Memorial was naturally drawn to sculpture, coming from Athens (Ohio)

"The Hunted", 5 acts long, is but the second part of this man's trilogy "Mourning Becomes Electra"

Poe knows this word for the ringing or sound of bells starts with a bit of double talk

Nietzsche wrote, "when you look long into" this immeasurable chasm, it "also looks into you"

Ray Kurzweil foresees the melding of human & machine into one in his book titled this event "is Near"
Scores at the end of the Double Jeopardy! Round:
| | | |
| --- | --- | --- |
| Beau | Jay Ben | Richie |
| $13,800 | $11,600 | $5,400 |
| | | |
Final Jeopardy! Round
On March 17, 2011 a probe called MESSENGER became the first spacecraft to orbit this planet
Final scores:
| | | |
| --- | --- | --- |
| Beau | Jay Ben | Richie |
| $23,201 | $23,200 | $0 |
| 3-day champion: $51,203 | 2nd place: $2,000 | 3rd place: $1,000 |
Game dynamics: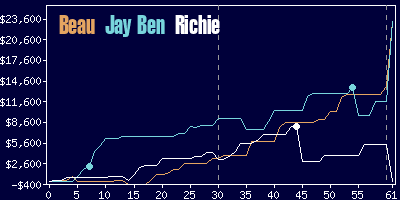 Beau
Jay Ben
Richie
$13,800
$14,000
$10,400
18 R,
2 W
17 R
(including 1 DD),
3 W
(including 1 DD)
17 R,
3 W
(including 1 DD)
Game tape date: 2011-12-07