Show #6327 - Tuesday, March 6, 2012
David Gard game 3.
Jeopardy! Round
THE BOOK'S TITLE IN GERMAN

A founder of Tenochtitlán saw an eagle and snake, the scene depicted in the center of this country's current flag

2009:
Best female pop vocal performance for "Halo"

With almost as much protein as a cow's, milk from these beans sells about $1 billion worth a year in the United States

The 1936 bestseller "Vom Winde Verweht"

The epicenter of an atomic explosion

A 39-year-old widower in 1886, he married 20-year-old Mina Miller & built a mansion for her where he improved the phonograph

This constellation appears on the flags of Australia, New Zealand & Papua New Guinea

1964:
Best rock & roll recording for "Downtown"

(I'm Dr. Oz.) Using sports drinks to rehydrate during exercise replaces not only fluid, but chemicals that are lost through perspiration like potassium & this one, symbol Na

A novel you can't refuse, "Der Pate"

It's a rhyming term for hamburger meat

Thomas Bruce, Earl of this, got Turkish permission to remove Greek sculptures, or "marbles"

The words on this South American country's flag are "Ordem e Progresso", "Order and Progress"

1999:
Best female pop vocal performance for "I Will Remember You"

Holy this fish! The Spanish & king types have rebounded from depletion, but may have lots of PCBs or mercury

John Steinbeck's "Von Mausen und Menschen"

Scientifically, it's Marmota monax

During the Amer. revolution, General Thomas Conway actively advocated that Horatio Gates replace this man

The sun, the land & the people of this Caribbean country are represented in the three colors of its flag, seen here

2007:
Best female R&B vocal performance for "No One"

Unlike other nuts, chestnuts have a significant amount of this, aka ascorbic acid

The Russian classic "Krieg und Frieden"

The ceremonial beginning of a construction project

Born in 1854, he assisted Alexander Graham Bell with his telephone experiments

Germany today uses the same flag it did under the 1919-1933 government called this

1986:
Best country performance by a duo or group with vocal for "Grandpa (Tell Me 'Bout The Good Old Days)"

Like all dried fruit, raisins are very nourishing, containing lots of magnesium & this element that can keep anemia at bay

The island tale "Herr der Fliegen"

An arena for testing new ideas, or an army testing facility like Utah's Dugway one

Called "The Angelic Doctor", this 13th century theologian listed the 7 Deadly Sins for us
Scores at the first commercial break (after clue 15):
| | | |
| --- | --- | --- |
| David | Laura | Ben |
| $4,200 | $2,800 | $1,200 |
Scores at the end of the Jeopardy! Round:
| | | |
| --- | --- | --- |
| David | Laura | Ben |
| $7,000 | $7,600 | $2,000 |
Double Jeopardy! Round
SIGMOID & THE SEA MONSTERS

Marx & Engels wrote that "the history of all hitherto existing society is the history of" these "struggles"

3 of the 6 most populous U.S. counties, including Orange, are in this state

Cloudless during the day &
one piece of stock

The love theme from "Footloose" is "Almost" this

This slit in a sperm whale's head is sigmoid, or s-shaped

4 years before "Field of Dreams", he gave a memorable performance as Gardner Barnes in "Fandango"

Sexy completion of Henry Kissinger's "Power is the great..."

This Illinois county of more than 5 million people is named for a pioneer lawyer, not a sea captain

The head of a monastery & the last name of the guy who sang "Alison"

The name of this abode of Adam & Eve is Hebrew for "pleasure" or "delight"

The sea type of these, family Cheloniidae, pull their necks into their shells using a sigmoid curvature of the vertebrae

Owen Wilson co-wrote the quirky "Rushmore", starring this "Ghostbuster" as Mr. Blume

"America is my country", wrote Gertrude Stein, "and" this "is my home town"

Don't mess with the city of Kirby or the rest of this state's Bexar county

Tiny computer components & a short swim

The name of this "ground", a paleface name for a Native American heaven, implies that game is plentiful

Long & sinuous & up to 600 pounds, the oarfish may be the source of the legends of the "sea" type of this snaky beast

Paul Giamatti wrestles with life affer taking a teen grappler into his home in this double-talk 2011 film

Completes Gloria Steinem's line "Some of us are becoming the men we wanted to..."

This large New York county shares its name with the capital of the Bahamas

A "Sesame Street" grouch & a "wonderful" cartoon cat with a bag of tricks

Camp David once had this name, after the idyllic Tibetan place in a James Hilton novel

This small, curved, equine-named creature favors estuaries & shallow coastal waters

Dennis Christopher takes on the Italian bicycle team in this 1979 sleeper that won a best screenplay Oscar

Bismarck wanted Germany to be "an honest" this "who really intends to do business"

Wayne County has more people than any other in this state but lost 12% of them from 2000 to 2010

A speedy messenger & singer Burl

To Homer, these fields were a land of perfect happiness on the banks of the Oceanus river

Like many animals, fish have these slithery creatures as parasites; the cod type is S-shaped as an adult

"The Hammer" is a knockout film with this ex-"Loveline" & "Man Show" host
Scores at the end of the Double Jeopardy! Round:
| | | |
| --- | --- | --- |
| David | Laura | Ben |
| $16,800 | $15,600 | $7,200 |
| | | |
Final Jeopardy! Round
A fellow author called him "a very unique cat

--

a French Canadian Hinayana Buddhist beat Catholic savant"
Final scores:
| | | |
| --- | --- | --- |
| David | Laura | Ben |
| $31,300 | $25,000 | $6,485 |
| 3-day champion: $69,900 | 2nd place: $2,000 | 3rd place: $1,000 |
Game dynamics: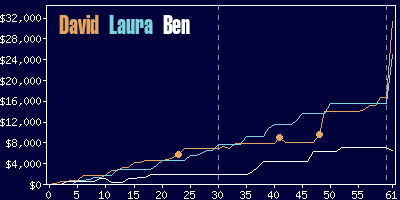 David
Laura
Ben
$15,000
$15,600
$7,200
20 R
(including 2 DDs),
2 W
(including 1 DD)
17 R,
0 W
10 R,
1 W
Game tape date: 2011-11-29