Show #6306 - Monday, February 6, 2012
2012 College Championship quarterfinal game 4.
Jeopardy! Round
| | | | | | |
| --- | --- | --- | --- | --- | --- |
| | | | | | |
| Also an after-school penalty, it's the holding of a suspect in custody to await charges or trial | | The Butler Longhorn Museum and the National Cowgirl Museum & Hall of Fame | "Jeopardy!" champ Thomas Horn plays the kid in "Extremely Loud and" this | | Desired wrongfully, violating a commandment |
| Dactyloscopy is a forensic method of studying these to establish identification | The strings on the pedal type of this instrument heard here correspond to the white keys on a piano | Habitat for Humanity's Global Village & Discovery Center and the world's largest peanut | The sequel named for this detective is subtitled "A Game of Shadows" | The second Battle of Fallujah | Called up or brought into existence via magical means |
| It's a legal document empowering the police to look through a premises for evidence of illegal activity | This string of beads used while praying has a crucifix hanging from it | Elko Railroad Park and Siegfried & Roy's Secret Garden & Dolphin Habitat | Joey is the title equine of this drama based on a play & a children's novel | | Connected; also a term for Siamese twins |
| Abbreviated FRS, this system is an advanced computerized method for identifying suspects | The national day for this item is celebrated on June 6, the birthday of Donald Duncan | The Mummers Museum and the Tom Ridge Environmental Center | In a biopic, she starred as "Iron Lady" Margaret Thatcher | The Battle of the Java Sea | |
| The NYPD calls its stations these; the 17th one is headquartered on East 51st | This material that's stronger than steel is used to make tennis racket strings as well as bulletproof vests | The Theodore Roosevelt birthplace and the Fraunces Tavern Museum | In "Immortals" Henry Cavill plays this Greek hero who fights King Hyperion | The Battle of Long Island | Squinty, or physically or logically abnormal |
Scores at the first commercial break (after clue 15):
| | | |
| --- | --- | --- |
| Sarah | Greer | Marie |
| $1,200 | $1,000 | $4,800 |
Scores at the end of the Jeopardy! Round:
| | | |
| --- | --- | --- |
| Sarah | Greer | Marie |
| $2,000 | $3,400 | $5,800 |
Double Jeopardy! Round
Written in Farsi, the "Shah-Nameh", or "book of kings", is a medieval epic of this nation

Tech blog Boing Boing made its site look like an old Mac computer to pay tribute to this late Apple visionary

Built & flew the first practical airplane

You'll get belly laughs when you strike the water chest first in a belly this

Treble, bass & C are types of this symbol at the beginning of a score

Country with Pampas & circumstance:
REGAIN TAN

The Pali canon is a collection of the oldest & most sacred texts of the Theravada branch of this religion

Justin Timberlake proposed to this "New Year's Eve" actress in December 2011

--

she must have been in "7th Heaven"

In Roman mythology, the king & queen of the gods

This bursting projectile can be positive if "you're the" this but negative if "the play was a" this

His "Linz" symphony was first played on Nov. 4, 1783 at the Ballhaus in, yes, Linz

A northern European capital city:
HOG PEN CANE

Derenik Demirjyan & Hrant Matevosyan are 20th century writers from this former Soviet republic

Holy Cornholio! In 2011 this animated duo returned to MTV

Title Trojan lovers in a Shakespeare play

A computer message that something's wrong; a classic one in DOS said, "Abort, Retry, Fail?"

Wanda Landowska helped spark a 20th c. revival of this piano-like keyboard instrument

Victoria Falls is on it:
MAZE BIZ

The ancient "I Ching" of China is also known as the "Book of" these

ESPN found this country singer too rowdy, dropping his theme from "Monday Night Football" in 2011

Business partners whose circus was purchased by the Ringling Brothers in 1907

To reduce to a lower army rank

In a classic American song he's told to "Mind the music & the step, & with the girls be handy"

Region that'll never be Hungary's again:
VALIANT YARNS

Books by this popular Japanese novelist include "The Wind-Up Bird Chronicle" & " 1Q84"

Natalie Portman was born in Jerusalem; this "Black Swan" co-star was born in what is now Ukraine

Founded a sporting goods & apparel store in 1892 that today focuses on casual wear

A flatfish, or to falter or waver

The 1918 orchestral suite "The Planets" is his best-known work

Island sharer:
A NICE PUBLIC NIMROD
Scores at the end of the Double Jeopardy! Round:
| | | |
| --- | --- | --- |
| Sarah | Greer | Marie |
| $12,400 | $10,400 | $12,900 |
| | | |
Final Jeopardy! Round
A 1763 letter said that these 2 men were equipped with "instruments... to look at the posts in the line for ten or twelve miles"
Final scores:
| | | |
| --- | --- | --- |
| Sarah | Greer | Marie |
| $8,800 | $18,000 | $10,900 |
| 3rd place: $5,000 if eliminated | Automatic semifinalist | 2nd place: $5,000 if eliminated |
Game dynamics: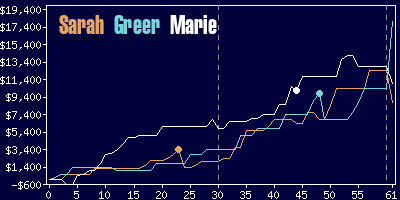 Sarah
Greer
Marie
$14,400
$13,400
$12,200
18 R,
3 W
(including 1 DD)
14 R,
2 W
(including 1 DD)
20 R
(including 1 DD),
4 W
Game tape date: 2012-01-05