Show #6302 - Tuesday, January 31, 2012
Jeopardy! Round
In 1939 Superman made his first appearance as a balloon in this beloved parade

He made ends meet by working as a carpenter before catapulting to fame as Han Solo

This transparent structure behind the iris focuses light entering the eye

Tim Daly was on the run searching for the one-armed man in the updated version of this series

I Samuel says the metal head of his spear weighed 600 shekels, or about 15 pounds

One fifth of the about 400 species at this Washington, D.C. attraction are endangered or threatened

Before that whole telegraph thing, he helped found the National Academy of Design & was its first president

Just the facts

--

in 2003 Ed O'Neill was on the beat as Joe Friday in the revival of this series

In "Jack and the Beanstalk", Jack stole from the giant a little brown hen that laid these

This fashion adjective refers to an outfit that hugs the body, for example the one seen here

In 1877 the Philadelphia Univ. named for this 3rd president opened one of the first teaching hospitals in the United States

He worked in a bank & a fur-cap store; working on a whaler in the South Seas gave him those great plot lines

By definition, this adjective describes certain organisms that can or must live in the absence of oxygen

As in the original, Heather Locklear played Amanda Woodward on the new version of this show

It's said that this Minnesotan's first bed was a lumber wagon pulled by a team of oxen

A brief raid or excursion

"Oklahoma!" is a musical by Richard Rodgers & this lyricist

She taught law at the University of Chicago & Harvard before the Supreme Court called in 2010

Before "Twilight" & "Buffy the Vampire Slayer", there was this Gothic series & its 1991 remake about Barnabas Collins

This Ted Hughes kids' book creation loves eating barbed wire & rusty chains

This 2-word term used in many a contract is French for "superior strength"

The Transylvania Co. hired Daniel Boone to blaze a trail through this gap to establish Kentucky as a 14th colony

In 1902 he got fired as a tutor, but family friend Marcel Grossman helped him get a job as a Swiss patent clerk

This name of the infectious disease caused by the Epstein-Barr virus comes from words meaning "one" & "kernel"

In 2009 an alien species invaded Earth, claiming to be "of peace, always" in the remake of this sci-fi series

After Hermes slew this 100-eyed giant, the 100 eyes were placed on the tail of the peacock

Adjective meaning pertaining to courts of law
Scores at the first commercial break (after clue 15):
| | | |
| --- | --- | --- |
| Danny | Patrick | Ellen |
| $2,200 | $3,000 | -$200 |
Scores at the end of the Jeopardy! Round:
| | | |
| --- | --- | --- |
| Danny | Patrick | Ellen |
| $4,600 | $6,600 | $3,600 |
Double Jeopardy! Round
ENDANGERED LANGUAGES
(Alex: Name the country in which this language is primarily spoken.)

In August 2011 this 17th c. pirate captain's flagship was found in waters off Panama; as yet, no rum has been found

Brazilian private equity firm 3G made a whopper of a deal when it paid over $3 billion to acquire this restaurant chain

Maria Guarnaschelli brought some work home as editor of "The Splendid Table" & "Joy of" this

It's the way the crew of the Enterprise "go where no man has gone before"

Swinging lefty, he won his third Masters title in 2010; he's righthanded in everything else

In 1995 the body of Han dynasty king Liu Wu was found buried with a shroud made of this green gemstone

In 2011 Fitch Agency downgraded this European country's credit rating to CCC, one grade above default

In November 2010 Tina Brown was announced as the editor-in-chief of this current events magazine founded in 1933

Though it appears to mean "angrily", this adverb can mean "extremely", as when it precedes "in love"

Golf's 2010 & 2011 U.S. Opens were won by gentlemen named McDowell & McIlroy from this part of the United Kingdom

Diego de Landa, bishop of Yucatan, helped decipher hieroglyphics of this culture & published his work in a 1566 book

We're not being redundant when we say that United united with this airline in 2010

The long of it is that he has been the editor of the crossword puzzles for The New York Times since 1993

Yea, in truth, really, this archaic 6-letter word doth mean indeed

The LPGA's all-time money winner, this Swede dueled it out with the boys at a 2003 PGA event

Recent excavations on the site of this 1607 Virginia colony have discovered the walls & buildings of its fort

Amid the phone-hacking scandal, Rupert Murdoch withdrew his bid for this biggest British broadcaster

John Updike said, "A lot of nice touches in my stories" in this magazine "belong to" editor William Maxwell

Othello said, "Then must you speak of one that loved not" this "but too well"

This "Super Mex" was struck by lightning at the 1975 Western Open but recovered & won the 1984 PGA Championship

In 1902 German archaeologist Robert Koldewey unearthed the fabled Ishtar Gate in the ruins of this ancient city

As fiction editor at Esquire from 1969 to 1976, Gordon Lish promoted this "scaled-down" style of writing

Completes the Tom Swifty "Which way is the cemetery?" Tom asked in this serious manner

From 1947 to 1954, she won 10 major championships, the last while batfling inoperable cancer
Scores at the end of the Double Jeopardy! Round:
| | | |
| --- | --- | --- |
| Danny | Patrick | Ellen |
| $14,800 | $15,500 | $10,000 |
| | | |
Final Jeopardy! Round
Preserved in the West Point library, his last message reads, "Benteen. Come on. Big village. Be quick. Bring packs"
Final scores:
| | | |
| --- | --- | --- |
| Danny | Patrick | Ellen |
| $24,001 | $29,601 | $15,000 |
| 2nd place: $2,000 | New champion: $29,601 | 3rd place: $1,000 |
Game dynamics: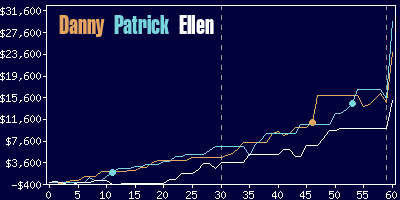 Danny
Patrick
Ellen
$11,800
$14,800
$10,000
22 R
(including 1 DD),
4 W
19 R
(including 2 DDs),
3 W
15 R,
5 W
Game tape date: 2011-11-16