Show #6288 - Wednesday, January 11, 2012
Dan McShane game 4.
Jeopardy! Round
CELEBRITIES' MIDDLE NAMES

In 1956 Time magazine dubbed this abstract expressionist "Jack the Dripper"

This Rome landmark is 620 feet long by 513 wide

--

plenty of room to run away from a wild beast

The L. in Samuel L. Jackson stands for this, like a certain bad, bad Mr. Brown of song

Served by priests, it may not exceed 18% alcohol

Daniel Okrent:
"Nine ____: The Anatomy of a Baseball Game"

A new design or creation; necessity is often the mother of it

This Dutch master served as chairman of the Delft Artists' Guild from 1662-63 & 1670-71

Gamblers will love to know that the Hotel Yak & Yeti in this Nepalese capital houses the 2-story Casino Royale

Feel free to sing out this middle name of Martin Scorsese; it's the same as Pavarotti's first

Title of any priest's immediate boss; the U.S. has 270 of them

John Buchan, filmed by Hitchcock:
"The Thirty-Nine ____"

Be it a stick or cone, strawberry & sandalwood are popular fragrances of this

Aquarelle is a transparent, rather than opaque, type of this painting, as seen in Paul Klee's work "Quarry"

This island's Mataveri Intl. Airport, the world's most remote, is serviced only by Chile's LAN Airlines

Author Hawthorne would approve of this middle name of Ralph Fiennes

The priest's duty to keep your sins secret is traditionally protected by "the sanctity of" this booth

Elizabeth McNeill:
"Nine and a Half ____"

A military badge of rank or qualification

Andre Breton anagrammed this surrealist's name as "Avida Dollars"

Beautiful Margaret Island in this river has been a Budapest park for more than 100 years

Her middle name is Louise; her last name at birth: Ciccone

Parish priests have their own one of these, John Vianney

Jeffrey Toobin:
"The Nine: Inside the Secret World of the ____ ____"

Each Latin verb has 6 of these, including the perfect passive one, like optatus esse, "to have been desired"

This American female Impressionist modeled for many of Degas' works, including "At the Milliner's"

You can buy samples of this fossilized resin at a museum devoted to it in Puerto Plata, Dominican Republic

This middle name of actress Mary Masterson makes us wonder if she was named for Mary, Queen of Scots

This spiritual "director" doesn't arrange your holiday, he helps young men pursue their calling to the priesthood

J.D. Salinger:
"Nine ____"

Paul Apak Angilirq was a producer as Canada's IBC, this Broadcasting Corporation
Scores at the first commercial break (after clue 15):
| | | |
| --- | --- | --- |
| Dan | Katy | Vinayak |
| $3,400 | $1,800 | $2,200 |
Scores at the end of the Jeopardy! Round:
| | | |
| --- | --- | --- |
| Dan | Katy | Vinayak |
| $7,200 | $2,200 | $5,000 |
Double Jeopardy! Round
I KNOW THAT WORD BACKWARDS & FORWARDS
(Alex: I know that word because it's a palindrome.)

Numbers cruncher needed! Must be member of AICPA, the American Institute of these

...to 90 degrees south latitude & you'll find yourself here

Anatomy-wise, the subscapularis is a muscle in this "cuff"

After centuries of rule by the Ottoman Empire, Mesopotamia mostly became part of this new nation in 1932

As Al Capone in this 1987 film: "You can get further with a kind word and a gun than you can with just a kind word"

Walk the Max Planck! We're Stephen Hawking a new position to be this type of scientist, like those guys

...to this Indiana college town that was originally called Big St. Joseph Station

To make an allusion to something

Mesopotamia stretched from the Taurus Mountains in the north to this gulf in the south

In this 1976 movie: "Here is a man who would not take it anymore. A man who stood up against the scum"

They're out there! We need you to go get 'em! Channel your inner Boba Fett or "Dog" Chapman in this 2-word job

...to Juba, capital of this new nation

Reza Khan, born in Iran in 1878, & his son were these for a combined 54 years

The epic poem of this Sumerian king includes an account of a great flood

To Billy Crystal in this film: "I was gonna whack you. But I was real conflicted about it"

In the June 3, 2011 paper: this country wants new president after bomb explodes in Ali Saleh's presidential palace

...to this body of water that includes the Gulf of Tonkin & the Gulf of Thailand

Coloring something more rubicund makes it this

Transcribed in the 1800s, the Behistun Inscription is the Rosetta Stone for this type of writing developed in Mesopotamia

In Italian, in this sequel: "Do me this favor... ask your friends... about me. They'll tell you I know how to return a favor"

We have a primary need for this hyphenated job in our fancy French kitchen; only the head guy is your superior

...to here, where you'll find the cities of Christchurch & Dunedin

Exalted to the rank of a god

From the Assyrian for "height", this stepped structure was used as a temple by Mesopotamian cultures

"Goodfellas": "The two greatest things in life" are "never rat on" these "and always keep your mouth shut"
Scores at the end of the Double Jeopardy! Round:
| | | |
| --- | --- | --- |
| Dan | Katy | Vinayak |
| $25,800 | $5,800 | $3,200 |
| (lock game) | | |
Final Jeopardy! Round
Keith Downey developed rapeseed into this cooking product, now a huge cash crop for farmers in Saskatchewan
Final scores:
| | | |
| --- | --- | --- |
| Dan | Katy | Vinayak |
| $21,600 | $3,200 | $599 |
| 4-day champion: $62,001 | 2nd place: $2,000 | 3rd place: $1,000 |
Game dynamics: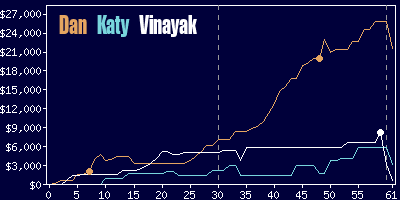 Dan
Katy
Vinayak
$23,000
$5,800
$8,200
30 R
(including 2 DDs),
3 W
9 R,
3 W
14 R,
3 W
(including 1 DD)
Game tape date: 2011-11-08