Show #6286 - Monday, January 9, 2012
Dan McShane game 2.
Jeopardy! Round
Lady Gaga was among the stars who joined her new "Plastic" band for a 2010 rendition of "Give Peace A Chance"

This convenience store was born when the Southland Ice Co. sold milk & eggs after grocery stores closed

Hercules is often depicted wearing this animal's skin; killing the Nemean one was quite a labor

The identification of the unique marks a gun leaves on a bullet is called "ballistic" this

--

no dusting required

1570:
Suspecting a revolt in the city of Novgorod, this man captured the city & executed many there

Ringo Starr wed first wife Maureen Cox in London in 1965; she'd been born in this Mersey River city in 1946

This company's first Supercenter opened in 1988 & included a grocery & 36 departments of general merchandise

Hercules used 2 rivers to clean these Augean structures

After dining on finger foods, dip your digits into one of these to clean off

2007:
Ending years of intense speculation, Apple introduced this product

Buddy Clark's 1947 chart-topping song "Linda" was written about the future wife of this Beatle (when she was 5 years old)

Starting in 1980 as a small store in Austin, today this grocery chain is one of the world's leaders in organic & natural foods

For his last labor, Hercules had to go to Hades & subdue this canine that had a dragon for a tail

The lunula is the small white crescent-moon-shaped part of one of these

1987:
This country's forces launched a major offensive against the Iraqi city of Basra

"Half of what I say is meaningless", John Lennon sang on "Julia", which bears the name of this woman in his life

Established in 1859, this transoceanic supermarket merged with Pathmark in 2007

Hercules went to the ends of the Earth to get these; maybe he wanted his tarte tatin to taste just right

Taste a thousand-dollar bottle of wine from this chateau bought by a Rothschild in 1868

Close basketball shot from the tip of the hand into the basket

1861:
This state seceded, prompting Jefferson Davis to leave the U.S. Senate

Before she was married to Eric Clapton, George Harrison wrote the song "Something" about her

This company, stock symbol WINN on the NASDAQ, got its name "because of" acquisitions

Hercules hunted down a brass-hooved stag that was sacred to this goddess

Learn to speak Romansch & these 3 other official languages of Switzerland

Elmira Corning Regional Airport is one gateway to this scenic region

1960:
Construction began on the high dam at this Egyptian location
Scores at the first commercial break (after clue 15):
| | | |
| --- | --- | --- |
| Dan | Sean | Julie |
| $600 | $400 | $1,600 |
Scores at the end of the Jeopardy! Round:
| | | |
| --- | --- | --- |
| Dan | Sean | Julie |
| $2,200 | $400 | $5,400 |
Double Jeopardy! Round
The song "This Land Is Your Land" mentions these waters, a warm ocean current flowing in the North Atlantic

Apollo missions that landed on the Moon:
11, 12, this

In 1861 this poet wrote about "The Midnight Ride of Paul Revere"

In 1589 a fanatical monk named Jacques Clement assassinated this country's reigning King Henry III

On the periodic table:
Carbon, nitrogen, this

This poem begins, "Once upon a midnight dreary"

John de Roma is one of the brutal monks in the 16th c. Protestant "Book of" these people who died for their faith

It's hard to visit, but this deepest trench, in the Pacific Ocean, was designated a U.S. national monument

Here's the "Situation": this anchor began his career in 1972 working for Reuters in Tel Aviv

A cruciverbalist is someone who engages in this endeavor

White House state dinner May 7, 2007:
Soup, fish, meat, this course

"Midnight's Children" by Salman Rusdie tells of the post-colonial era in this nation where Rushdie was born

Friar Vicente de Valverde gave Atahuallpa the choice of death by fire or garrote; he chose the latter & this empire ended

The Gulf of Volos or Pagasai, anciently called Sinus Pagasaeus, is an arm of this sea

This "Current" newsman wrote the book "The Worst Person in the World: And 202 Strong Contenders"

Seen in rodeos, estrapade is a horse's attempt to remove this

States, alphabetically:
New Mexico, New York, this

"The Book" gift shop in Savannah, Georgia offers souvenirs associated with this John Berendt bestseller

AKA Saloth Sar, he was a novice monk for a time in Cambodia before becoming infamous for "Killing Fields"

This is a measure of certain minerals in the water; for the deep waters of the Dead Sea, it's about 332 parts per thousand

(Hi. I'm Chris Matthews.) In 2004 I received the award for excellence in broadcast journalism named for this longtime news partner of Chet Huntley

Want to open your Veuve Clicquot with style? Try sabrage, where you use one of these

Geologic time eras:
Paleozoic, Mesozoic, this

James Leo Herlihy wrote this 1965 novel about Joe Buck, who tries to make it in New York as a stud for hire

As the first Grand Inquisitor in Spain, this Dominican authorized torture
Scores at the end of the Double Jeopardy! Round:
| | | |
| --- | --- | --- |
| Dan | Sean | Julie |
| $16,200 | $800 | $13,400 |
| | | |
Final Jeopardy! Round
An early scene in this 2011 film is set in Tonsberg, Norway in the year 965 A.D.
Final scores:
| | | |
| --- | --- | --- |
| Dan | Sean | Julie |
| $5,599 | $844 | $1,602 |
| 2-day champion: $24,400 | 3rd place: $1,000 | 2nd place: $2,000 |
Game dynamics: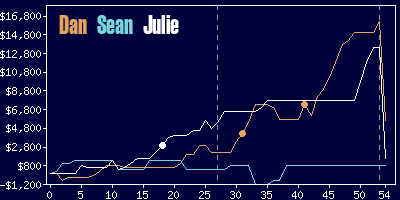 Dan
Sean
Julie
$17,800
$800
$13,600
20 R
(including 1 DD),
6 W
(including 1 DD)
7 R,
3 W
18 R
(including 1 DD),
3 W
Game tape date: 2011-11-08