Show #6272 - Tuesday, December 20, 2011
Jason Keller game 3.
Jeopardy! Round
BROADWAY MUSICAL SETTINGS

PAPAL PEOPLE
(Alex: We'll give you the year; you identify the pope.)

In this novel, Lucy Westenra "went to the window and looked out, but could see nothing, except a big bat"

This musical opens with Anna's arrival in Bangkok

This adjective that can mean disrespectful or lively is an alteration of "saucy"

Improvement of the "mixing bowl" interchange in this state near D.C. met its budget of $676 mil.

--

revised from $350 million

Crayola has a fluorescent color called "unmellow" this

Boris (Drubetskoy) & Natasha (Rostova) are 2 of the many characters in this Tolstoy tome

The title of this musical about a white DJ & a black club singer in 1950s Tennessee is the city of its setting

This, from Middle French for "small ball", is stronger than the bullet, which is from modern French for "small ball"

Montreal's mayor said this 1976 event "can no more have a deficit than a man can have a baby"; birth weight was over $1 billion

One of Ireland's nicknames includes this green hue

Anna Sewell wrote this novel to "induce kindness, sympathy and an understanding treatment of horses"

"The Music Man" takes place "right here in" this Iowa city

First appearing more than a century ago, it means gutsy & is probably a blend of bold & audacious

In 2005 Shell said its Sakhalin project in this country was $10 billion over budget

--

a lot, even for an oil company

This neutral color can refer to the Confederate Army

Willa Cather re-created the struggles of prairie life in her novel "O" these people!

This show takes place on a Greek isle while a single mother prepares for her daughter's wedding

This 19th century 2-wheeled cab was named for a Brit, not for its good looks

As of 2010 its refurbishment of Broadcasting House, its London headquarters, was 100 million pounds over budget

This secondary color is in the third line of "America The Beautiful"

The title qualities of this Jane Austen novel represent sisters Elinor & Marianne, respectively

The '60s-set "Hairspray" takes place in this American city

This nickname for paper measuring 13 by 16 inches gets its name from an old watermark of a court jester's hat

L.A. spent about $600 million to turn the Ambassador Hotel into a K-12 school complex named for this late politician

The name of this deep red also means "of prime importance"
Scores at the first commercial break (after clue 15):
| | | |
| --- | --- | --- |
| Jason | Karen | Doug |
| $2,800 | $1,400 | $800 |
Scores at the end of the Jeopardy! Round:
| | | |
| --- | --- | --- |
| Jason | Karen | Doug |
| $6,200 | $3,800 | $2,800 |
Double Jeopardy! Round
According to this prophet's "History", an angel appeared at his bedside & told him where to find the gold plates

If she's married, this principal attendant to the bride gets a more matronly title

Yule have a green (ogre) Christmas in the land of Far Far Away:
"____ the Halls"

To start off, you're getting an aerial view of this state

C'mon, Johnny, let's go down & do this, sign up for service in the military

From the Latin for "two", it's a man who gets married without bothering to divorce his first wife

A Michigan realtor claimed that this New Testament man (& his head) appeared to him 30 times between 1927 & 1933

A term for Frodo, or a young 'un at a wedding who participates in the ceremony by holding the bands

Santa & company crash on an island & meet the island's penguins:
"Merry ____"

Mario Vargas Llosa is both a Nobelist & this, 1 letter different

This constitutional amendment uses the phrase "twice put in jeopardy of life or limb"

James Chadwick must have heard if not seen angels to write the English words of "Angels We Have Heard" here

She made white wedding gowns fashionable affer she wore one during her 1840 wedding in London

A dog mishears a Christmas lyric:
"____, the Other Reindeer"

Sleepwalker is a less formal word for one of these

Laura Dern plaved Katherine Harris in the HBO movie with this electoral title

This 18th century Swedish scientist who had visions of angels gave his name to a Christian Mystic movement

A bride often has an extra one of these thighwear items just to toss to the single male guests

Featuring a Charlie-in-the-Box:
"Rudolph the Red-nosed Reindeer & the Island of Misfit ____"

Just south of the river and west of Boston Common is the area called this Garden, for all people to enjoy

Adjective for the medical philosophy of treating the entire person, mind & body, not just the part that's ailing

Going up from one of these settings to the next on a lens gives you twice as much exposure to light

The "Angel of Hadley" is said to have saved a New England town during the war with this Indian "King"

A popular wedding march comes from music Mendelssohn wrote for this magical Shakespeare play

Featuring warm weather & fireworks:
"Rudolph & Frosty's Christmas in ____"

In the garden is this American, but not Massachusetts-born, hero on horseback, ready for his close-up

The second-largest moon of Jupiter, or a nymph loved by Zeus

In the 1500s this circumnavigator was hurt twice in the East Indies & a third time fighting the Moors
Scores at the end of the Double Jeopardy! Round:
| | | |
| --- | --- | --- |
| Jason | Karen | Doug |
| $22,600 | $6,100 | $7,600 |
| (lock game) | | |
Final Jeopardy! Round
While north of his homeland he was inspired to write perhaps his greatest work, "Alturas de Macchu Picchu"
Final scores:
| | | |
| --- | --- | --- |
| Jason | Karen | Doug |
| $25,000 | $6,100 | $12,201 |
| 3-day champion: $69,800 | 3rd place: $1,000 | 2nd place: $2,000 |
Game dynamics: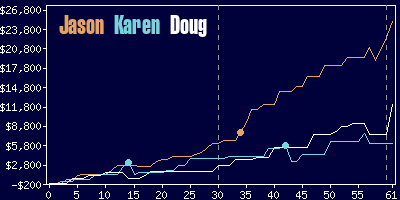 Jason
Karen
Doug
$22,600
$10,400
$7,600
25 R
(including 1 DD),
3 W
15 R,
3 W
(including 2 DDs)
13 R,
2 W
Game tape date: 2011-10-26