Show #6263 - Wednesday, December 7, 2011
Jeopardy! Round
LET ME CALL YOUR ATTENTION...

ONE-WORD TV CLUES
(Alex: You have to name the show most associated with that word.)

In 1980 the Solidarity labor union was formed when the Gdansk shipworkers went on strike in this country

This 4-letter adjective can mean "showing courage" or "typeset in thick, dark lines"

Born Golda Mabovitch in Kiev, she changed her name to this after moving to Israel

You'll find this phrase prominently featured on the menu of Boston's Union Oyster House

The star Algol in the constellation Perseus represents the severed head of this Gorgon

Declaring "there is no right to strike against the public safety", Mass. governor Coolidge broke a 1919 strike by them

Avery Dennison makes them in green & purple as well as yellow & has trademarked the word with no "gh" in it

In 1962 former pres. Eisenhower remarked that this dance craze represented "some kind of change in our standards"

Kennedy first appeared on it in 1964

The head of this "hunter" is marked by the binary star Meissa

A 2011 strike by 45,000 workers at this telecom company was the USA's largest since a 2007 GM walkout

Where the cupcake is in the picture; it's also a 10-letter verb meaning to make something your dominant subject

In 1910 the Intercollegiate Athletic Association changed its name to this

A midfielder in soccer, or a ball-carrier in football

They represent the heads of Gemini, but these 2 stars are not twins; one is a giant, the other a triple binary

Spam! (one word, but repeated dozens of times)

An early battle for this union formed in 1962 was when grape pickers went on strike for the minimum wage

If an author quotes a passage & puts part of it in italics, he traditionally uses a note saying this "added"

In 1981 the Nissan company dropped this name under which it had sold its cars in the United States

This flag custom may have begun at the end of naval battles; today it's done to show respect to the recently departed

Hamal, the alpha star in this constellation, is from the Arabic al ras al hamal, "head of the sheep"

Railway workers' salaries were cut but rents in the company towns were not, bringing on this strike in 1894

In 1944 this Republican presidential candidate used the campaign slogan "Time for a Change"

Residence to help individuals readjust to society after release from jail or an institution

M15, one of the brightest globular clusters in the sky, is near the head of this winged stallion
Scores at the first commercial break (after clue 15):
| | | |
| --- | --- | --- |
| Julia | Tony | Jennifer |
| -$400 | $5,200 | $2,200 |
Scores at the end of the Jeopardy! Round:
| | | |
| --- | --- | --- |
| Julia | Tony | Jennifer |
| $2,400 | $7,400 | $3,800 |
Double Jeopardy! Round
CLUE: THE SHAKESPEARE VERSION

It was Casca, then a bunch of other guys & lastly him, stabbing Julius Caesar, on the Senate floor

Survivor topped the charts with this song from "Rocky III"

On New Guinea, the pacu, seen here, which is in the same family as this South American fish, may have given up vegetarianism to be a river monster

Humboldt University International:
This now-fallen German obstacle "and European Integration"

A "polarpoint presentation" is an office meeting in which the boss has adjusted this so no one will nap

It's the name of cities in 14 states, not just Wisconsin

It was Othello, perhaps with a pillow, smothering her in her bedroom

This Kim Carnes song begins, "Her hair is Harlow gold"

It's no surprise that this fish, a relative of the puffer, is named for a prickly rodent

Cornell I.T. training:
"Boundaries: Good" these "Make Good Neighbors"

Drop 1 letter from the type of creature Sonic is in video games & you get this, one who monopolizes the aisle seat

Alfonso VI of Castile captured this city from the Moors in 1083

It was Hamlet, in the Queen's chamber, stabbing this man through a curtain

"Behind These Hazel Eyes" was a hit for this Idol

Giant isopods, which feed on the deep ocean floor, are members of this subphylum that also includes shrimp & crabs

University of Ostrava:
"Limits of Development in China and" this country

"Jumping the couch" means to flip out like this guy who inspired the phrase on an "Oprah" appearance

It was formerly the Malagasy Republic

It was this Thane of Fife, with a sword, on the battlefield, who killed Macbeth

A 2011 commercial for Pretzel M&Ms used this song from the "Dirty Dancing" soundtrack

"Froday" is the day you realize you need one of these

The volcanic soil of this Atlantic island helps give a distinctive rich flavor to the fortified wine named for it

It was Romeo, in a public place, with a sword, killing this relative of Juliet

In 1978 this British-American rock group experienced some "Double Vision"

Like the type of snake it's named for, which includes moccasins, this fish has serious fangs

"Fomo" stands for "fear of" this happening, because you know that party's going to be great

Have a tea cake & remember this French name of a group of islands in the Gulf of St. Lawrence
Scores at the end of the Double Jeopardy! Round:
| | | |
| --- | --- | --- |
| Julia | Tony | Jennifer |
| $10,600 | $11,600 | $8,600 |
| | | |
Final Jeopardy! Round
The cup presented since 1887 to the man who wins this is inscribed "single handed champion of the world"
Final scores:
| | | |
| --- | --- | --- |
| Julia | Tony | Jennifer |
| $600 | $21,300 | $1 |
| 2nd place: $2,000 | New champion: $21,300 | 3rd place: $1,000 |
Game dynamics: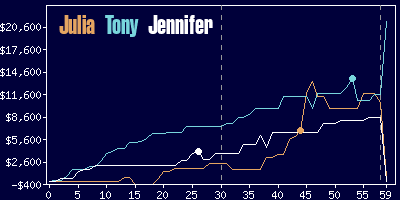 Julia
Tony
Jennifer
$6,800
$14,600
$9,600
13 R
(including 1 DD),
5 W
23 R,
2 W
(including 1 DD)
14 R,
2 W
(including 1 DD)
Game tape date: 2011-10-12