Show #6256 - Monday, November 28, 2011
Jeopardy! Round
| | | | | | |
| --- | --- | --- | --- | --- | --- |
| | | THE SPOUSE IMMEDIATELY BEFORE | | | |
| In 1955, 52-year-old Ray Kroc opened his first burger joint in the chain called not Kroc's but this | In 2011 President Obama named general Martin Dempsey chairman of the JCS, this | | FDR began giving these "chats" in 1933 | This state capital on the Grand River at its junction with the Red Cedar River was once called "Biddle Town" | The moans of these 150-ton animals allow them to communicate with each other 1,000 miles away |
| Diocletian was right around 40 when he took this title in 284 A.D. | DA is the Department of the Army; DEA is this administration | | It precedes "manner" to describe a doctor's deportment with patients | Population-wise, in 1950 this was the fourth-largest city in the U.S.; by 2000, it was eighth | "Find health insurance options" & "find a doctor or a hospital" are links at bcbs.com, the site for this |
| In 1988 50-year-old Helen Thayer battled bears to become the first woman to travel solo to the magnetic this | Helping communities to recover after a disaster, FEMA is this agency | | Proverbially, if you can't hit this "of a barn", your accuracy is lacking | Michigan touches all the Great Lakes except this one | Nickname of Danish king Harald, killed in a 10th c. battle, maybe for lack of a wireless headset |
| He was 48 when he created Charlie Bucket, a poor child who finds a golden ticket | Use your GPS to get to the GPO, this place, where you can get all kinds of publications | | Car trouble? There's a "request" this "assistance" button on the AAA southern Calif. website | The wives of the co-founders of the city now home to the University of Michigan both had this first name | Sure & the Kerry blue this, 'tis a dog from Ireland |
| At the 1942 battle of El Alamein, 54-year-old Field Marshal Bernard Montgomery beat this "foxy" 50-year-old | NASA is the National Aeronautics & Space Administration; JSC is this NASA facility | | This 7-letter word means to abate | Seen here is a shot from an annual festival in this city | My "mood"? This deep blue dye, used to color cotton & wool; a synthetic one is made from aniline, a coal-tar product |
Scores at the first commercial break (after clue 15):
| | | |
| --- | --- | --- |
| Kendra | Clayton | Patti |
| $8,200 | $400 | $800 |
Scores at the end of the Jeopardy! Round:
| | | |
| --- | --- | --- |
| Kendra | Clayton | Patti |
| $11,000 | $2,000 | $2,600 |
Double Jeopardy! Round
A TALE OF ONE CITY
(Alex: We want you to give us the story's primary setting.)

3 CONSECUTIVE LETTERS
(Alex: ...each correct response will have 3 consecutive letters of the alphabet.)

NATIVE AMERICAN FOODS
(Sarah: Ancestral cuisine still served today at the Mitsitam Cafe at the Smithsonian's National Museum of the American Indian.)

Folks never seem to remember, but my masterwork is actually titled "An Inquiry into the Nature and Causes of" this

Victor Hugo's "The Hunchback of Notre Dame"

Werner Herzog's documentary about the late activist & bear lover Timothy Treadwell is titled this "man"

In books, Orwell's title year minus Peter Gent's "North Dallas"

The returned portion of a movie ticket

I spent most of the final years of my life in this Scottish capital, where I died & am buried

Jay McInerney's "Bright Lights, Big City"

"The Smartest Guys in the Room" was the subtitle of a 2005 doc about this corrupt title corporation

Number of hulls on a catamaran times the number of days in April

A protective frock worn by a scientist

(Sarah of the Clue Crew presents the clue.) The three sisters are a familiar trio in Native American cuisine; the first is corn, which grows up into the air; then come beans that climb stalks, & this last sister, like the calabaza, gives shade to the other two

At 40, I quit my professor gig to act as this private teacher, from Latin for "watcher", for a young duke (I got a big raise)

William Shakespeare's "Romeo and Juliet"

This actor narrated "March of the Penguins"

A baker's dozen plus the numerical gun salute for the arrival of the vice president (it's 2 fewer than the prez)

To change allegiance from one country to another; the figure skating Protopopovs did it in 1979

In 1814 a war named for this dried meat & berry staple was fought between rival fur companies

I once wrote that without seeing it, men are led to "advance the interest of the society" by this anatomical agent

Raymond Chandler's "Farewell, My Lovely"

2010's "Exit Through the Gift Shop" examined the guerrilla street artist known by this 6-letter name

4 score & 7 minus the syllables in a haiku

Marja in this country was in the news in 2010

Fyodor Dostoyevsky's "Crime and Punishment"

"Men on the dead man's chest" in "Treasure Island" divided by books in the Pentateuch

Boisterous merrymaking involving pranks; don't go low!
Scores at the end of the Double Jeopardy! Round:
| | | |
| --- | --- | --- |
| Kendra | Clayton | Patti |
| $22,800 | $7,600 | $5,200 |
| (lock game) | | |
Final Jeopardy! Round
In 2010, 467 years after his death, this man at odds with the church was reburied with honors at a Polish cathedral
Final scores:
| | | |
| --- | --- | --- |
| Kendra | Clayton | Patti |
| $27,000 | $10,401 | $10,399 |
| 2-day champion: $61,300 | 2nd place: $2,000 | 3rd place: $1,000 |
Game dynamics: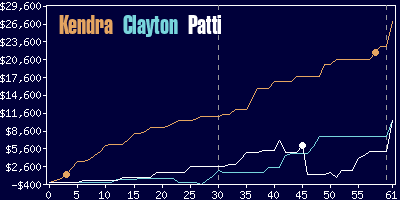 Kendra
Clayton
Patti
$23,000
$7,600
$10,200
29 R
(including 2 DDs),
0 W
10 R,
3 W
15 R,
3 W
(including 1 DD)
Game tape date: 2011-10-11