Show #6249 - Thursday, November 17, 2011
Jeopardy! Round
THEIR ONLY TOP 10 POP HIT

The passenger & crew compartment of an airship shares this name with a type of boat used in Venice

1996:
"Killing Me Softly"

Around 447 B.C. this group led by the "Scourge of God" devastated the Balkans & drove south into Greece

Valued at $3.8 mil., the most expensive one of these is encrusted with 4,517 diamonds; it'll at least hold a lipstick

A professional solicitor of financial contributions for charity

His "Fun in Acapulco" included crooning "Bossa Nova Baby"

In 2011 this firm announced it was phasing out its blimps in favor of rigid airships with aluminum & carbon skeletons

A $69 hot dog (called a "haute dog") is grilled in white truffle oil & topped with this liver from a duck

I've got the munchies; ah, just what I need

--

these savory snacks from Frito-Lay

Later president of the U.S., he caught a sailfish on his honeymoon in Acapulco in 1953

On March 31, 1936 it left Germany on its first transatlantic trip, arriving in Rio de Janeiro 4 days later

This king who died in 1750 B.C. left a code dealing with family laws, loans, debts & even witchcraft

Fetching $3.6 million at auction, the "Molitor" is a violin he made in 1697

A strict, often literal adherent to a faith's tenets & practices

Acapulco is famous for this daring activity at La Quebrada

This insurance company operates 2 full-time blimps, Snoopy One & Snoopy Two

Doric columns, like at the Parthenon, had 16-20 grooves; these more slender columns at the nearby Erechtheum usually had 24

Go ahead & splurge on a private island; Bird Cay is just $14 million & 30 minutes from Nassau in these islands

An official dinner, or a mathematical variable with a specified relation to another one

He spent his last days in Acapulco but died in flight on his private plane back to Houston in 1976

He began construction of his first airship in June 1898 in a wooden hangar on Lake Constance

The 1st inscription on this 1799 discovery is in hieroglyphics, the 2nd in everyday Egyptian & the 3rd in Greek

He had more than 300 field animals in his private zoo at his San Simeon estate

It's a cable-operated railway going up a hillside

Several of this artist's last murals were painted at the Acapulco estate of his friend Dolores Olmedo
Scores at the first commercial break (after clue 15):
| | | |
| --- | --- | --- |
| Ellen | Matt | Glenn |
| $1,000 | $2,000 | $5,500 |
Scores at the end of the Jeopardy! Round:
| | | |
| --- | --- | --- |
| Ellen | Matt | Glenn |
| $5,000 | $5,000 | $6,300 |
Double Jeopardy! Round
(Alex: We want you to name the play in...)
SHAKESPEARE'S TRAGIC MEN

Andrew Lloyd Webber composed "Don't Cry For Me, Argentina" for this Broadway show

It can mean 1,000 or a baseball strikeout

This device detects sounds produced within the body & conveys them to doctors' ears through tubes

Top ballerina Sarah Lane was Natalie Portman's dance double for this 2010 film

The son of illustrator N.C., this painter had his first exhibition in 1936 at the Art Alliance of Philadelphia

Metaphysically speaking, it's the ego

Among the world's largest of these are the twin 400-inch ones on Mauna Kea in Hawaii

Ryan Reynolds gets a mystical ring that endows him with special powers in this 2011 film

(Janet Napolitano gives the clue.) In 2011, color-coded alerts were replaced by a warning system with information about particular terrorist threats, either elevated or this, meaning we think it will happen soon

In 1901 he sold his steel company to J.P. Morgan for a tidy $250 million

A scale measuring the popularity of a celebrity is this "rating"

The fool &
the Dukes of Cornwall & Albany

It's seen here & also in dramatic pursuit scenes in many a movie

Henry Mancini got an Oscar nomination for the score to this 1964 Peter Sellers film

Oddly, Andrew was the middle name of this "40 whacks" gal (that wasn't the only odd thing in her life, though)

The first letter alphabetically to appear alone as a periodic table element symbol

From the Latin for "joint", it's an instrument that looks into the interior of joints

Amanda Seyfried donned the title cloak in this 2011 film

This gay, often conservative British-born pundit serves up the blog "The Daily Dish"

Random House says it's the medieval Roman numeral for 7; makes sense

In the pre-videotape era, these trademarked cameras were used to record TV shows onto 16mm film

In this animated film Fred captains the title transport to Pepperland
Scores at the end of the Double Jeopardy! Round:
| | | |
| --- | --- | --- |
| Ellen | Matt | Glenn |
| $7,800 | $13,400 | $8,650 |
| | | |
Final Jeopardy! Round
It's the shorter, better-known name of the document "United States-Vietnam Relations, 1945-1967"
Final scores:
| | | |
| --- | --- | --- |
| Ellen | Matt | Glenn |
| $5,600 | $9,400 | $15,601 |
| 3rd place: $1,000 | 2nd place: $2,000 | New champion: $15,601 |
Game dynamics: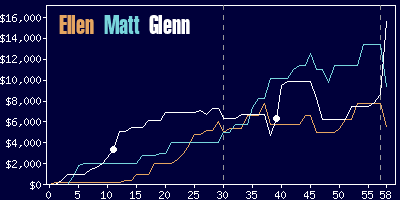 Ellen
Matt
Glenn
$7,800
$13,400
$6,800
17 R,
3 W
16 R,
2 W
20 R
(including 2 DDs),
5 W
Game tape date: 2011-09-21