Show #6240 - Friday, November 4, 2011
2011 Tournament of Champions quarterfinal game 3.
Jeopardy! Round
LITERARY TITLE OCCUPATIONS

RHYME-BOT
(Alex: Each correct response will rhyme with "bot".)

The votes are in: Thomas Hardy created Michael Henchard, this officeholder "of Casterbridge"

In "All the President's Men", Hal Holbrook played the secret informant dubbed this

In 1887 this lawyer "Scoped" out a move to Chicago & later repped Pullman Strike supporters

Go to www.foia.af.mil to file a Freedom of Information Act request with this organization

Turkey is the leading producer of this peachy fruit

Title Russian sawbones of 1957

In a 1996 movie it was "The People vs." this Hustler magazine publisher

He wrote that Chicago was proud to be a "player with railroads and freight handler to the nation"

bullshido.net exposes frauds in these arts, such as ninjutsu & aikido

It's the occupation mentioned in a 1916 James Joyce book title

This 1987 Bernardo Bertolucci film told the story of Chinese ruler Pu Yi

Benny Goodman learned to play his clarinet at this alliterative Chicago landmark co-founded by Jane Addams

"Where you book matters", according to this travel website

The last arrow fired in an archery contest, today it means the final result

All paths lead to Dr. Charles Primrose, this title Oliver Goldsmith reverend

In "Moneyball" Brad Pitt played this Oakland A's general manager

This "Blue Demon" school in Chicago is the USA's largest Roman Catholic university

This professional site whose name implies that it connects you became the USA's No. 2 social network in 2011

An overpowering destructive force, or an "X-Men" villain

Conjuring up images of 19th century Poland, Isaac Bashevis Singer wrote of this title guy "of Lublin"

Josephine Baker & Cole Porter are portrayed in this 2011 Woody Allen movie

On Feb. 14, 1929 it was that's all folks for 7 members of this Chicago mobster's gang

These 2 letters follow "Web" in the name of the 2010 Webby Award winner in the Health category

The yellow-bellied type of this critter is sunbathing here
Scores at the first commercial break (after clue 15):
| | | |
| --- | --- | --- |
| John | Tom | Joon |
| -$400 | $0 | $4,600 |
Scores at the end of the Jeopardy! Round:
| | | |
| --- | --- | --- |
| John | Tom | Joon |
| $1,600 | $600 | $6,800 |
Double Jeopardy! Round
MTV VIDEO OF THE YEAR ARTISTS

CALCULATING THE MEASUREMENTS

GIMME AN "H"
(Alex: Each correct response will begin with that letter.)

Get out the blue ink for this sea immediately north of Poland

1988:
"Need You Tonight/Meditate"

Maria Tallchief played the Sugarplum Fairy in a 1954 New York City ballet performance of this classic

16 short tons minus 13 short tons leaves you this many pounds

In 1949 Canada joined the United States & 10 other nations to form this military alliance

Proverbially, "he who" does this "is lost"

However you draw the border between Nicaragua & this 2-named country, somebody gets mad, huh?

2009:
"Single Ladies (Put A Ring On It)"

This wooden rail attached to the wall of a ballet studio is used by the dancers for support during exercises

Fahrenheit boiling point of water times Celsius freezing point of water

Between 1913 & 1932 Canada dug a new & deeper version of the Welland Canal that connects these 2 Great Lakes

A house of shelter for pilgrims, or a homelike facility that provides care for the terminally ill

A study says it's the most misspelled city in the U.S., but you got it right, with the final "H"

Born Margaret Hookham in England, she made her professional debut in 1934 at the age of 15

Number of quarts in 2 gallons divided by the number of pints in 2 quarts

On July 3, 1608 this Frenchman landed at what would become the City of Quebec

From 1823 to 1838 it was one of the 5 countries that made up the United Provinces of Central America

Mark all of these

--

really more than 1,500

--

including Wolfe on the Canadian side of the river & Wells on the U.S. side

Onstage this late Soviet defector often partnered Maya Plisetskaya; offstage, Jacqueline Bisset

Square inches in a square foot plus square feet in a square yard

The 1947 discovery of oil in a field at Leduc in this prairie province launched a Canadian oil boom

In Egyptian myth this deity & son of Osiris is usually depicted as having the head of a falcon

Wite-Out please! Kinshasa hasn't been named this, after an abusive Belgian, since 1966

When "Le Pavillon d'Armide" premiered in 1907, Vaslav Nijinsky played the Slave & she played Armide

Feet in a fathom plus feet in a mile

The Dominion of Canada was formed in 1867; this transplanted Scot became the country's first prime minister

Anglers & crafters, not just surgeons, use this instrument, whose name means "blood stop"
Scores at the end of the Double Jeopardy! Round:
| | | |
| --- | --- | --- |
| John | Tom | Joon |
| $2,000 | $4,200 | $20,800 |
| | | (lock game) |
Final Jeopardy! Round
Harpo Marx was among this group when it met in NYC's Rose Room for its final time, in 1943, & found there was nothing left to say
Final scores:
| | | |
| --- | --- | --- |
| John | Tom | Joon |
| $14 | $0 | $30,800 |
| 2nd place: $5,000 if eliminated | 3rd place: $5,000 if eliminated | Automatic semifinalist |
Game dynamics: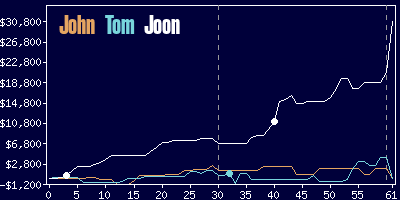 John
Tom
Joon
$2,000
$6,200
$18,400
10 R,
5 W
13 R,
7 W
(including 1 DD)
26 R
(including 2 DDs),
3 W
Game tape date: 2011-09-26