Show #6238 - Wednesday, November 2, 2011
2011 Tournament of Champions quarterfinal game 1.
Jeopardy! Round
(Alex: Followed by not PLAY BALL!, but...)
PAY BALL!

In 1870 this "Goober State" became the last to be permanently readmitted to the Union

His 1927 salary with the Yankees was $70,000, or $1,166.67 per homer

Title of both Judy Sheindlin & her husband Jerry

Part I of a 1726 book is "A Voyage to" this place, home to human creatures "not six inches high"

Ronald Reagan Washington National Airport has the code DCA but is located in this state

It begins at the Place de la Concorde

This term was coined to refer to northern whites who went south seeking opportunities

Say hey! Say what? In 1965 he hit 52 homers & won his ninth straight Gold Glove

--

& made $105,000

A vicereine is the wife of one of these officials

These factory workers in a 1964 book love cacao beans

In 1966 London Airport was renamed this, which uses the code LHR

City & state of the place known until 1860 as West Urbana

This man's impeachment trial brought Senate president pro tem Ben Wade within 1 vote of being U.S. president

This player nicknamed "Big Papi" pulls down $12.5 million with the Red Sox

Deposed in 1797, Ludovico Manin was the last of these chief magistrates to rule Venice

L. Frank Baum's Oz books include these underground folk, spelled without the silent "G"

In this idiom that refers to an impatient horse, many people substitute "chomp"

In 1868 this Amendment gave African Americans full citizenship

In 1979 this no-hit king became the first major leaguer with a guaranteed $1 million salary

In "The Mikado" this grand fellow was the "Lord High Everything Else"

Say "a prayer for" this tiny boy who kills his pal's mom with a foul ball

From the initials of the man it's named for, the larger of Paris' 2 airports has this 3-letter code

4 old buddies relive glory days of high school hoops in this play

Charles Sumner & Thaddeus Stevens were leaders of this "extreme" Republican group

After hitting .350 in 1907, this Pittsburgh Pirates shortstop got his salary doubled for 1908

--

to a whopping $10,000

An ataman was the leader of a village of these horsemen who gave a Tolstoy novel its title

Tyrion's last name in "A Game of Thrones"

Jorge Chavez International Airport has the 3-letter code LIM & is in this country

By age 16, this translator of the Rosetta Stone had mastered 8 ancient languages
Scores at the first commercial break (after clue 15):
| | | |
| --- | --- | --- |
| Tom | Jay | Charles |
| $3,600 | $2,000 | $1,600 |
Scores at the end of the Jeopardy! Round:
| | | |
| --- | --- | --- |
| Tom | Jay | Charles |
| $8,000 | $4,800 | $2,000 |
Double Jeopardy! Round
TV WHO AM I
(Alex: You have to identify the character.)

BAD HEIR DAY
(Alex: Notice the spelling.)

2011 NATIONAL SPELLING BEE WORDS
(Alex: But you do not have to spell the correct response.)

On a scale of 1 to 10, his "Earthquakes" article for the 15th edition of Encyclopedia Britannica was a 10

Author of the New York Star's "Sex & the City" column

Adonijah, the fourth son of this biblical king, was killed by his brother Solomon

You're not yourself today; you're this 8-letter word OED defines as "one who assumes a false character"

Round 2 included this French-derived word for the supporting frame of a car

Tragically, in 1864, his nitroglycerin factory blew up, killing several people, including his younger brother Emil

Title blood-splatter expert for the Miami police

Robert the Steward was heir presumptive to his grandfather, this Scot, who suddenly had a son in 1324

One who speaks ill of you when you're not around, or who implants a dagger in your dorsal region

A young man lost after placing an "H" in the middle of this Italian bacon

An institute of physical sciences at the University of Copenhagen is named for this physicist

Former longtime Red Sox employee, later a bartender at Sam Malone's side

A December 2010 news story said this product was angling for Prince William, who was just 28, as a spokesman

This term for a rowdy British soccer fan may come from an Irish surname

From its etymology you can figure out that "sangsue", from Round 15, is a name for this worm

In the 1700s this Italian discovered that electricity could make a dead frog's muscles contract

Mustachioed director of the Pawnee Parks & Recreation Department

June 28, 1914 was the last day for this heir to a European throne

Originally one who renounced his faith, it's now one who "re"bels & becomes an outlaw

Early in Round 3 was this Spanish word for cowboy

According to his law, electric current is equal to the ratio of the voltage to the resistance

Original series:
Male Viper pilot.
Series reboot:
Female Viper pilot with the same name

In June 1461 Prince Carlos' father made him Governor of Catalonia, but in September Carlos died in this city

Miles Davis recorded "Freddie Freeloader"; Cab Calloway recorded "Minnie" this

Round 8 served up this 10-letter Japanese word for meat & vegetables cooked tableside on a griddle
Scores at the end of the Double Jeopardy! Round:
| | | |
| --- | --- | --- |
| Tom | Jay | Charles |
| $16,400 | $12,000 | $400 |
| | | |
Final Jeopardy! Round
A member of the Hanseatic League, this city with a 4-letter name was once known as the "Paris of the Baltic"
Final scores:
| | | |
| --- | --- | --- |
| Tom | Jay | Charles |
| $16,403 | $16,401 | $285 |
| Automatic semifinalist | 2nd place: $5,000 if eliminated | 3rd place: $5,000 if eliminated |
Game dynamics: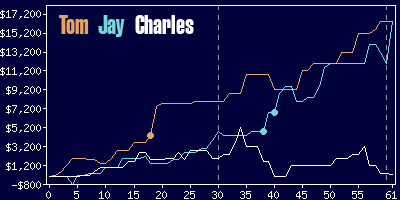 Tom
Jay
Charles
$14,400
$10,800
$400
19 R
(including 1 DD),
3 W
19 R
(including 2 DDs),
6 W
15 R,
8 W
Game tape date: 2011-09-26