Show #6081 - Monday, February 7, 2011
IBM Challenge mini-documentary: "What is a Grand Challenge?"
Jeopardy! Round
4-LETTER "S" WORDS
(Alex: Each correct response will begin with that letter.)

Joseph Conrad:
"Lord ____"

For this WWII film Tom Hanks & the other actors in his squad had to endure a rigorous week of boot camp

Vegetarians in search of vitamins A & C know butterhead & crisphead are 2 of its general classifications

From 1966 to 1977 & from 1980 to 1984, she led the world's largest democracy

You can wear an Oscar dress every day with one of this Dominican's creations; he established his own firm in 1968

At 6'8" & 740 lbs. Emanuel Yarbrough was one of the heaviest men in the amateur division of this sport

Thomas Hardy:
"____ the Obscure"

He won an Oscar for portraying Ray Charles but learned to play the violin & cello for his role as "The Soloist"

AKA bean curd, this may be sealed aseptically in packaging that may be kept unopened at room temp for up to 8 months

Vigdis Finnbogadottir led a theatre co. for many years before becoming this country's president in 1980

In 1994 he sold his underwear business for $64 million

Meaning "half", it's a combining form borrowed from Latin

Louise Fitzhugh:
"____ the Spy"

Tom Cruise learned to speak Japanese & wield a sword for his role in this 2003 film

Vegetarians can pig out on the rhyming Lightlife product called "Fakin"' this

In 2010, before her term as president ended, Michelle Bachelet oversaw earthquake relief efforts in this country

She launched her label in 1995 & was named chief designer at Chloe in '97; she must've been working "8 days a week"

A man "goes" this animal term when attending a social event unaccompanied by a woman

Vicki Myron & Bret Witter:
"____: The Small-Town Library Cat Who Touched the World"

To prepare for this movie, Helena Bonham Carter took singing & pie-making lessons

The drink product "Silk is" this 3-letter vegetarian staple, at least in a slogan

In 2009 Vilnius-born Dalia Grybauskaite became president of this country

In 2003, just before starting to judge "Project Runway", he received the CFDA award for menswear designer of the year

This French word means "without"

Charles Dickens:
"The Mystery of ____ ____"

To play Hawkeye in this movie, Daniel Day-Lewis learned to track animals, build canoes & fire muskets

For vegans, allrecipes.com has one for this type of mushroom that shares its name with a Panama seaport

President of the Philippines from 1986 to 1992, she passed away in 2009

In the '70s this alliteratively named American designed luggage & airline uniforms in addition to menswear

Dude, this term for a vassal serving on a lord's land is totally up!
Scores at the first commercial break (after clue 15):
| | | |
| --- | --- | --- |
| Roger | Paul | Erin |
| $800 | $5,600 | $800 |
Scores at the end of the Jeopardy! Round:
| | | |
| --- | --- | --- |
| Roger | Paul | Erin |
| $4,000 | $8,000 | $1,200 |
Double Jeopardy! Round
| | | | | | |
| --- | --- | --- | --- | --- | --- |
| | | | | | |
| In 1534 he explored the Gulf of St. Lawrence, helping lay the basis for French claims to North America | Al Capone, or the title of one of his biopics | Rehoboam, king of Israel, was a son of this wise king by an Ammonite mother | It's spray-painted words on a wall | This wild man's hits include "Long Tall Sally" & "Rip It Up" | This largest island is 50 times the size of Denmark, the country to which it belongs |
| | Benjamin Siegel got this 5-letter nickname because he acted crazy | In the Book of Mark, John the Baptist called this king an adulterer; oops! | | Grady Little, who managed this star-crossed MLB franchise, was let go in 2003, the year before they broke "The Curse" | Almost 10 times the size of the Everglades, the largest swamp is the Pantanal of Mato Grosso in this country |
| Edward VI died on July 6, 1553; she was proclaimed Queen 4 days later (didn't last) | Rhyming nickname for John Gotti based on a product used on frying pans | As recounted in 1 Samuel, in Saul's time this marauding people drove the Israelites into living in caves | It's the traditional form of address for an orchestra conductor | His website calls him "the greatest impersonator of all time" | When measured by shoreline, this North American bay is the world's largest |
| | Menacing moniker of Albert Henry de Salvo | Following the unusual death of his wife, his daughters became the mothers of the Moabites & the Ammonites | This word for a disastrous failure is the title of Thomas Ricks' book about the American military in Iraq | Lil Jon is one of the progenitors of this hip hop style that's said to get its name from a blending of "crazy" & "drunk" | By volume, this deep Siberian lake is the world's largest body of fresh water |
| This magnificent guy succeeded his dad as sultan of the Ottoman Empire in September 1520 | 2-word canine nickname for Vincent Coll (& it wasn't Cujo) | | A view through a narrow passage, or a Microsoft operating system | She hit No. 1 with "The Loco-Motion" in 1962 | Covering half of the island of Hawaii, it's the largest volcano on Earth |
Scores at the end of the Double Jeopardy! Round:
| | | |
| --- | --- | --- |
| Roger | Paul | Erin |
| $8,000 | $14,600 | $8,000 |
| | | |
Final Jeopardy! Round
Chapters in this 1953 thriller include "Dossier for M", "Pink Lights and Champagne" & "The Game is Baccarat"
Final scores:
| | | |
| --- | --- | --- |
| Roger | Paul | Erin |
| $2,699 | $16,001 | $16,000 |
| 3rd place: $1,000 | New champion: $16,001 | 2nd place: $2,000 |
Game dynamics: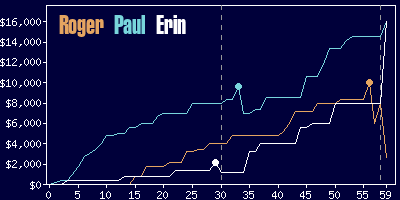 Roger
Paul
Erin
$12,000
$17,200
$9,000
14 R,
1 W
(including 1 DD)
24 R,
1 W
(including 1 DD)
9 R,
1 W
(including 1 DD)
Game tape date: 2010-10-27