Show #6046 - Monday, December 20, 2010
Tom Nissley game 5.
Jeopardy! Round
(Alex: You have to give me the one with the fewest letters in...)
THE SHORTIE IN THE GROUP

"A Man About the House",
"Honest Jack Tripper"

A law passed in 1955 designated that this motto must appear on all U.S. coins & currency

Of planets in our solar system

This captain's peg leg in "Moby Dick" is made from a sperm whale's jaw

In 1971 Volvo introduced an automobile warning light to remind drivers & passengers to do this

"The Last Time I Saw Maris",
"Guns n' Neuroses"

Appropriately, this landmark is on the reverse of the $5 bill

It figures that the writer of "The Last of the Mohicans" died in this town

The first epistle of John ends with a warning to stay away from these false gods

"The One with the Holiday Armadillo",
"The One Where Chandler Doesn't Like Dogs"

$1 bills tell you which Federal Reserve bank issued the bill; "A" represents the district in this New England city

Of signs of the astrological zodiac

The "Rubaiyat" in Omar Khayyam's title is the plural of rubai, this 4-line stanza

In 1954 the U.S. & this nation began the DEW, or Distant Early Warning, line to warn of a polar air attack

"The Cooper-Hofstadter Polarization",
"The Adhesive Duck Deficiency"

The seal of the Treasury Department, seen on bills, includes these, which represent justice

Valentine & Proteus are the title characters in this play, first published in 1623

Freshly cut trees, or a warning by a lumberjack that a freshly cut tree is about to fall

"The Fusilli Jerry",
"The Abstinence"

It's printed on the bills: "This note is" this 2-word term "for all debts, public and private"

The most famous society dedicated to Sherlock Holmes is these "Irregulars"

In a children's tale, he unwisely failed to heed the warning "Don't go into Mr. McGregor's garden"
Scores at the first commercial break (after clue 13):
| | | |
| --- | --- | --- |
| Tom | Julia | Bob |
| $0 | $1,200 | $3,000 |
Scores at the end of the Jeopardy! Round:
| | | |
| --- | --- | --- |
| Tom | Julia | Bob |
| $5,000 | $6,000 | $6,600 |
Double Jeopardy! Round
| | | | | | |
| --- | --- | --- | --- | --- | --- |
| | BIRTH! HELPED FOUND THE USA! DEATH! | | | | |
| This singer was the subject of the 2005 documentary "No Direction Home" | Born May 29, 1736, helped us get liberty, got death June 6, 1799 | | It's the number of pockets on a standard pool table | The world's largest ship, 1,500 feet long & 225 feet wide, is the Knock Nevis, one of these | |
| 2008's "Man on Wire" chronicled Philippe Petit's 1974 tightrope walk across this NYC landmark | Born Jan. 12, 1737 in Massachusetts, served in the state's general court, signed out Oct. 8, 1793 | | Order a falafel sandwich & it will come stuffed inside this pocket bread | In 1861 John Brooke turned this ship that had been burned to the deck into an ironclad called the Virginia | "Follow your nose" to this popular breakfast cereal |
| This documentary about kids in the finals of a national bee shares its name with a Hitchcock film | Born Dec. 12, 1745, was the first to sing lead for the Supremes, faced the final decision May 17, 1829 | The black variety of this tree of the genus Juglans produces edible nuts in a tough green husk | A fob pocket on a vest or a pair of pants was originally designed to carry this | Immortalized in a Gordon Lightfoot song, this cargo vessel sank in Lake Superior in 1975 | An exclusive news story for a reporter |
| Late activist & bear lover Timothy Treadwell was profiled in a Werner Herzog film called this "Man" | Born July 26, 1739, later served as veep but not as the leader of Parliament/Funkadelic, died April 20, 1812 | The name of this oily nut native to Brazil may come from a local name, Acajoba | In bowling a right-hander aims for the pocket between these 2 pins | During his 1570s trip around the world, Sir Francis Drake changed his ship's name from the Pelican to this | His first memoir is titled "Me, Alice" |
| Michael Moore's documentary about the American health care system had this 5-letter title | Cute as a "button" when born around 1735, served in the Georgia assembly, killed in a duel in 1777 | They're also called filberts or cobnuts, but the makers of Frangelico liqueur call them this | Sticks with net pockets are used to throw a ball into the opponent's goal in this team sport | This Italian explorer was the first to sail into New York Harbor, on his ship la Dauphine around 1524 | This term for sensational promotion may come from an Old French term used to control horses |
Scores at the end of the Double Jeopardy! Round:
| | | |
| --- | --- | --- |
| Tom | Julia | Bob |
| $18,400 | $11,200 | $21,000 |
| | | |
Final Jeopardy! Round
A critic said that a character of his, "yearning for the moon... never saw the sixpence at his feet"; he made that into a title
Final scores:
| | | |
| --- | --- | --- |
| Tom | Julia | Bob |
| $36,799 | $1,010 | $5,000 |
| 5-day champion: $151,802 | 3rd place: $1,000 | 2nd place: $2,000 |
Game dynamics: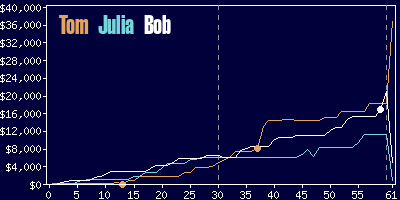 Tom
Julia
Bob
$14,800
$11,200
$19,000
18 R
(including 2 DDs),
2 W
14 R,
2 W
24 R
(including 1 DD),
1 W
Game tape date: 2010-09-21