Show #6042 - Tuesday, December 14, 2010
Jeopardy! Round
Yupik is a native language spoken by about 15,000 in Siberia & the western part of this state

In 2004 she published "Confessions of an Heiress: A Tongue-in Chic Peek behind the Pose"

According to the bell on this, we've reached your floor

flu.gov says this is the best protection against contracting the flu

--

not scared of needles, are you?

In 2009 the price for a medallion on one of these driven in NYC was over $750,000

In a book for kids, he tells "How to Train with a T. Rex and Win 8 Gold Medals"

You better pay up after hearing the bell on this

To reduce your chances of getting the flu, the CDC recommends doing this often, for 15 to 20 seconds at a time

In a Beach Boys song, a female driver will have "fun, fun, fun" until her daddy takes this away

Paul's letters in the New

Test

ament were written in a version of this language called Koine

He's the man behind the books "I'm Only One Man" & "Who Wants to Be Me?"; need a lifeline?

Originally it was a Chinese gong, but since 1903, business here has begun with a bell ring similar to this

This U.N. agency issues annual recommendations for the composition of new anti-flu drugs

If you drive the only Disneyland park attraction that can be boarded outside the park, you're driving this

In the 17th century Jesuit missionaries developed a written form of this Asian language known as Quoc Ngu

In "My Word is My Bond", he talks about some of his memorable roles from The Saint to Beau Maverick to 007

At certain times the bell heard here warns you to stay out of this area

The DHHS says to help protect yourself from the flu, you should avoid touching these 3 parts of your face

It can mean a person who drives 2 or more draft animals, or a union truck driver

The semitic language of Akkadian was spoken in this land whose name means "between rivers"

Lynette Scavo on "Desperate Housewives", she co-authored "A Practical Handbook for the Boyfriend"

Walking on a country road in a winter wonderland, keep your ears pealed for these

--

are you listening?

The CDC urges flu victims to play it "cool" & stay home at least 24 hours after this symptom is gone

A mahout is the traditional term for a driver of one of these
Scores at the first commercial break (after clue 15):
| | | |
| --- | --- | --- |
| Jonathan | Judy | Tom |
| $1,600 | $200 | $800 |
Scores at the end of the Jeopardy! Round:
| | | |
| --- | --- | --- |
| Jonathan | Judy | Tom |
| $3,200 | $3,000 | $6,200 |
Double Jeopardy! Round
This word precedes "puff" in a common alliterative beauty aid

Jeremy Irons helps the title character connect with his dragon in this film whose title changes 1 letter in "Dragon"

It's no wonder Lot's wife was changed into a pillar of salt; she & Lot lived by this "sea" that's really a lake

The subject of the bio "America's Queen", she was an editor at Doubleday until her 1994 death

A process called candling involves removing excess wax from these organs

A fetlock is located on the back of the horse's leg & the forelock is located here

This synonym for "puff" can refer to a slight odor or a baseball strikeout

In this 2010 animated film, Hiccup befriends & then teaches an injured dragon named Toothless

The ancient poet Sappho hailed from an island in this sea

Truman Capote said of this writer's frenzied creation of "On the Road", "that isn't writing; it's typing"

Kashmiri voting officers are sealing a voting machine for a 2004 vote in this country

Cotton candy is also called spun this

In an eye exam a puff of air is used to measure intraocular pressure, a

test

for this condition

In this 1977 kids' movie, the title character is the only one who can see Elliott, a dragon

If you make your home in the capital city of Hobart, you live by this sea

Her paperback novels like "Hollywood Wives" have been bestsellers

Originally called Plastone, this "reptilian" car polish seals your car from the elements

In 2010 this Conservative leader descended from King William IV became Britain's prime minister

From the French for "flaky", feuillete is a term for a puff this

Christian Bale & Matthew McConaughey tag & bag flame-throwing dragons in this futuristic tale

The fur seals of the Pribilof Islands not only live by this sea, they also live in it

Pills are the dolls in the title of her trash classic "Valley of the Dolls"

These rings sound like young swans, but they're actual used to seal letters with wax

This "sweet"' instrument may be hammered or Appalachian

It's a metaphor for acting proud & making yourself look big; a grouse does it literally

Peter MacNicol eventually gets this title job in a 1981 movie

A good place to play Marco Polo is in this sea that surrounds Marco Polo's city of birth

This former G.E. CEO has co-authored "Straight From The Gut" & "Winning"

This valuable wax secreted by sperm whales is used as a fixative in perfumes

Marilyn Monroe described this actor who died in 1966 as "the only person I know who is in worse shape than I am"
Scores at the end of the Double Jeopardy! Round:
| | | |
| --- | --- | --- |
| Jonathan | Judy | Tom |
| $10,800 | $12,400 | $18,600 |
| | | |
Final Jeopardy! Round
In 1988 this country boycotted the Summer Olympics after its demand to co-host the games was refused
Final scores:
| | | |
| --- | --- | --- |
| Jonathan | Judy | Tom |
| $13,000 | $22,400 | $24,801 |
| 3rd place: $1,000 | 2nd place: $2,000 | New champion: $24,801 |
Game dynamics: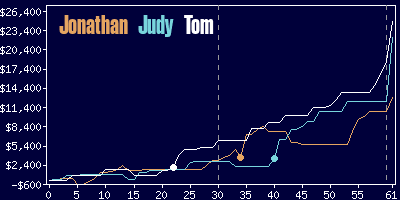 Jonathan
Judy
Tom
$8,800
$11,000
$17,200
20 R
(including 1 DD),
6 W
15 R
(including 1 DD),
2 W
18 R
(including 1 DD),
1 W
Game tape date: 2010-09-15