Show #6028 - Wednesday, November 24, 2010
Jeopardy! Round
BRIGHT LIGHTS, BIG CITY
(Alex: With the pictures provided thanks to NASA.)

This city is the brigh

test

area along the East Coast

He outwitted, outplayed & outlasted Heidi Klum, among others, to take Best Reality Show Host

This "Union" was formed in 1920 because the Supreme Court wasn't upholding free speech claims

After taking office, Eisenhower ended hostilities in this conflict by agreeing to a ceasefire

You can see the shore of this Asian capital's bay has orange sodium lamps, while the city uses green mercury lamps

We know you're all over Outstanding Sound Editing... this Fox drama's "4:00 am - 5:00 am" episode won; Beep! boop! Beep! boop!

The result of a boxer's injuries:
cauliflower ____

In 1916 Eisenhower married this woman, whom her father called "Puddy"

A proverb says that powerful cerebrums "think..." this way

This Great Lakes city has 3 million people, but the surrounding suburbs increase the population to almost 10 million

Jim Parsons enjoys Klingon Boggle as physicist Sheldon Cooper on this CBS sitcom; he also enjoys his new Emmy

Started in 1961 to stop human rights abuses around the globe, this organization lit its first candle the same year

Alert watchfulness:
eagle ____

It was the highest military rank Eisenhower achieved before resigning so he could run for the presidency

A sudden variation in voltage or current

The amazing variety of light colors must belong to this U.S. desert city

Know what Emmy voters like? Meth & murder! OK, not really, but they loved Aaron Paul as Jesse Pinkman on this AMC show

This service "Club" has a 4-way

test

of things they think, say & do, including "Will it be beneficial to all concerned?"

These were part of the "Flashdance" look in the '80s:
____ warmers

Eisenhower died in this year, the same year his vice president took up residence in the White House

Long-snouted freshwater swimmer of the family Esocidae

This Capital gleams on the southern shore of the Rio de la Plata

Claire Danes won for playing the title role in this HBO movie; Julia Ormond won for playing her mother

Julian Bond was the first president of this "Law Center" that works for civil rights & tolerance education

The Beatles wore them:
____ boots

From 1971 to 1978 Eisenhower's image graced the front of this U.S. coin

To form coins by stamping metal
Scores at the first commercial break (after clue 15):
| | | |
| --- | --- | --- |
| Bob | Rebecca | Stephanie |
| $2,800 | $1,000 | $3,400 |
Scores at the end of the Jeopardy! Round:
| | | |
| --- | --- | --- |
| Bob | Rebecca | Stephanie |
| $3,200 | $2,000 | $3,600 |
Double Jeopardy! Round
Lucky, who wears a vest, bow tie & bowler hat with shamrocks on them

In May 2009 Carol Ann Duffy became the first woman in history appointed to this U.K. post

If you're having albondigas in a Mexican restaurant, you're eating meatball this

Associated with Juno, she's Zeus' sister-wife

To combine, perhaps for movie cowboy Tom

The spiritual center of Tunisia is Kairouan, "The City of 50" of these religious buildings

A flaming red basketball going through a white hoop

In his "Essay on Man", he wrote, "Know then thy self presume not God to scan, the proper study of mankind is man"

Sometimes confused with a sea creature, they're also called green onions

Hesiod mentioned the names of these 9 sister goddesses, patrons of particular arts & sciences

It can follow "wind" or "pepper"

A shield with a horse's head & a single star

He wrote a 1671 poem about the biblical Samson, who like him suffered blindess

There's a pineapple type of this herb whose name also means wise

This Greek goddess of war & handicraft changed Arachne into a spider after a weaving con

test

between them

Ta'ziyah, Muslim passion plays, tend to show the martyrdom of members of this minority branch of Islam

A sword goes through the "C" in the team's name

In early 1956 he met Sylvia Plath at a launch party for his literary magazine St. Botolph's Review

This quick bread takes its name from the Stone of Destiny

You think your family is unusual? This Greek goddess of victory was the daughter of Pallas (a Titan) & Styx (a river in Hades)

Full of life, or when talking about color, strikingly intense

A qibla indicator shows where to face when praying: toward Mecca & specifically, toward this holy structure

The letter "W" forms the body of a man in blue wearing a pointy hat

The famous "Death be not proud" line is from this man's "Holy Sonnets"

This Italian dish that contains slices of veal & prosciutto sounds like a Cirque du Soleil show

The name of this Greek goddess means "foam born", which some stories say she was
Scores at the end of the Double Jeopardy! Round:
| | | |
| --- | --- | --- |
| Bob | Rebecca | Stephanie |
| $15,200 | $8,000 | $8,000 |
| | | |
Final Jeopardy! Round
The alternate name of this 16th century Italian painting also means "cheerful"
Final scores:
| | | |
| --- | --- | --- |
| Bob | Rebecca | Stephanie |
| $16,100 | $15,999 | $8,500 |
| 2-day champion: $33,800 | 2nd place: $2,000 | 3rd place: $1,000 |
Game dynamics: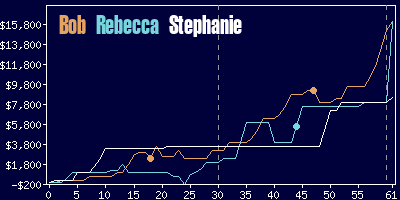 Bob
Rebecca
Stephanie
$16,000
$8,000
$8,000
23 R
(including 1 DD),
4 W
(including 1 DD)
14 R
(including 1 DD),
4 W
9 R,
0 W
Game tape date: 2010-08-31