Show #5977 - Tuesday, September 14, 2010
Roger Craig game 2.
Roger sets a new single-day cash winnings record of $77,000.
Jeopardy! Round
(Alex: First, we honor those who illustrate children's books with...)
CALDECOTT MEDAL & HONOR BOOKS

SORT THROUGH THE WORD PROBLEM

Paul O. Zelinsky won the 1998 Medal for illustrating the tale of this girl who really knew how to let her hair down

Drumroll please! In July 2010 this Beatle turned 70

If Train A leaves Oamaru at 9 a.m. at 70 MPH & Train B leaves Timaru at 1 p.m. going 80, this will still be New Zealand's capital

It's the absence of any form of political authority

(Katie Couric delivers the clue.) In 2006, on my first broadcast as anchor of the CBS Evening News, I reported that this group that formerly ruled Afghanistan was "back with a vengeance"

The 1964 Caldecott Medal went to this classic by Maurice Sendak

This rock pioneer who sang "Sweet Little Sixteen" in 1958 turned a sweet little 83 in 2009

Sally has 1/3 of a 5th Avenue candy bar, Eddie has 7/8 of a Mr. Goodbar; both are made by this company

Term for a large group or chain of islands

A 2007 Caldecott Honor book was called "Moses: When" she "Led Her People to Freedom"

In February 2010 this wife of a Beatle turned 77

Mr. Jenkins has 3 nickels, 13 dimes & 54 pennies; he can't afford a 2009 Phantom from this car company

The name of this refractive defect of the eye comes from the Greek

(Katie Couric delivers the clue.) In a 2008 foreign policy interview, I asked this candidate, "Have you ever been involved with any negotiations with the Russians?"

--

it seemed like a reasonable question

Ian Falconer received a 2001 Caldecott Honor for his tale of this mischievous girl pig

In April 2010 this legendary sitarist celebrated his 90th birthday

The Statue of Liberty weighs 225 tons; how many have read this woman's poem "The New Colossus" on the pedestal wall?

Bolivia's coat of arms features this quadruped

(Katie Couric delivers the clue.) My first network job was as deputy correspondent at this site, preparing me for interviewing the Petraeuses & Odiernos of the world

Ludwig Bemelmans was honored for illustrating this Parisian schoolgirl who had her appendix out

In 2006 Lubbock, Texas held a bash for what would have been this native son's 70th birthday

Bo makes 86 snowballs in 1 3/4 hrs.; when will Bo know he has this 9-letter problem where ice crystals form in body tissues?
Scores at the first commercial break (after clue 15):
| | | |
| --- | --- | --- |
| Roger | Tony | Mandy |
| $4,800 | $1,800 | -$600 |
Scores at the end of the Jeopardy! Round:
| | | |
| --- | --- | --- |
| Roger | Tony | Mandy |
| $13,000 | $4,200 | $800 |
Double Jeopardy! Round
| | | | | | |
| --- | --- | --- | --- | --- | --- |
| THEY'RE IN HOW I MET YOUR MOTHER | | | | | |
| In 2007 Neil Patrick Harris voiced his "Mother" role, Barney, on this animated Fox show with the Griffins | This "numerical" club on 52nd boasted Ernest Hemingway as a regular | A suit of executive cut is for men who are a little more, how shall I say... well, you tell me | | The last time this came close to Earth was in 1986 & it's expected again as it completes its 76-year cycle | In a Homeric epic, he's ordered home to his kingdom in Ithaca after the fall of Troy |
| Before playing Robin, Cobie Smulders shared the screen with Clark, Lana & Lex on this drama | In 2010 you could check out the "Bauhaus Lounge" exhibit at this museum on 53rd Street | | A gin from London, named for someone at the Tower of London | This slow-moving ketchup used Carly Simon's "Anticipation" in ads | This Greek god is told: "You are... the most hateful of gods... for dear to you always are strife and wars" |
| In "I Love You, Man", Jason Segel gets put in a sleeper hold by this ex-"Incredible Hulk" | This transport takes 60,000 people a day across the water between 2 boroughs, for free | | It partners with "& between" to mean "in an unresolved position" | In this play, a boy says that the title character "won't come this evening, but surely tomorrow" | In Greek myth, Zephyrus is the west this |
| In 2003 Josh Radnor appeared on "ER" & this Alan Ball HBO series where you ended up if you didn't make it out of the ER | Architect William Van Alen put radiator caps on the 31st floor of this art deco landmark at 405 Lexington | | This 9-letter area is the first objective of a military force landing on an enemy shore | Don't delay in telling us the name of this artist whose 1882 pastel "Waiting" is seen here | He invented the lyre & gave it to Apollo; Apollo gave him the caduceus in return |
| Alyson Hannigan made "this one time, at band camp" a catchphrase in this 1999 movie comedy | In 1942 Fiorello LaGuardia & his family moved into this building at 88th Street & East End Avenue | | It's an important step leading to canonization | She was a lady-in-waiting to Anne Boleyn before she became the next queen | He showed Medusa's severed head to Atlas, turning Atlas to stone |
Scores at the end of the Double Jeopardy! Round:
| | | |
| --- | --- | --- |
| Roger | Tony | Mandy |
| $47,000 | $5,400 | -$400 |
| (lock game) | | |
Final Jeopardy! Round
LITERARY & MOVIE TITLE OBJECTS
The inspiration for this title object in a novel & a 1957 movie actually spanned the Mae Khlung River
Final scores:
| | | |
| --- | --- | --- |
| Roger | Tony | Mandy |
| $77,000 | $10,000 | -$400 |
| 2-day champion: $114,000 | 2nd place: $2,000 | 3rd place: $1,000 |
Game dynamics: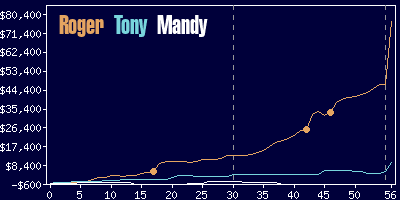 Roger
Tony
Mandy
$34,400
$5,400
-$400
39 R
(including 3 DDs),
4 W
11 R,
3 W
3 R,
4 W
Game tape date: 2010-07-27