Show #5844 - Thursday, January 28, 2010
Jeopardy! Round
THE SONGS OF BRIAN WILSON

DOG CATCHING
(Alex: You have to find the dog breed contained in each clue.)

Bob Dylan often plays one of these, also called a mouth organ

One of Wilson's Beach Boys classics asks this girl to "help, help me" to get another girl "out of my heart"

The first version of this story had no "mad tea party" or "pig and pepper" chapters; later ones did

By going from gym to gym, he learned to box erratically

Don't mess around in Saudi Arabia; this isn't just on the flag but is also used to implement capital punishment

Redball seedless & sugar baby are types of this fruit

Originally plucked, then later bowed, the crwth was a lyre originating in this country

"I'm picking up" these, "she's giving me excitations"

In Britain this simian created by H.A. Rey is called Zozo

Suitable encyclopedias include Britannica, Collier's & World Book

The majority of Saudis belong to the Wahhabi sect of this branch of Islam

In a song Jimi Hendrix was "all along" this structure

Its 6 strings are traditionally tuned to E-A-D-G-B-E

Title that precedes "If we were older, then we wouldn't have to wait so long"

This 9-year-old redhead is an orphan who lives in Villekulla Cottage "at the end of a little Swedish town"

"It's a strange world"

--

thus Kyle MacLachlan spoke in "Blue Velvet"

This TV show was banned in Saudi Arabia in 1979 because the presence of Miss Piggy violated religious laws

A shy person at a dance or party

Fashioned from empty oil containers during WWII, it's Trinidad & Tobago's national instrument

Wilson wrote, "I have watched you on the shore, standing by the ocean's roar, do you love me, do you" this lass

Katherine Paterson's book about rivalrous twins, like a certain pair in Genesis, is called him "Have I Loved"

Christmas tiffs are the worst, but there's always time to make up before New Year's

This British explorer made a secret trip to Mecca in 1853 & also "acted" as translator of the "Arabian Nights"

Rembrandt & Winslow Homer were both known for this type of painting involving dissolved pigments

Pablo Casals said that this instrument "is like a beautiful woman who has not grown older but younger with time"

"There's a world where I can go and tell my secrets to", it's here

"Thunderhead" was a sequel to this 1941 Mary O'Hara novel about Ken McLaughlin and his colt

Little Johnny was in a very elite club Eagle Scouts longed to join

You can treat this man like royalty in Saudi Arabia; he's the current king

From the German, it's a strong desire to travel
Scores at the first commercial break (after clue 15):
| | | |
| --- | --- | --- |
| James | Matt | Rebecca |
| $2,200 | $400 | $3,200 |
Scores at the end of the Jeopardy! Round:
| | | |
| --- | --- | --- |
| James | Matt | Rebecca |
| $6,000 | $0 | $7,600 |
Double Jeopardy! Round
Mercury and aneroid are the 2 main types of this instrument that's used to measure atmospheric pressure

This 2009 film was based on a book subtitled "America's Grea

test

Crime Wave and the Birth of the FBI, 1933–34"

Interior Secretary Albert Fall took a fall in this 1920s scandal

In 1859 she wrote the short book "Notes on Nursing", instructing housewives in nursing care

On a standard e-mail, a JPEG or PDF file is likely carried as one of these

It's the optical instrument you'd look through to see the type of image seen here

His novel "Angels & Demons" was fodder for the big screen in 2009

Virginia lawyer Edmund Randolph was the first in this Cabinet post

This inventor of antiseptic surgery helped found the British Institute of Preventive Medicine

To reveal someone else's misdeed

The sand in this simple device runs from the top bulb to the bottom in 60 minutes' time

This 2009 film is based in part on the memoir "My Life in France", in which the author masters the art of French cooking

Woodrow Wilson put William B. Wilson to work as the Secretary of this

In 1849 this Scottish explorer crossed the Kalahari Desert & became the first European to see Lake Ngami

If you're going "full" this, you're moving at top speed

You really hope this instrument doesn't get ticked off

A Jodi Picoult novel was the basis for this 2009 weepie in which Abigail Breslin has a sibling dying from cancer

In the '90s Federico Pena served as Secy. of Transportation & then Secy. of this (which he must have lots of)

Some have said that this Victorian poet's career may be divided into 2 parts: before & after "In Memoriam"

Descriptive word for a flag or dress, torn & hanging

You get an "A" if you know that pilots use this basic cockpit instrument to measure their elevation

Rachel McAdams is the titular spouse in the 2009 film based on this novel by Audrey Niffenegger

Clinton's Interior Secretary was this alliteratively-named man from Arizona

After founding the London Police Force in 1829, he served as British prime minister on 2 separate occasions

Tennessee Williams' was "Rose"
Scores at the end of the Double Jeopardy! Round:
| | | |
| --- | --- | --- |
| James | Matt | Rebecca |
| $9,200 | $14,200 | $16,800 |
| | | |
Final Jeopardy! Round
This Frenchman once said, "I will astonish Paris with an apple"

--

here are a few of them
Final scores:
| | | |
| --- | --- | --- |
| James | Matt | Rebecca |
| $101 | $7,100 | $28,402 |
| 3rd place: $1,000 | 2nd place: $2,000 | New champion: $28,402 |
Game dynamics: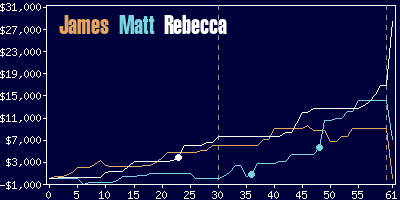 James
Matt
Rebecca
$9,200
$9,600
$15,200
17 R,
4 W
17 R
(including 2 DDs),
3 W
18 R
(including 1 DD),
0 W
Game tape date: 2009-12-02