Show #5798 - Wednesday, November 25, 2009
Jeopardy! Round
MAJOR RELIGION BY COUNTRY

FORBES 100 MOST POWERFUL WOMEN 2009

She illustrated dad Jimmy's 1995 children's book "The Little Baby Snoogle-Fleejer"

Despite this nickname for a football, it's actually made of leather

Aww, a baby one of these primates is clearly having a bad hair day

Give a shout out to Carol Bartz, CEO of this Internet company & the 12th most powerful woman on the list

4-letter antonym of "domesticated"

In 2008 she expressed interest in taking over Hillary Clinton's Senate seat

Popularized by Amos Alonzo Stagg, it's a pass thrown backwards or sideways

A silent comedian in talking pictures, this Marx Brother had one of the original fros

Ding dong, Elizabeth Smith, president of this company, calling at No. 85

This synonym for "wide" can be found before "cloth" or "minded"

This recent Florida governor born in 1953 has the given names John Ellis

Offensive linemen hang their heads when a long pass is called back due to this no-no

In 1926, women like Mrs. Margaret Wagoner Mitchell, seen here, got this type of wave by hooking up to a machine

Dr. Margaret Chan, director-general of this U.N. agency, made the list at No. 38

Published by Viking, these 1-volume editions of authors are so called because they can be carried around

In the 1980s this son of Gerald Ford was a regular on TV's "The Young and the Restless"

Often, the fas

test

of the defensive backs is this player, like the great Deion Sanders

This Pope poem has "two Locks... in equal Curls" which "well conspir'd to deck / With shining Ringlets the smooth Iv'ry Neck"

She's No. 40 on the list; her husband is 44th on a different list

The same Latin word gave us "trepidation", meaning fear, & this adjective, meaning fearless

In the 19th c. his daughter Esther was the first & so far only child of a president to be born in the White House

It's almost surreal seeing this Spanish-born painter's coiffure

Sheila Bair, who protects your savings account as head of this government body, made the top 10

An adjective meaning "elaborate"; to Brits, it's a verb meaning "to like or enjoy"
Scores at the first commercial break (after clue 15):
| | | |
| --- | --- | --- |
| Robert | Mike | Cristy |
| $2,800 | $1,800 | -$1,400 |
Scores at the end of the Jeopardy! Round:
| | | |
| --- | --- | --- |
| Robert | Mike | Cristy |
| $4,000 | $3,000 | $200 |
Double Jeopardy! Round
Created in 1968, this lake named for an Egyptian president took 13 years to be near full capacity

After 15 seasons & lots of changes, this venerable medical drama about a Chicago hospital finally flatlined

Our head writer once received a BLT that was missing the B, bacon, leaving only the L & T, these 2 items

Bottom arrives, prepared to lead Quince, Flute & Snout on stage

St. Hugh of Lincoln was famous for having one of these graceful birds as a pet

These insectivorous plants are only found natively in North & South Carolina

This country's Hendrik Verwoerd Reservoir, aka the Gariep, was created by the damming of the Orange River

In the finale to Season 8 & to this sitcom, James Belushi visits Heaven

A McDonald's Egg McMuffin is made with egg, American cheese & this meat

An island provides the backdrop as the succession to the leadership of Naples is decided

It's the songbird & finch family member seen here

This Pennsylvania Dutch molasses & sugar dessert could be used to attract flies away from other food

Lake Nyasa is the southernmost in a chain of lakes located in this "Great" valley

2 brothers locked up in a jail tried to escape & solve a murder mystery but this show got the chair after 4 years

He once flew from Memphis to Denver for the fool's gold sandwich

--

PB&J & a pound of bacon on Italian bread

Jessica has regrets about her dad but looks forward to marrying Lorenzo & converting to Christianity

Seen here is one of these birds that, for a time, had a TV "Family"

It's a legendary spectral ship said to appear in storms near the Cape of Good Hope

Missionary-explorer David Livingstone was found on the shore of this, the world's longest freshwater lake

After 72 years & more than 15,700 episodes, this soap opera went dark in 2009

Bacon rind that's been diced & fried is called this, which lends its name to a bread made from it

Sir Toby Belch & his friends trick Malvolio into acting crazy & getting sent to an asylum

The common fowl seen here is this state bird

This song is also known as "Jimmy Crack Corn"

Lake Shepard in this West African nation's Maryland County is unusual in that it is part freshwater, part salt water

An expedition to the Pegasus Galaxy ended after 5 seasons for this "Stargate" spinoff

This Italian version of bacon comes from the pork belly; its name refers to a fat belly

Bolingbroke appears before the king & accuses Thomas Mowbray of treason

100 of these European birds were released in Central Park in 1890; today, there are 200 million in North America

A spinning regulator that smoothes the operation of a motor
Scores at the end of the Double Jeopardy! Round:
| | | |
| --- | --- | --- |
| Robert | Mike | Cristy |
| $12,800 | $10,200 | $12,400 |
| | | |
Final Jeopardy! Round
A state since the 1700s but not in the original 13, it ends with its own 2-letter postal abbreviation
Final scores:
| | | |
| --- | --- | --- |
| Robert | Mike | Cristy |
| $800 | $4,700 | $2,400 |
| 3rd place: $1,000 | New champion: $4,700 | 2nd place: $2,000 |
Game dynamics: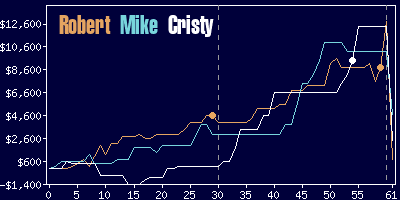 Robert
Mike
Cristy
$11,400
$10,200
$11,000
22 R
(including 1 DD),
6 W
(including 1 DD)
14 R,
4 W
14 R
(including 1 DD),
3 W
Game tape date: 2009-10-13