Show #4224 - Thursday, January 2, 2003
Jeopardy! Round
REPTILES
(Alex: Oh, boy!)

(Alex Trebek: And some of us remember...)
"L.P."s

The tuatara, whose name is Maori for "having spines", lives on islands just off this country's coast

Your photos may be in this type of frame that's covered with a thin layer of simulated gold

In 1253 Robert de Sorbon founded a school of theology in this city

In August 1977 she opened her first cookie store in Palo Alto, California

Paul McCartney's 1982 album "Tug of War" features this duet with Stevie Wonder

They're caused by uterine contractions during childbirth

It's the only U.S. state where you'll find both alligators & crocodiles in their native habitats

Oxeye daisies in a vase provide a touch of this color in their center disks

This university's Christ Church College was opened by Cardinal Wolsey in 1525

Her childhood in Red Cloud, Nebraska influenced her "O Pioneers!" & other works

1995's "Every Breath You Take" is a CD of "The Classics" by this pop group

Prison workers really do make these, including the vanity type

It's said that a common box one of these, Terrapene carolina, lived to be around 130 years old

The ultimate bowling trophy may be the Chris Schenkel Player of the Year Award given by this organization

He was pres. of Case Western Eclectic Institute in Hiram, Ohio 1857-61; his term as U.S. pres. lasted 6 months in 1881

This future first lady was born Anne Frances Robbins & her stepfather Loyal Davis adopted her when she was 14

The 1987 Album of the Year Grammy went to U2 for this album

Facility seen here at Kennedy Space Center

This venomous lizard is named for a river basin in the American Southwest where it's found

(Sofia of the Clue Crew reports) The name of this vessel comes from the action I'm performing

This university in Indiana is administered by the Congregation of Holy Cross

In the 1960s she was credited with making the first recorded observations that chimps eat meat & make & use tools

Appropriately, the song "Heaven Must Be Missing An Angel" is on the soundtrack to this 2000 girl power flick

For the Hyundai Accent, it's just under $10,000

Overhunting of deer & wild boar, its main food, has threatened the existence of this Indonesian monitor

2 models of these containers are consolation & treasure rosewood

The campus of this Ivy League school lies at the head of Rhode Island's Narragansett Bay

In 1996 this "Heidi Chronicles" playwright wrote a children's book, "Pamela's First Musical"

"The Space Between" is one of the tracks on "Everyday" by this man's "Band"

Objects appear to get smaller & parallel lines converge in the distance in this system of spatial representation
Scores at the first commercial break (after clue 15):
| | | |
| --- | --- | --- |
| Jeff | Alex | Lori |
| $400 | $1,600 | $3,600 |
Scores at the end of the Jeopardy! Round:
| | | |
| --- | --- | --- |
| Jeff | Alex | Lori |
| $2,400 | $3,200 | $5,600 |
Double Jeopardy! Round
CROWN ME
(Alex Trebek: You have to identify the country.)

The Mojave, who originally lived on this river, still have a reservation on it

Troy Garity, who played Bruce Willis' cousin in "Bandits", is the son of Tom Hayden & this actress

Richard Llewellyn's Welsh mining family moves to NYC & pops pills in this bestseller by Jacqueline Susann

Martell & Remy Martin are makers of this fine French brandy named for a town

A Low Country:
King Albert II

Food term for the items being worn here

Now usually meaning a conference, it has also meant to practice magic

This TV "bride" is seen here with her mom, who played Burt Lancaster's sister in the film "Sweet Smell of Success"

Stanley Kowalski yells, "Stel-lahhh!" on Ephraim Cabot's farm in this collaboration by Tennessee Williams & Eugene O'Neill

It's smooth sailing for this brand of smooth Scotch whisky, whose logo is seen here

The name of this fast-growing fungus can also mean to grow or develop rapidly

From where they made their homes, the Anasazi, ancestors of the Pueblo, are called these

This brother of an Oscar-winning "Runaway Bride" earned his own Oscar nomination for "Runaway Train"

Lorraine Hansberry drama in which the Chicago Youngers go to Pamplona with Jake Barnes & Lady Brett

The milk used for this blend of spirit reportedly accounts for some 4.3% of all the milk produced in Ireland

Europe:
Queen Margrethe II

It's information stored on your computer to record your activities when visiting a website

In an 1830 treaty, the Choctaw nation ceded all of its land east of this river to the U.S.

Don of the Everly Brothers was ever-so-briefly the father-in-law of this Guns N' Roses singer

Satire in which Lemuel visits Lilliput with Steinbeck's poodle

It's what would carry the item seen here, or proverbially "bring a rural fellow to town"

The Seminoles began as a branch (or is it tributary) of this tribe

Heather MacRae sings "If I Loved You" & "Oklahoma!" on her CD tribute to this singer, her dad

Epic poem in which Lucifer, expelled from heaven, finds inner peace in Shangri-La

To suffer the consequences of your own actions is to "stew" here
Scores at the end of the Double Jeopardy! Round:
| | | |
| --- | --- | --- |
| Jeff | Alex | Lori |
| $8,000 | $12,000 | $10,800 |
| | | |
Final Jeopardy! Round
She won many Oscars, including those for 1949's "The Heiress", 1951's "A Place in the Sun" & 1973's "The Sting"
Final scores:
| | | |
| --- | --- | --- |
| Jeff | Alex | Lori |
| $6,000 | $2,399 | $5,600 |
| 2-day champion: $15,800 | 3rd place: $1,000 | 2nd place: $2,000 |
Game dynamics: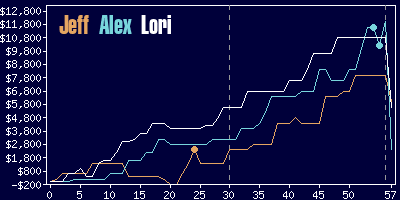 Jeff
Alex
Lori
$9,000
$12,800
$10,800
13 R,
5 W
(including 1 DD)
16 R
(including 1 DD),
3 W
(including 1 DD)
17 R,
2 W
Game tape date: 2002-09-24