Show #3156 - Monday, April 27, 1998
1998 Celebrity Invitational game 1.
Jeopardy! Round
WHERE YA FROM?
(Alex: We want you to name the country.)

(Alex: Here's something for you, Jason...)
ALEXANDER THE GREAT

TV FROM THE NEXT ROOM
(Alex: An all-audio category.)

If the queen invites you to an afternoon party, you'll probably sip this

He's pictured on the $10 bill

Hours before she won her Oscar, she agreed to return to "Mad About You", for $1 million an episode

You could go for one of this country's Habano cigars

--

if it weren't for that dreary embargo

Piece of equipment for Picabo Street

In 1876 he was granted a patent for "The Method of, and Apparatus for Transmitting Vocal or Other Sounds"

Confidentially, she was named Best Supporting Actress for "L.A. Confidential"

Traffic on this Beverly Hills street is so bad, you can't park in front of Cartier or Louis Vuitton

You might hear the "buzz" of gossip at this kind of quilting party

Ben Alexander played officer Frank Smith, one of Jack Webb's partners on this TV show

On winning for this film, Robin Williams said, "Thank you, Ben and Matt. I still want to see some I.D."

Paying about 60 grand for the XJ8 model of this British car, you'd think a CD player would be standard

In 1939 she played a "Scarlett" woman

William Ivey was nominated to replace this woman as head of the National Endowment for the Arts

"I'm the king of the world!" exulted this director when he won for "Titanic"

Don't let your personal trainer work your biceps & forget these opposing muscles on the arms

In "Once Upon A Mattress", it was supposed to be under the mattresses

On March 30, 1981 he told the press, "As of now, I am in control here in the White House"

On winning this honorary Oscar, this director-choreographer tap-danced & sang part of his thank you speech

You're probably sick of having your floors scuffed by photographers from this Conde Nast "Digest"
Scores at the first commercial break (after clue 10):
| | | |
| --- | --- | --- |
| Jason | Carol | Dan |
| $500 | $300 | $1,400 |
Scores at the end of the Jeopardy! Round:
| | | |
| --- | --- | --- |
| Jason | Carol | Dan |
| $4,700 | $1,500 | $3,000 |
Double Jeopardy! Round
(Alex: And since Jason did so well with NUCLEAR PHYSICS last time on the show, we have tough,...)
TOUGH NUCLEAR PHYSICS

Rumor has it this "Great" Russian empress had insomnia; with all those lovers, who could sleep?

It's what the trio seen here represents:

"We'll hang ourselves tomorrow...unless Godot comes"

This vegetable puts the cole in coleslaw

A gnawing pain in the abdomen is a symptom of the peptic type of this chronic ailment

Anna Sage, who set up John Dillinger, is known to history as this "Lady"

This channel, spun off from Nick at Nite, said it would air nothing during the last "Seinfeld"

"I have always depended on the kindness of strangers"

A lunchtime favorite, it's chicken or turkey, tomato, bacon & lettuce on 3 slices of toast

One of the regions of the stomach is the cardia, named for this nearby organ

Some quarks are classified u, d & s: "up", this & "strange"

Marie Walewska was one of many women who "entertained" him during his exile on Elba

In this Shakespeare comedy, Hero is falsely accused of unfaithfulness & a huge fuss ensues

"Hm...11 o'clock in Grover's Corners,

--

you get a good rest, too. Good night."

Bottled in France since 1863, it's the bestselling imported sparkling water in the U.S.

This "fake fat" reportedly causes abdominal cramps & inhibits the absorption of some vitamins & nutrients

Term for the spontaneous disintegration of radioactive material, or of rotting teeth

Calamity Jane's memoirs spread the tale of her torrid romance with this "Wild" westerner

According to the title of a 1974 Billy Preston hit, this "leaves nothing"

"Once more unto the breach, dear friends, once more; or close the wall up with our English dead!"

Some prefer melted cheese for this classic dipping dish, others prefer melted chocolate

One common shape of the stomach is like this tenth letter of the alphabet

The first successful laser used this gem, hence the rosy light

You could call this outlaw the "Mother" of all crime; she was also the mother of Herman, Fred, Arthur & Lloyd

Also called the American Party, this political group's name came from its members' denials about it

"Nora! Nora!...empty. She's gone."

Its name means "small tubes", but this Italian pasta is actually large tubes with a meat or cheese filling

Over-the-counter treatments for heartburn include Pepcid AC & this, from Smithkline Beecham

These devices for upping the speeds of particles may be linear or cyclic
Scores at the end of the Double Jeopardy! Round:
| | | |
| --- | --- | --- |
| Jason | Carol | Dan |
| $11,400 | $8,200 | $4,800 |
| | | |
Final Jeopardy! Round
A unit of length measuring 6 feet, or a verb meaning to comprehend
Final scores:
| | | |
| --- | --- | --- |
| Jason | Carol | Dan |
| $1,400 | $7,200 | $1,399 |
| 2nd place: $10,000 for the Scleroderma Research Foundation | Winner: $15,000 for the Hereditary Disease Foundation | 3rd place: $10,000 for the Children's Hospital of Pittsburgh |
Game dynamics: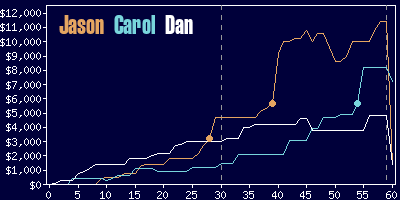 Jason
Carol
Dan
$7,400
$6,300
$4,800
22 R
(including 2 DDs),
3 W
13 R
(including 1 DD),
2 W
17 R,
1 W
Game tape date: Unknown