Show #4737 - Tuesday, March 22, 2005
2005 Ultimate Tournament of Champions Round 1, game 30.
Jeopardy! Round
BEN, BENJAMIN OR JUST PLAIN B

For General John Bell Hood this war cost him an arm & a leg (literally) at Gettysburg & Chickamauga

In the beginning of Phil Collins' career was a stint as the drummer of this band

It indicates a playing piece in chess

The English borrowed this Tongan word for "forbidden" & made it a noun referring to the prohibition itself

Europeans know this Louvre attraction as "La Gioconda"

It met for the first time in at Carpenter's Hall in Philadelphia on September 5, 1774

In early 1944, George Patton assumed command of this army & planned a French campaign

I'll be a believer when you ID this band for whom Micky Dolenz tapped the toms

In Scotland, it refers to a high hill

The name for this type of worker comes from the Latin for "lead worker"

A museum in Silves, Portugal is devoted to this natural product important to Portugal's wine industry

Its main hub cities are Newark, Cleveland & Houston

This 5-star general was the first chairman of the Joint Chiefs of Staff 1949-1953

Keith Moon bashed the skins for this band with lunatic abandon

1982 was probably his favorite year, that was when he directed "My Favorite Year"

This word used in Roman Catholic theology comes from the Latin for "edge" or "border", not "dance"

This 15th-century European staked his claim to fame by inspiring a classic horror movie character

Abbreviated CBA, it includes teams called the

Yakima

Sun Kings & the Gary Steelheads

A fort & a Tennessee city are named for this general who was also our nation's first Secretary of War

John Densmore rode out many a storm as this band's drummer

In the names of political rivals in 1960s Algeria, it precedes "Bella" & "Khedda"

Leks, levs & lats are all types of these still used in Eastern Europe

The theory of the slow tectonic movement of plates across the Earth

Later a Hollywood actor, he was the most decorated American soldier of World War II

Mick Fleetwood of Fleetwood Mac risked combusting spontaneously in 2000, appearing with this band on VH1's "The List"

It follows "Agnes" in the name of a boutique whose first U.S. store opened in 1981

This word for a prolonged state of sadness comes from the Greek for "black bile" (once thought to be it's cause)

Chartered in 1789, the town of Hammerfest in this country is the northernmost town in Europe

To cartographers, it's known as CONUS
Scores at the first commercial break (after clue 15):
| | | |
| --- | --- | --- |
| Michael | Jeff | Jamie |
| $6,600 | $0 | $800 |
Scores at the end of the Jeopardy! Round:
| | | |
| --- | --- | --- |
| Michael | Jeff | Jamie |
| $13,800 | $1,800 | $1,000 |
Double Jeopardy! Round
In 1874, after more than 20 years, he finally completed his entire "Ring" cycle with "The Twilight of the Gods"

1991:
Susan Sarandon &
Geena Davis

In 1992 Alexander Wolszczan discovered the first ones of these outside our solar system

A 1955 issue featured "A Walk With" this 81-year-old poet

Louis, a mute trumpeter swan in E.B. White's "The Trumpet of the Swan", was named for this musician

A state of stiffness in tissue; it can precede "mortis"

Robert Schumann's high hopes for "Genoveva", his only one of these works, were dashed by a Leipzig audience

1994:
Jim Carrey &
Jeff Daniels

From the Greek for "twig", it's a plant or animal made from a portion of another without sex

Yankee profiled "New England's greatest invention"

--

this one created in a restaurant on a Mass. toll road

This craftman's wife made clothes & knitted stockings for 2 elves, but they left his shop & never came back

Each paragraph of an essay should include this type of "sentence" that states the main thought

When his brother Kaspar died in 1815, he became co-guardian of Kaspar's 9-year-old son Karl

1947:
Cary Grant &
Shirley Temple

The "M" in MASER stands for this; the rest of the acronym is the same as in "LASER"

A frequent Yankee advertiser is this business based in Freeport, Maine since 1912

Appropriately, this Andersen heroine had "eyes as blue as the deepest sea"

To reduce 137,618 to 68,809

We're fortunate to have the "Fingal's Cave" overture by this composer whose first name means "fortunate"

1974:
James Caan &
Alan Arkin

In 1932 this inventor figured out a better way than using Iceland spar to polarize light

A cautionary 1994 story listed 115 people who had perished on this, New England's highest mountain

Hansel had a sister named Gretel; so did this boy in an 1865 novel

In 1940 he wrote "Japanische Festmusik" as a gesture of friendship between Germany & Japan

1951:
Gregory Peck &
Susan Hayward

In 1921 it was found that this hormone controlled your carbohydrate metabolism

The May 2004 issue visited the lobstermen of Stonington on this Maine bay

Beatrix Potter wrote a "tale about a tail

--

a tail that belonged to a little red squirrel, and his name was" this

It's the watery last word of "The Lovesong of J. Alfred Prufrock"
Scores at the end of the Double Jeopardy! Round:
| | | |
| --- | --- | --- |
| Michael | Jeff | Jamie |
| $23,400 | $12,400 | $2,200 |
| | | |
Final Jeopardy! Round
In computerese this word from the Hindu faith means an icon of a user in virtual reality
Final scores:
| | | |
| --- | --- | --- |
| Michael | Jeff | Jamie |
| $24,801 | $24,800 | $4,400 |
| Winner: $24,801 and an advance to UToC Round 2 | 2nd place: $5,000 | 3rd place: $5,000 |
Game dynamics: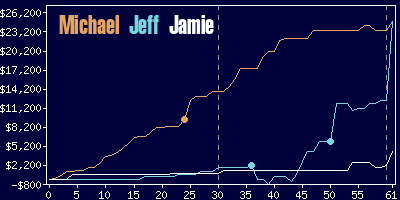 Michael
Jeff
Jamie
$21,200
$10,200
$2,200
29 R
(including 1 DD),
1 W
14 R
(including 1 DD),
4 W
(including 1 DD)
5 R,
1 W
Game tape date: 2005-02-23