Show #3779 - Thursday, January 25, 2001
Jeopardy! Round
The 8 stripes on its flag represent the 8 main islands

She was busting out all over in bustiers by Jean Paul Gaultier on her "Blond Ambition" tour

Of the mother duck's offspring, he was the best swimmer

It's the original paradise recorded in Genesis

In bowling, a turkey is this many strikes

Slang for a steam-powered railroad locomotive

This state's flag, adopted in 1839, was the third design used when it was a republic

She really is a "Working Girl" now selling goddess dresses & beads on her website

She froze to death on New Year's Eve, but not before seeing visions of a Christmas tree & her grandmother

One who divines by examining the creases in a person's hand

When you "strike" this fuel, natural gas mixed in with it can expand & propel it upward through the drill bore

It began about 1500 B.C., period

The grizzly bear prominently featured on this state's flag dates back to 1846

Supermodel Niki Taylor hit the "bull's eye" in 2000 with her own line of clothing for this chain

In one Andersen tale, a one-legged toy soldier made of this was in love with a dancing paper doll

3-word term for verbalizing incomprehensible, nonhuman or mystical language while in a state of ecstasy

It strikes when electric potential in the atmosphere tops 10,000 volts per centimeter

A 19th century warship armored with metal plates

State whose flag is seen here
(in the Southwest)

(Hi, I'm Vanna White with designer Pamela Dennis) In 1999 this daughter of an Aerosmith singer wore a gorgeous Pamela Dennis gown to the Oscars

Tale in which one of the villains asks, "Has your majesty ever worn a shirt so light and of such splendid colour?"

A member of a Muslim religious order known for its frenzied, whirling devotional practices

Something that sounds familiar strikes one of these musical combinations

A medieval torture device shaped like a human body

It's the only state with a different design on the reverse of its flag: a yellow beaver

This brunette beauty won an Emmy for "Once and Again" in an eye-popping black leather bodice

She slept in a polished walnut shell, using blue violet petals as a mattress & a rose petal for a quilt

This "Green" is a heaven reserved for sailors, not violinists

For striking in 1981 in defiance of his orders, this man fired 11,345 members of the air traffic controllers' union
Scores at the first commercial break (after clue 16):
| | | |
| --- | --- | --- |
| Jim | Ron | Jeremy |
| $1,300 | $400 | $1,100 |
Scores at the end of the Jeopardy! Round:
| | | |
| --- | --- | --- |
| Jim | Ron | Jeremy |
| $2,400 | $1,800 | $2,200 |
Double Jeopardy! Round
ON THE ROAD WITH BOB & BING

20th CENTURY ARCHITECTURE

CLASSICAL COMPOSITIONS
(Alex: Talking about music.)

East met west when the final spike of this was hammered in at Promontory, Utah

Amusing rhyme time name for phony currency

Bing sells Bob to a slave trader in "Road to" this north African country

What Albert Speer was to Hitler, Marcello Piacentini was to this man

Zafred, Faccio & Mercadante all wrote these based on "Hamlet"

Game in which you'd hear the phrase "Ready or not, here I come"

This Swede came up with a dynamite invention & patented it in 1867

A superficial illusion of something, or the front of a building

In "Road to" this South American city, Bob asks Dorothy Lamour, "How did you get into that dress

--

with a spraygun?"

Native country of the appropriately named progressive architect Rem Koolhaas

Schumann's "Nachtlied" is a "Night" this

Sewing items felt by a foot waking up

In 1865 William Booth founded what would become this organization

This computer-generated Gungan from Naboo didn't get good reviews from the "Star Wars" fans

In 1940, the first "Road" movie found Bing & Bob swearing off women & hiding out in this Asian city-state

L.A. residents fondly nicknamed Cesar Pelli's Pacific Design Center, seen here, after this huge animal

Mozart wrote over 20 for piano & orchestra, including the "Coronation" one

Colorful (or is it colorless?) phrase meaning clear-cut, without a doubt

This "Equality State" was still a territory when it gave women the right to vote in 1869

This training device puts a pilot in a replica of a cockpit

Lush trappings & jungle perils dogged Bob & Bing's heels when they took the "Road to" this Indonesian island

I.M. Pei's L'Enfant Plaza opened to acclaim in this city in 1968

Term for Schubert's "Death and the Maiden", heard here, or the type of group playing it

Now referring to a rule that's rigidly enforced, it used to refer to a ship that had run aground

With 1,000 Redshirts to cover his back, he captured Sicily & Naples in 1860

From the German for "a substitute", it's the term for something like a coffee made from grain

The quest for an African diamond mine is taken up by Bob & Bing in "Road to" this Tanzanian region

In 1906 this partner of McKim & Mead built a Presbyterian church & was killed by a jealous husband

Tchaikovsky wrote these "On A Rococo Theme"

This phrase for decided & fixed comes from how herbs were sold
Scores at the end of the Double Jeopardy! Round:
| | | |
| --- | --- | --- |
| Jim | Ron | Jeremy |
| $8,200 | $8,600 | $2,000 |
| | | |
Final Jeopardy! Round
Bertrand Russell said that "What Galileo and Newton were to the 17th century," this man "was to the 19th"
Final scores:
| | | |
| --- | --- | --- |
| Jim | Ron | Jeremy |
| $4,200 | $16,401 | $100 |
| 2nd place: Trip to Los Cabos, Mexico courtesy of Yahoo! Travel | New champion: $16,401 | 3rd place: Meade ETX90 Telescope |
Game dynamics: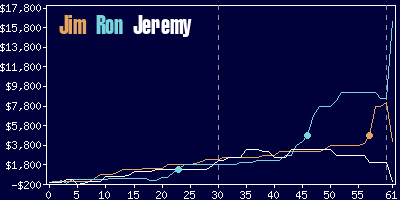 Jim
Ron
Jeremy
$6,200
$7,300
$2,000
19 R
(including 1 DD),
0 W
17 R
(including 2 DDs),
3 W
12 R,
5 W
Game tape date: 2000-11-08