Show #5205 - Friday, April 6, 2007
Jeopardy! Round
THE W.C.
(Alex: Each response will be two words: the first word starts with a "W"; the second word will begin with the letter "C".)

COUNTRIES' MEDALS & DECORATIONS
(Alex: You identify name the country.)

I DO IMPRESSIONS
(Alex: ...but not particularly well, so be careful.)

In the early 16th century, this painter & genius wrote, "The Medici created and destroyed me"

One meaning of this word is any member of Christ's church, as in the Church of Jesus Christ of Latter-day ones

Office workers are said to gather around this dispenser to talk about riveting TV shows

In this Shakespeare play, Ariel tells Prospero that the Bermoothes Islands are "still vexed"

This music legend penned hits like "Lay Lady Lay" & "Tangled Up In Blue"

In 1938 he said, "There has come back from Germany to Downing Street peace with honor"

Christmas in December 25; this holiday around the same time starts on Kislev 25 on the Jewish calendar

New

lyweds are supposed to freeze the top of this & eat it on their first anniversary

Joseph Heller used the Mediterranean island of Pianosa as the setting for this 1961 WWII novel

(Jon of the Clue Crew reports.) I've put together a device similar to the one used by Samuel Morse on May 24, 1844, & I'll send this same historic message quoted from the Bible

In this religion, Sufism is mystical practice aiming at direct personal experience of God

Henry Wirz, the commandant of Andersonville Prison, was executed for these

Jules Verne's "Mysterious Island" was named for this U.S. president who was assassinated

"Here's Johnny!"; no, it's this actor known for his truth handling & a famous chicken salad sandwich request

Fritz Hollings, 1983:
If the Marines are "there to fight, then there are far too few. If... there to be killed, there are far too many"

This religion of more than 850 million people evolved from Vedism

This respiratory disease is caused by Bordetella pertussis bacteria

The city of Mildendo on this island is encompassed by a wall 2 1/2 feet high

I hear Darrell Hammond also does an impression of this "Finding Forrester" title guy, the filthy...

Pope Benedict XVI's first of these was titled "Deus caritas est", "God is love"

This phase of the moon is known by a 2-word term: one word means "growing", and the other is from the Latin for "to grow"

Order of the Hashemite Star

In this Norman Mailer novel, 6 U.S. soldiers scale Mt. Anaka on Anopopei Island to observe enemy troop positions

Watch me channel this 2'8" "Austin Powers" character
Scores at the first commercial break (after clue 16):
| | | |
| --- | --- | --- |
| Ron | William | Susan |
| $200 | $2,600 | $2,800 |
Scores at the end of the Jeopardy! Round:
| | | |
| --- | --- | --- |
| Ron | William | Susan |
| $800 | $4,000 | $5,600 |
Double Jeopardy! Round
MASSACHUSETTS
(Alex: What's there not to like about [*]?)

"YX"? THAT'S FOR ME TO KNOW

I DO IMPRESSIONISTS
(Alex: ...but not as well as I do impressions.)

This patriot's foundry made the State House dome watertight in 1802 by sheathing it with a thick layer of copper

The root of a plant of the mustard family, this veggie resembles a small beet

January 27:
Jury selection begins in the trial of this woman entangled with the SLA

Black,
especially a pure or jet black, like the stone

Time to attend the dancing class seen here painted by this 19th century Frenchman

In 1893 Springfield produced the USA's 1st gasoline-powered car; in 1901, the USA's 1st factory for these 2-wheelers

"Mellow Gold",
"Odelay",
"Guero"

The Eureka is a type of this citris fruit

July 2:
This country formally ceases to exist as it is absorbed by its northern counterpart

Come sail away with Charon on this river, a Greek word meaning "hateful"

More a Neo-Impressionist, he painted Pointillist seascapes at Normandy each summer between 1885 & 1889

Nye Lubricants, founded in

New

Bedford

in 1844, sold the USA's last bottle of this type of oil in 1978

"Pablo Honey",
"OK Computer",
"Hail to the Thief"

The white type of this stalked veggie is grown underground; it can't produce chlorophyll & turn green

February 4th:
The Winter Olympics heat up this Austrian city

Patrick Ewing should know this Greek goddess personifying night

His impression, "Sunrise", is seen here

This Western Mass. college, the state's oldest after Harvard, is a traditional rival of Amherst

"De Stijl",
"Elephant",
"Get Behind Me Satan"

The name of this tropical fruit comes from the resemblance of its flowers to symbols of the crucifixon

June 27:
Palestinian terrorists hijack an Air France jetliner & force it to land in this Ugandan city

This small triangular bone consists of 4 rudimentary vertebrae

This American woman went Impressionist in the late 1870s & exhibited with the group in 1879

"The Spirit of '76" hangs in this town whose name comes from the misidentification of granite as another rock

"Parachutes",
"A Rush of Blood to the Head",
"X&Y"

In French, a banana is banane; this tropical fruit is ananas

March 24:
The Argentinean Military coups with delight as it overthrows this widow of Juan Peron

It's not a Seussian animal, it's this large African antelope, an endangered species

Seen here is this artist's 1870s work "Madame Charpentier and Her Children"
Scores at the end of the Double Jeopardy! Round:
| | | |
| --- | --- | --- |
| Ron | William | Susan |
| $0 | $9,200 | $10,400 |
| | | |
Final Jeopardy! Round
He published "Hunting, Fishing, and Camping" in 1942 & "My Story: The Autobiography of a Down-East Merchant" in 1960
Final scores:
Ron
William
Susan
$0
$7,999
$18,401
3rd place: $1,000
2nd place: $2,000

New

champion: $18,401
Game dynamics: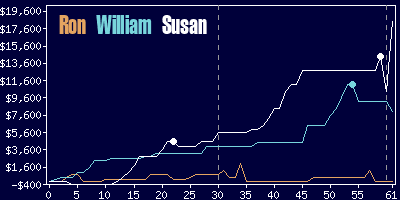 Ron
William
Susan
$0
$11,200
$15,000
10 R,
5 W
15 R,
1 W
(including 1 DD)
17 R,
3 W
(including 2 DDs)
Game tape date: 2007-01-24