Show #2048 - Wednesday, June 30, 1993
Jeopardy! Round
THE GARFIELD ERA
(Alex: These clues have to do with events that took place during the short presidency of Garfield.)

In 1982 the Jarvik-7, the first permanent one of these, was implanted in patient Barney Clark

Detective novelist Tony Hillerman is this "Magnum, P.I." co-star's second cousin

In art this "Enlightened One" is often depicted in the lotus position in deep meditation

9 days after Garfield's inauguration, Alexander II of this country was assassinated

A style of pants with tight-fitting legs, or a type of high-crowned hat worn by Lincoln

This country leads the world in the production of cultured pearls

Using a kite antenna, he received the first transatlantic wireless message in 1901, the letter S

This director was born to a mother named Italia & has a sister named Talia

When this evangelist died in 1944, her son Rolf McPherson took over as head of her church

This institute in Alabama opened July 4, 1881 as a school to train black teachers

Wedgies should be worn only on these body parts

Commissioned U.S. Army officers are sworn to support & defend this document against all enemies

In 1611 Johannes Kepler introduced a second convex lens, giving this instrument greater power

Jason Patric is the grandson of this late TV star who was famous for playing a bus driver

Most of what we know about this Chinese leader comes from a book called the "Analects"

Turkey ceded Thessaly to this country

The usual color of the 19th century women's blouses inspired by Giuseppe Garibaldi

The world's longest of these floating bridges spans 7,518' across Lake Washington

Buckminster Fuller used "energetic synergetic geometry" to build these structures

This actress' son Sean Astin found a caveman in his back yard in the 1992 film "Encino Man"

According to Franciscan tradition, he received marks of Christ's wounds on his body in 1224

On April 5, 1881 the Treaty of Pretoria granted independence to this country

The duffel coat was named for a fabric made in the town of Duffel in this Low Country

Scientifically, this tall grass is called Saccharum officinarum

The 1st automated instrument to analyze this genetic material's structure was developed in the mid-1980s

She's Don Johnson's famous mother-in-law; a little "bird" told us

The full name of his church is the Holy Spirit Association for the Unification of World Christianity

This British bacteriologist born August 6, 1881 "molded" the lives of future generations

Some of these facial decorations worn in the 1600s & 1700s were star-shaped

In 1993 people sent letters with these stamps to fake addresses so they would be marked "return to sender"
Scores at the first commercial break (after clue 15):
| | | |
| --- | --- | --- |
| Mike | Tom | Phil |
| $1,500 | $300 | $1,100 |
Scores at the end of the Jeopardy! Round:
| | | |
| --- | --- | --- |
| Mike | Tom | Phil |
| $3,600 | $900 | $3,200 |
Double Jeopardy! Round
| | | | | | |
| --- | --- | --- | --- | --- | --- |
| | | | | | MYTHOLOGY BOOKS & AUTHORS |
| Lightning struck when this 18th century inventor met Deborah Read & their common law marriage lasted 44 years | In a list of dictionary abbreviations, this language is often listed as Lith. | This palace's Hall of Mirrors was once flanked by the state apartments of the king & queen | Usually eaten between 11 A.M. & 3 P.M., this meal is a combination of breakfast & lunch | The governor's mansion in this capital city was formerly the home of James G. Blaine | In the 6th century B.C., Greeks used his "Iliad" & "Odyssey" as textbooks |
| Ixtlilxochitl II, a chief of Texcoco in Mexico, became an ally of this Conquistador | Of Balinese, Bengali or Bulgarian, the one that has the most speakers by far | Consecrated in 1094, this basilica was named for the patron saint of Venice | In the Orient this part of a shark is used to make an expensive & popular soup | Explorers who came in from the cold to summer in Maine include Robert Peary & this South Pole visitor | Bullfinch's "Mythology" includes "The Age of Fable", &, covering knights, "The Age of" this |
| In 1910 he & his sister Agnes co-founded the Girl Guides | The famous operetta "The Gondoliers" was written in this language | The 70-story GE Building is the central structure in this NYC building complex | This company markets Velveeta & Cracker Barrel cheeses | This poet who wrote "I shot an arrow in the air..." was born in Portland | In an essay Albert Camus compared the human condition to the myth of this rock pusher |
| The name of this Grand Inquisitor became synonymous with the horror of the Spanish Inquisition | Portuguese, Sardinian & Ladino belong to this group of Indo-European languages | This 12th century temple built by King Suryavarman appears on the Cambodian flag | Named for a South American country, this 3-sided nut is the fruit of the bertholettia tree | In 1980 & 1981 this man from the State of Maine was U.S. Secretary of State | Bill Moyers' conversations with him were published as "The Power of Myth" |
| Encyclopedia Americana says this Medici bore King Henry IV "six children and much ill will" | Guarani is both a language & the basic unit of currency in this landlocked South American country | This 7th century Muslim building in Jerusalem is also known as the Mosque of Umar | This French term for a tiny pickle means "little horn" | This woman born in Hampden helped open hospitals for the mentally ill in over 15 states | This "I, Claudius" author later set his eye on "The Greek Myths" & "The Hebrew Myths" |
Scores at the end of the Double Jeopardy! Round:
| | | |
| --- | --- | --- |
| Mike | Tom | Phil |
| $10,300 | $3,100 | $9,200 |
| | | |
Final Jeopardy! Round
A 1920s French production of this musical about 19th c. entertainers was titled "Mississippi"
Final scores:
| | | |
| --- | --- | --- |
| Mike | Tom | Phil |
| $18,401 | $4,100 | $18,400 |
| 2-day champion: $40,002 | 3rd place: Michael C. Fina hand-cut crystal decanter & goblets + Jeopardy! & Wheel of Fortune games for the Super Nintendo Entertainment System and the Sega Genesis system | 2nd place: Gibson's 3-piece kitchen with refrigerator, gas range, & dishwasher + Corning Cranberry Vision see-through nonstick cookware |
Game dynamics: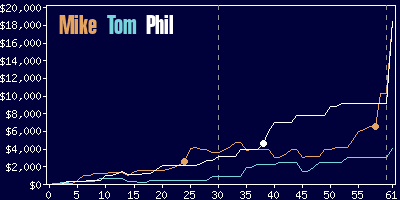 Mike
Tom
Phil
$6,400
$3,100
$8,600
27 R
(including 2 DDs),
6 W
11 R,
3 W
18 R
(including 1 DD),
1 W
Game tape date: 1993-02-08