Show #5137 - Tuesday, January 2, 2007
Jeopardy! Round
AIRLINE CODES
(Alex: We want you to give us the name of the airline; we'll give you the airline code.)

Modern dialects of this language include Gronings, West-Vlaams & Brabants

In 1986 the City of Carmel made his day by electing him mayor with 2,166 votes to the incumbent's 799

This first lady from Va. called "Patsy" had serious coin, but she dressed so simply people took her for the maid

The teeth of this ferocious fish, Carcharodon carcharias, may have been used as arrowheads by Native Americans

Although Spanish is widely spoken in Gibraltar, this language is used for schools & for official purposes

"CHiPS" had him, babe, when this Califorrnian guest-starred in the unforgettable "Go-Cart Terror" episode

This New Yorker was all about the boats & trains & was worth $100 mil, easy; even had a university named for him in 1873

"Off We Go Into" this in the official U.S. Air Force song

Proverbially, "let's run it up" this "& see if anyone salutes"

Nynorsk, an official language of this country, was created by Ivar Aasen in the mid-19th century

He's the ex-governor seen here on "The X-Files" along with another familiar face

It was the sweet smell of success for François Coty, whose wealth in manufacturing this let him buy up newspapers

The Sinai Peninsula juts into it

Lowell Observatory is found there

Dialects in the High form of this European language include Thuringian, Silesian & Franconian

This gov.'s website:
His "election as the state's chief executive follows a distinguished career in business & entertainment"

She had the bling bling from her Nov. 2, 1755 birth in Austria; she'd later wed the Dauphin of France

When he meets Alice in Wonderland, he's carrying a pocket watch

A large container for liquor

It's also called Ruthenian, & you'll hear it spoken in Odessa & Sevastopol

This ex-senator has played D.A. Arthur Branch on "Conviction", "Law & Order", "SVU", "CI" & "Trial By Jury"

If you're "as rich as" this 6th century B.C. King of Lydia, the son of Alyattes, you got it goin' on

What a soccer player sees before being sent off the field by the referee for a hard foul

Latin term meaning "caught in the act"
Scores at the first commercial break (after clue 16):
| | | |
| --- | --- | --- |
| Peg | Julie | Dave |
| $1,200 | $3,200 | $4,800 |
Scores at the end of the Jeopardy! Round:
| | | |
| --- | --- | --- |
| Peg | Julie | Dave |
| $600 | $7,200 | $0 |
Double Jeopardy! Round
| | | | | | |
| --- | --- | --- | --- | --- | --- |
| | EAGLES SONGS IN OTHER WORDS | | | | |
| What's called the war's last major battle was George Thomas' Dec. 1864 victory outside this Tennessee capital | Beverly Hills' Beverly Hilton or San Francisco's Mark Hopkins | Reverberation time is how long it takes a sound to die down by 60 of these units | Holly Golightly goes lightly through this 1958 novel | Medea helped Jason & the Argonauts steal a woolly treasure that has the same name as this flower | This L-shaped wrench has a hexagonal head |
| The Union began one of these in 1861; the ship CSS Sumter had some success running it | Fermented agave potent potable mixed with orange juice & a little grenadine | A spirometer is used to measure the air capacity of these | Sam Spade was a real bird brain when introduced to the world in this 1930 classic | Born from a "Queen Mum", she became the pink rose seen here after her accession to the throne in 1952 | In grammar, it's the noun to which a relative pronoun refers |
| On May 25, 1862 Lincoln told McClellan to either attack Richmond or defend this city | Samantha, Winnie, or one of those Eastwick gals, alliteratively | We're shocked to hear that some car dealerships have been known to "roll back" this device | Diminutive factory workers known as the Oompa Loompas show up in this fantasy book | This famous actor could sing about how the bells of St. Mary's are ringing for the rose named for him | During the Hundred Years War, France got back this duchy that had, via Eleanor, gone to England |
| At Frederick, MD. 4 days before this battle, Lee's plan fell into Union hands after it was used to wrap cigars | Existence in the speediest pathway | | Kurtz cuts loose when cut off from humanity in this 1902 tale | The rose shown was named for this flirtatious cartoon character censored by the Hays Office | This U.S. Secretary of State helped found NATO |
| In June 1864 Union Gen. David Hunter burned this school, Stonewall Jackson's former workplace | | It's the standard camera f-stop that lets in about half as much light as f5.6 | A big change is in the air for Gregor Samsa in this 1915 story | If the rose was an illustration on a poster, it could be a self-portrait of this Montmartre Post-impressionist | |
Scores at the end of the Double Jeopardy! Round:
| | | |
| --- | --- | --- |
| Peg | Julie | Dave |
| $7,800 | $25,200 | $2,400 |
| | (lock game) | |
Final Jeopardy! Round
In an 1850 essay Charles Dickens called it "that pretty German toy"
Final scores:
| | | |
| --- | --- | --- |
| Peg | Julie | Dave |
| $7,000 | $30,200 | $4,400 |
| 2nd place: $2,000 | New champion: $30,200 | 3rd place: $1,000 |
Game dynamics: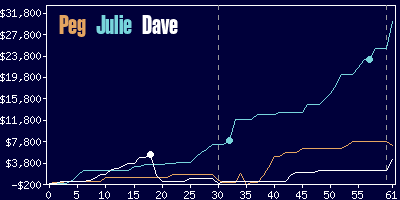 Peg
Julie
Dave
$7,800
$21,600
$6,400
13 R,
3 W
23 R
(including 2 DDs),
0 W
15 R,
3 W
(including 1 DD)
Game tape date: 2006-11-07