Show #2117 - Tuesday, November 16, 1993
1993 Tournament of Champions quarterfinal game 2.
Jeopardy! Round
By definition, a person with Type 1 diabetes is dependent on this

Of B.A., B.B., B.C. or B.D., the one in "Doonesbury"

Ask for directions in Waikiki & you may be told "mauka", toward the mountains, or "makai", toward this

Much of her play "Murder on the Nile" takes place by the temple of Abu Simbel

This New York governor is the son of immigrant parents from Salerno, Italy

"Joy of Cooking" suggests adding paprika & lemon juice to the juice of this fermented cabbage

Emotional instability & irritability are symptoms of this condition abbreviated PMS

This character's last name, Andrews, has only been mentioned on a TV special, never in the strip:
[video clue]

The area where William Penn came ashore in 1682 is now Penn's Landing, a park in this city

This title teacher tells her "Little Girls", "I am dedicated to you in my prime"

As a child, he billed himself as "Davino, the Boy Magician"; now he uses this Dickens name

Ancient Egyptians used this hair dye on the soles of their feet, too

Attacks occur about every fourth day in the quartan form of this mosquito-transmitted disease

In this Viking strip, Dr. Zouk adopted a baby dragon

VMI's museum has one of these stuffed & mounted that belonged to Stonewall Jackson

Set in a state mental hospital in the Pacific Northwest, this 1963 play is based on a Ken Kesey novel

In 1993 Don Juan de Borbon y Battenberg, the 79-year-old father of this monarch, passed away

The Perry Ellis Award is presented to people in this field

From the Greek for "beautiful strong", it's an exercise program that will shape you up

The Truman Sports Complex in this city isn't home to the presidents, but to the Chiefs

This play about a jury is based on a classic "Studio One" teleplay by Reginald Rose

This "20/20" host got his start in television as the MC for "The Kukla, Fran & Ollie Show"

In 1505, Prince Jean the II was murdered by his brother Lucien in this tiny principality on the Riviera

The walking type of this disease is caused by mycoplasma bacteria

Blondie's now a caterer & Lois from "Hi and Lois" is this type of agent

Halls of fame in this city include those for softball & cowboys

The 1957 play "Miss Lonelyhearts" is dedicated to the memory of this author who wrote the novel

This current chairman of the Federal Reserve Board was an ardent follower & friend of Ayn Rand

The National Gallery of Victoria is in this Australian city, capital of the state of Victoria
Scores at the first commercial break (after clue 15):
| | | |
| --- | --- | --- |
| Ed | Linda | Phoebe |
| $1,400 | $1,400 | $1,800 |
Scores at the end of the Jeopardy! Round:
| | | |
| --- | --- | --- |
| Ed | Linda | Phoebe |
| $3,500 | $2,000 | $3,500 |
Double Jeopardy! Round
| | | | | | |
| --- | --- | --- | --- | --- | --- |
| | | | | | |
| The Mother & the Father are two active ones of these on New Britain Island in the Bismarck Archipelago | Terence said this "removes distress; it's a great wound-healer, too" | Much of the fossil ivory found in the tundra is from these wooly animals | This state's largest public library is in Sioux Falls | A method of trying to predict the future scientifically was named for this oracle | When Mary was born, her father was the Duke of this, a title now held by Prince Andrew |
| The Federal Islamic Republic of the Comoros lies in this ocean in the Mozambique Channel | Publilius Cyrus said this about a rolling stone way back in the 1st century B.C. | Term for a partial denture | The USA's oldest library building is the Redwood Library, built between 1748-1750 in Newport, in this state | Dementia pugilistica is so named because it often affects people in this sport | Like many monarchs before them, William & Mary were crowned in this London landmark |
| In the mid-19th century the Sultan of Zanzibar established Dar es Salaam, which means "haven of" this | "Friends have all things in common" is a wise saying from one of his dialogues | It's the dentist's term for "heavily-wedged" & applies to some wisdom teeth | The U.S. Copyright Office is one of its departments | Ailurophobia is the fear of these pets | In his diary he wrote about the couple as children, calling William "very pretty" & Mary "a fine dancer" |
| Ajman, Abu Dhabi & Dubai are 3 of this nation's 7 autonomous states | "There is no benefit in the gifts of a bad man", this playwright warned in "Medea" | This cooking term is Italian for "to the tooth" | Founded in 1895, the Carnegie Library is this city's main public library | This philosophical movement associated with Sartre inspired a form of psychotherapy | William was born in 1650, the year after this king, his maternal grandfather, was beheaded |
| Once known as Urga, this capital city is the cultural center of Mongolia | "Old men are children for a second time", observed this playwright in "The Clouds" | These teeth are found between your lateral incisors & your first pre-molars | This Oxford library was stripped of books around 1550 but reopened 50 years later | This syndrome is characterized by involuntary tics, odd noises & shouted obscenities | Popular name given the 1688 English Revolution that brought them to the throne |
Scores at the end of the Double Jeopardy! Round:
| | | |
| --- | --- | --- |
| Ed | Linda | Phoebe |
| $8,500 | $6,400 | $8,300 |
| | | |
Final Jeopardy! Round
Jonathan Swift defined it as a "glass wherein beholders... discover everybody's face but their own"
Final scores:
| | | |
| --- | --- | --- |
| Ed | Linda | Phoebe |
| $16,601 | $0 | $13,300 |
| Automatic semifinalist | 3rd place: $1,000 if eliminated | 2nd place: $1,000 if eliminated |
Game dynamics: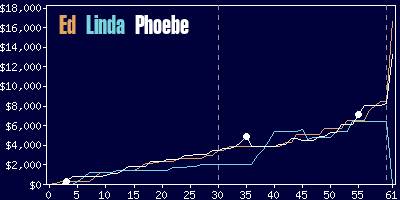 Ed
Linda
Phoebe
$8,500
$6,400
$8,800
20 R,
0 W
15 R,
1 W
23 R
(including 2 DDs),
2 W
(including 1 DD)
Game tape date: 1993-10-11