Show #1152 - Tuesday, September 12, 1989
Bob Blake game 5.
Bob sets a new 5-day winnings record.
Contestants
Pat Gmeiner, a copywriter from Rocky River, Ohio

David Burnett, a freelance photographer from New York, New York

Bob Blake, an actuary from Vancouver, British Columbia (whose 4-day cash winnings total $71,401)
Jeopardy! Round
PRESIDENTIAL INAUGURATIONS

Geronimo rode in this president's 1905 inaugural parade, & so did the Rough Riders

The 7-day week is derived from this book of the Bible

The naked mole-rat found in northern Kenya is a burrowing rodent that lacks this sense

2 Alpine passes & 1 breed of dog are named for this French-born Italian saint

The most famous George we know whose middle name was Armstrong

In Bush's parade these California fruit characters rode on the Presidential Council on Fitness float

This ancient timepiece was called a gnomon by the Greeks meaning "one who knows"

The mule deer is so named because of these large features

"The Day the Rope Broke" is a famous book about an 1865 climbing accident on this peak

Senator Moynihan's middle name

His parade featured many types of missiles & a PT boat

The Anglo-Saxons divided their days into 3 parts: morningtide, noontide & this

It's the offspring of a male tiger & a female lion

The word "alp" is believed to have evolved from the Latin "albus", meaning this color

It was Joel Harris' middle name; just ask Brer Rabbit

[audio]

"Love lift us up where we belong..."

In 1913, this future president, then a West Point cadet, marched in Wilson's parade

In the proposed "World Calendar", an extra day called "Year Day" would come at the end of this month

The Viking name for this tusked Arctic animal meant "whale horse"

This Alpine goat-antelope is prized for its hide, which is made into a very soft leather

Cole Porter's middle name; it's also Frank Sinatra's

He was the only president inaugurated in two different cities

A law discovered by Galileo led Christian Huygens to build the 1st clock regulated by one of these

The world's most potent venom is secreted from the skin of one of these amphibians

Once a humble herdsman's hut, it's now a favorite style for mountain homes

The middle name of the actress who was "On the Waterfront" before she went "North By Northwest"
Scores at the first commercial break (after clue 10):
| | | |
| --- | --- | --- |
| Bob | David | Pat |
| $400 | $600 | -$800 |
Scores at the end of the Jeopardy! Round:
| | | |
| --- | --- | --- |
| Bob | David | Pat |
| $2,600 | $2,900 | -$800 |
Double Jeopardy! Round
| | | | | | |
| --- | --- | --- | --- | --- | --- |
| | | | | | |
| Condition in which the sharp edge of a nail grows into the flesh of a toe, usually the big one | This country sent more than 90% of the troops, equipment & supplies aiding South Korea | This Canadian province is home to the Royal Winnipeg Ballet | The Bob Hope Comedy Fund has been set up at this New Haven university's drama school | Though Polish is a Slavic language, it uses this alphabet | Iran, Libya & Cuba are on a U.S. government list of nations that support this violent activity |
| Sometimes a pacifier will soothe a baby suffering from this gastrointestinal pain | Because of policy disputes, President Truman replaced this general with Lt. General Matthew Ridgway | "Rond de jambe" means a rotary movement of this body part, on the floor or in the air | Founded in 1789, this D.C. university is the oldest Catholic college in the U.S. | Country whose languages include Gujarati, Assamese & Punjabi | Kids can spell this 28-letter word that means "opposition to the withdrawal of support from a church" |
| Immediate "REM" sleep is a characteristic symptom of the sleeping attacks caused by this disease | After the war, this latitude line roughly separated North & South Korea | Helena & Hermia are characters in "The Dream", a ballet based on this Shakespearean play | Moor's Indian Charity School, founded about 1750, is the ancestor of this N.H. Ivy League college | At his 1969 investiture at Caernarvon Castle, Prince Charles spoke these 2 languages | The willful destruction of property named for a Germanic people who sacked Rome in the 5th century |
| Ortho & Wyeth-Ayerst are the major manufacturers of these pills in the U.S. | U.S. troops landing at this seaport on 9/15/50 turned the course of the war in the Allies' favor | In 1985 this princess revived the Monte Carlo Ballet, as her mother had wished | "Sister school" that's involved in investing $7 million to redevelop So. Hadley, Mass., where it's located | The only country whose official language is Catalan is this small one in the Pyrenees Mountains | If your can of green beans bulges out, it may be contaminated with this food poisoning |
| Component usually used in cough syrup as a solvent for ingredients that won't mix well with water | From Oct. 25, 1951 to the end of the hostilities in 1953, peace talks continued in this village | This "Regal" ballet company was formerly known as the Sadler's Wells Ballet | Tulane University is the largest privately run institution of higher learning in this state | Most people of this small European nation speak Letzeburgisch, a German dialect | From a Greek word for "pleasure", it's the belief that pleasure is life's greatest good |
Scores at the end of the Double Jeopardy! Round:
| | | |
| --- | --- | --- |
| Bob | David | Pat |
| $15,100 | $5,900 | -$800 |
| (lock game) | | |
Final Jeopardy! Round
The next-to-last chapter of this novel is entitled "The Knitting Done"
Final scores:
| | | |
| --- | --- | --- |
| Bob | David | Pat |
| $11,100 | $1 | -$800 |
| 5-day champion: $75,000 + $7,501 to Oxfam | 2nd place: a trip to Waikiki Marina Hotel in Honolulu, Hawaii | 3rd place: Benrus gold-toned bracelet watch |
Game dynamics: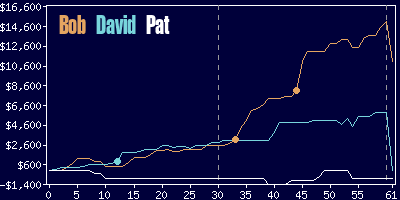 Bob
David
Pat
$12,400
$5,300
-$800
28 R
(including 2 DDs),
4 W
20 R
(including 1 DD),
4 W
3 R,
4 W
Game tape date: 1989-06-13